Tom Hanks and Rita Wilson are one of Hollywood's most enduring on and off-screen couples.
The actor and the actress, both 66, first met on the set of the sitcom "Bosom Buddies" in 1981. Though Hanks was married at the time, the pair hit it off instantly and became friends.
However, sparks flew when the pair played lovers in the 1985 buddy comedy "Volunteers," with the "Forrest Gump" star later telling GQ that they immediately had chemistry.
"Rita and I just looked at each other and — kaboing — that was that," Hanks told outlet, per People magazine . "I asked Rita if it was the real thing for her, and it just couldn't be denied."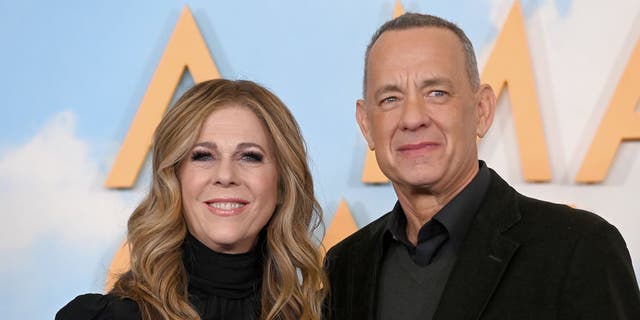 LONDON, ENGLAND – DECEMBER 16: Rita Wilson and Tom Hanks attend the "A Man Called Otto" VIP access photocall at the Corinthia hotel on December 16, 2022 in London, England. (Photo by Dave J Hogan/Getty Images )
(Dave J Hogan/Getty Images)
Hanks and Wilson have now been married for 34 years and share sons Chet, 32, and Truman, 27. The two-time Academy award winner is also father to son Colin, 45, and daughter, Elizabeth, 40, whom he shared with his late ex-wife Samantha Lewes.
RITA WILSON TALKS PUTTING HER CAREER ON PAUSE TO RAISE HER KIDS, SAYS SHE DOESN'T SEE IT AS A SACRIFICE
In addition to maintaining a rock-solid marriage, the two have also continued to collaborate professionally. They were reunited on-screen in the 1993 hit romantic-comedy "Sleepless in Seattle," though Wilson played Hanks' sister while Meg Ryan portrayed his character's love interest.
The two have also enjoyed a successful behind-the-scenes partnership. They produced the hit 2002 romantic comedy "My Big Fat Greek Wedding" and its 2016 sequel "My Big Fat Greek Wedding 2."
Hanks and Wilson also served as executive producers for CBS sitcom "My Big Fat Greek Life," in which the actress also made a cameo appearance.
The two recently joined forces again as producers of the upcoming movie "A Man Called Otto," which also starred Hanks.
Directed by Marc Forster, the comedy-drama is based on Fredrik Backman's 2012 novel titled "A Man Called Ove." During an interview with Gold Derby last month, Wilson told the outlet that the couple had been looking for the right project for Hanks to make his return to the comedy genre for the first time in years.
The "It's Complicated" star explained that a light bulb went off when they viewed the 2015 Swedish film adaptation of Backman's novel.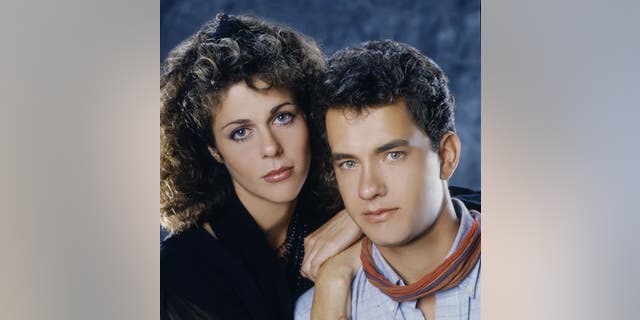 Rita Wilson and Tom Hanks during the filming of "Volunteers" (Photo by Aaron Rapoport/Corbis via Getty Images)
( Aaron Rapoport/Corbis via Getty Images)
"After 20 minutes, I had that panic moment of like, 'This is the one. This is the one!'" Wilson told the outlet.
"The next day, we made the call to come and have a meeting or figure out a way to get the rights to it, because I just thought this is the perfect world for him."
"For 365 nights, I slept with the producer to get the part," Hanks joked during a Q&A at a screening of "A Man Called Otto" in Los Angeles last month, per People magazine.
In addition to serving as a producer, Wilson also wrote and performed an original song "Till You're Home" for the movie's soundtrack. The pair's son Truman also made his acting debut in the film, playing a younger version of his father.
"A Man Called Otto" follows a grumpy widower who is contemplating suicide until his new neighbor Marisol (Mariana Treviño) barges into his life and makes him a part of her family.
Later this year, Hanks and Wilson will once again appear on the big screen together as part of the star-studded ensemble cast in Wes Anderson's romantic comedy "Asteroid City."
In an interview with Oprah Winfrey, Hanks shared his thoughts on the key to their marital success.
"The success of our relationship was a matter of timing, maturity and our willingness to have an intimate connection," Hanks said. When I married Rita, I thought, 'This is going to require some change on my part.' I won't deny that providence was part of us finding each other, but our relationship isn't magic — the way it's shown in movies."
The "Toy Story" star continued, "In real life, our connection is as concrete as me sitting here. Not that marriage doesn't come close to being hell in a handbasket sometimes. But we both know that no matter what, we'll be with each other — and we'll get through it."
Wilson reflected on the secret to the couple's long-lasting union in a 2019 interview with Us Weekly.
"We got married, we committed to each other, we love each other and we work hard at our relationship," she said.
"Not only do we love each other, we really like each other, and we like being together, and we support each other and we keep the communication channels open. That's always important."
Here's a look at five other longtime celebrity couples who sizzle on and off-screen.
Goldie Hawn and Kurt Russell
BEVERLY HILLS, CA – NOVEMBER 03:  Goldie Hawn, Kurt Russell attend Goldie's Love In For Kids at Ron Burkle's Green Acres Estate on November 3, 2017 in Beverly Hills, California.  
((Photo by Frazer Harrison/Getty Images))
Goldie Hawn and Kurt Russell have enjoyed one of Hollywood's most storied romances over their 39 years together.
The 77-year-old actress and the 71-year-old actor have also acted together in five films, during which their sparkling chemistry was on full display.
The duo first met in 1966 when they co-starred in the comedy musical western "The One and Only, Genuine, Original Family Band."
At the time, Hawn was 21 and Russell was 16. In 2012, the "Death Becomes Her" star told the BBC Radio 4 that she thought Russell was "adorable, but much too young."
However, the pair's relationship eventually turned romantic when they co-starred in the 1983 film "Swing Shift." They memorably teamed up a few years later in the beloved romantic comedy "Overboard."
"We met up again, and I remembered that I liked him very much when I first met him," Hawn recalled. "We both said we would never go out with another actor so it just shows you never can tell."
The couple are parents to son Wyatt, 35, and "Escape From New York" star helped raise Hawn's daughter Kate, 43, and son Oliver, 46, from her previous marriage to actor Bill Hudson, 73. Russell also shares son Boston, 42, with his ex-wife Season Hubley, 71.
Despite their decades-long union, Hawn and Russell have both expressed that they never felt the need to tie the knot.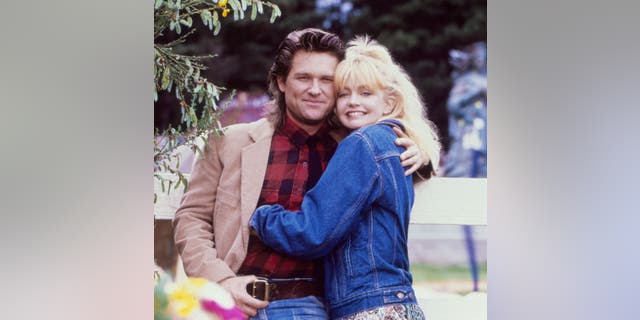 LOS ANGELES – OCTOBER 1987:  While shooting the movie "Overboard", actors Goldie Hawn and Kurt Russell pose for a portrait in October 1987 in Fort Bragg, California. (Photo by Aaron Rapoport/Corbis/Getty Images)
(Aaron Rapoport/Corbis/Getty Images)
"A lasting relationship isn't about marriage. It's about compatibility and communication. And you both need to want it to work," "The First Wives Club" actress told Porter magazine in 2015.
She continued, "If one person does not want it to work, it isn't going to work. Intention is the key. It's also about not losing yourself in each other. Being together, two pillars holding up the house and the roof, and being different, not having to agree on everything, learning how to deal with not agreeing. Everything's a choice."
Russell spoke glowingly of his wife when they received their side-by-side stars on the Hollywood Walk of Fame in 2017.
"To you, I owe my wonderful life. Simply put, Goldie, I cherish you," the Massachusetts native said during the ceremony. "All of the stars in the sky or the boulevard couldn't hold a candle to that. There's no one else I'd rather be next to."
In 2018, they co-starred in Netflix's The Christmas Chronicles film series, playing Santa Claus and Mrs. Claus, and went on to reprise their roles in the 2020 sequel The Christmas Chronicles 2.
"A new way of being together, which was great," Hawn said of co-starring with her husband in the sequel during a 2020 interview with Fox affliate WSVN.
She continued, "And we had a fantastic time where we were off stage and on. And it was almost like a honeymoon, to tell you the truth, and working together was really fun."
Tim McGraw and Faith Hill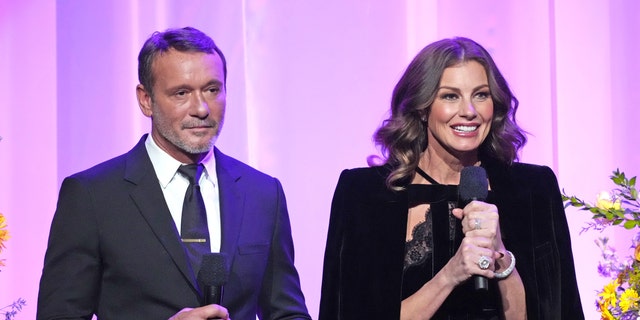 Tim McGraw and Faith Hill spoke about Loretta Lynn on stage at the Grand Ole Opry.
(Larry McCormack/Variety via Getty Images)
Country superstars Faith Hill and Tim McGraw celebrated 26 years of marriage last October.
The singers, both 55, first met in 1994 when they were both romantically involved with other partners. However, they subsequently ended their relationships and began dating while on the first of their many tours together in 1996. The two, who tied the knot in 1997, share daughters Gracie, 25, Maggie, 24, and Audrey, 21.
In 2021, the pair delighted fans when they starred together as husband and wife James and Margaret Dutton in the "Yellowstone" prequel, "1883."
Hill told Smooth Country Radio that the couple decided not to rehearse together or discuss their scenes before filming.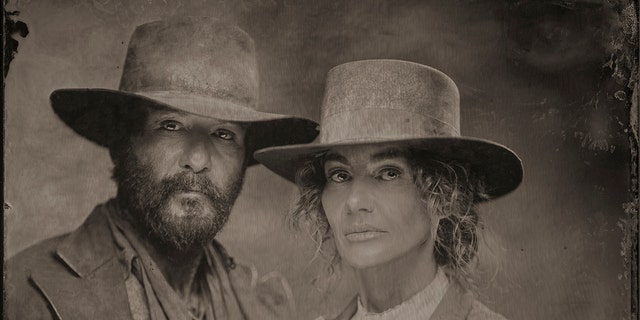 Pictured: Tim McGraw as James and Faith Hill as Margaret of the Paramount+ original series 1883. Photo Cr: . All Rights Reserved.
( Sarah Coulter/Paramount+ © 2021 CBS Interactive)
"We do everything together," the "This Kiss" hitmaker said. "We raised three daughters. They're all out of the house. Tim has been in many films."
She added, "So for me, it was important that we did not run our lines together – ever. We did not even talk about the scenes that we were going to be doing together. That was a rule."
"You know, if it was brought up – no, we're not going there. Because we know one another so well. The only way for it to be truly authentic – I want to be surprised.
"I want to be surprised as to how he may react to something I say, or vice-versa. And the only way to do that was to… on set – "Action". That's the first time I met James [Dutton]."
For his part, McGraw told the Associated Press that he loved McGraw loved the idea that the pair had the opportunity to work together in "something this epic, this big and this strong" at this point in their lives.
"We were just awe-inspired by it," the "It's Your Love" crooner added.
John Krasinski and Emily Blunt
John Krasinski and Emily Blunt fell in love after meeting through a friend in 2008.
However, the 38-year-old actor and the 39-year-old actress didn't share the screen together until 10 years later when they co-starred in the 2018 hit horror film "A Quiet Place," which was also directed and co-written by Krasinski.
The two, who married in 2010 and share daughters Hazel, 8, and Violet, 6, reunited once again for the movie's 2021 sequel "A Quiet Place II."
At the 25th Annual Screen Actors Guild Awards in January 2019, Blunt brought her spouse to tears when she thanked him while accepting the award for outstanding actress in a supporting role for her performance in the sequel.
"I'm going to share this completely with my husband John Krasinski because this entire experience of doing this with you has completely pierced my heart directly," she said as Krasinski became teary-eyed.
"You are a stunning filmmaker, I'm so lucky to be with you and to have done this film with you," she added.
"Thank you for giving me the part, you would have been in major trouble if you hadn't, so you didn't really have an option, but thank you," Blunt said with a laugh.
Warren Beatty and Annette Bening
Warren Beatty had a reputation as one of Hollywood's most notorious playboys before falling head over heels for actress Annette Bening when he cast her in 1991 biographical crime movie "Bugsy."
The 85-year-old actor and the 64-year-old actress, who played a married couple in the film, tied the knot a year later. The two share four children together— Stephen, 30, Ben, 28, Isabel, 25, and Ella, 22.
After more than 30 years together, they have been considered one of Hollywood's most successful power couples.
The pair played on-screen lovers year again in the 1994 romantic drama "Love Affair." After a 15-year hiatus from acting, Beatty returned to the screen in the 2016 romantic-comedy drama "Rules Don't Apply," where he reunited with his real-life wife.
In 2016, Beatty told Entertainment Weekly that he felt a special spark between himself and Bening from the very beginning.
"When I met Annette over lunch for "Bugsy," I felt immediately that this was going to change my life," the Academy Award winter said. "I remember losing interest in the garlic chicken I was eating within 20 seconds. And the garlic chicken had been very good!"
Bening shared her thoughts on the secret to their successful marriage in a 2019 interview with Us Weekly.
"There is no secret as anyone who's been married knows," she said.
"We have an incredible family, we have beautiful children. We've been through a lot. It's the center of life. It's the most important thing. It's everything."
Penélope Cruz and Javier Bardem
Penélope Cruz and Javier Bardem are one of the entertainment industry's most prolific on and off-screen couples, having starred in nine films together.
The 48-year-old actress and the 53-year-old actor met on the set of their first movie together "Jamón Jamón" in 1992. However, they didn't embark on a romance until many years later as Cruz was only 16 at the time.
"There was obvious chemistry between us," Javier told GQ UK in 2017. "I mean, it's all there on film; it's like a document of our passion. One day we're going to have to show the kids – imagine! 'Mummy, Daddy, what did you do in the movies together?'"
He continued, "'Well, my children, you should celebrate this movie as you're here because of it!' It was a very sexy film. It still is. Penélope's parents were brave to allow her to do that film – if my daughter at 16 came to me with a script like that I'd have said no f***ing way!"
The two began dating after reuniting on-screen as ex-spouses in Woody Allen's 2008 film "Vicky Cristina Barcelona." Cruz and Barden secretly married in 2010 and share son Leo, 11, and daughter Luna, 9.
Other movies which the two have starred included "The Counselor," "Loving Pablo," "Escobar" and "Everybody Knows."
In a 2019 interview with Glamour, Cruz opened up about the pros and cons of working with her real-life husband.
"Obviously we can't choose parts just for logistical reasons, like, 'Oh, let's work together more often because it's easier,'" the "Vanilla Sky" star told the outlet.
She continued, "No. In fact, it's not something we want to do that often, partly out of a desire to protect what we have. On the one hand, it's easier because you know that person, he knows you, and the way you work is very similar."
"On the other hand, the idea of it happening every year is kind of scary. You never know if that might mix things up too much. My instinct is that it would. I think it's better for it to just be once in a while, even though they've been very good experiences."
Cruz went on to say, "Or if we do work together, we wouldn't want to always play a couple. For instance, in "Everybody Knows," they have a past, but they're not together. In "Loving Pablo" they are, but then they're also a very different couple, which helps."
In an interview with Fox News Digital, celebrity matchmaker and dating expert Alessandra Conti shared her thoughts on real-life couples who also enjoy sizzling on-screen chemistry.
"Not every Hollywood couple can translate their off-screen chemistry into an on-screen romance, so when it does happen successfully, there is nothing better as a viewer," Conti said.
CLICK HERE TO GET THE FOX NEWS APP
She continued, "As a professional matchmaker, I can affirm that while two people can be objectively attractive, 'chemistry; between two people is difficult to manufacture. When two actors fall in love off-screen and experience that organic chemistry, it takes a different skill set entirely for them to work together and portray that connection on-screen."
"Non-actors can think of this as working at the same company that your spouse also happens to work at too. Most professional actors see acting as their job; for a majority of my former clients who are A-list actors, they explicitly expressed that it is imperative for them to have a strong boundary between their work and their romantic life. Typically, they have a strong preference for not dating another actor."
Conti went on to say that while a number of celebrity couples have "successfully mixed business with pleasure," it is important for them to maintain "strong boundaries between their work-life and their professional life."
She said, "Setting these directives prior to accepting a joint role is imperative to the success of the relationship. The old adage of ;what happens in Vegas, stays in Vegas' can apply to these professional relationships as well; what happens on set stays on set."
"Any normal couple will experience the ups-and-downs of monogamy, but separating the two has been the secret sauce for many of these couples' blockbuster success."
Conti explained that many successful on and off-screen pairings have been open about how they make it work. She also shared her own advice for celebrity couples.
"There are so many different ways that these couples can keep sizzling on and off screen: from maintaining a "date night" where work/film/set talk is off limits, to setting a specific hour in the day to discuss work matters, to even only discussing work in a specific room in their home or only at the office/on-set are all secrets to work/romance balance for celebrity couples.
CLICK HERE TO GET THE FOX NEWS APP