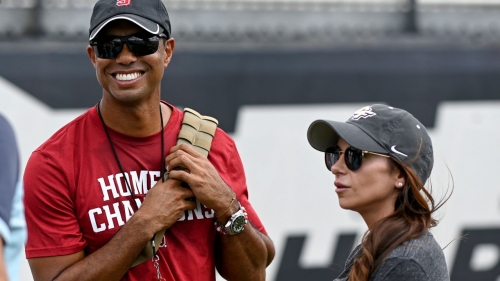 Tiger Woods and Erica Herman together in Orlando, Florida, on September 14, 2019.
Douglas DeFelice/USA TODAY/Reuters

CNN
—
Erica Herman, who was a longtime girlfriend of professional golfer Tiger Woods, has accused the 15-time major champion of sexual harassment, according to a court filing by Herman's attorney in Florida on Friday.
Woods is accused of pursuing a sexual relationship with Herman while she worked for him and then forcing her to sign a non-disclosure agreement or she'd be fired from her job, according to the document.
Herman was an employee at his South Florida restaurant, The Woods Jupiter, at the time.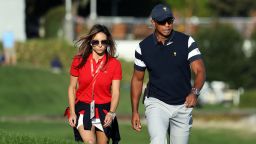 Woods and Herman walk on the Liberty National Golf Club course at the 2017 Presidents Cup in New Jersey.
Rob Carr/Getty Images
Tiger Woods: Attorneys in two separate complaints involving golf star ask court to compel ex-girlfriend to enter arbitration
"Tiger Woods, the internationally renowned athlete and one of the most powerful figures in global sports, decided to pursue a sexual relationship with his employee, then – according to him – forced her to sign an NDA about it or else be fired from her job," the Friday court document said. "And, when he became disgruntled with their sexual relationship, he tricked her into leaving her home, locked her out, took her cash, pets, and personal possessions, and tried to strong-arm her into signing a different NDA."
"A boss imposing different work conditions on his employee because of their sexual relationship is sexual harassment," Herman's attorney Benjamin Hobas states in the filing.
CNN reached out to Woods' representatives for comment but did not immediately receive a response.
The document also alleges a "scheme" used against Herman last year where Woods asked her to pack for a weekend getaway to the Bahamas. She was allegedly driven to the airport and then was asked to speak to Woods' attorney.
"Then, Mr. Woods's California lawyer, out of the blue, told her that she was not going anywhere, would never see Mr. Woods again, had been locked out of the house, and could not return," the document said. "She would not even be able to see the children or her pets again."
Herman was asked to sign a non-disclosure agreement, which she refused to do, according to the document.
Herman has brought two separate complaints involving Woods in the past year.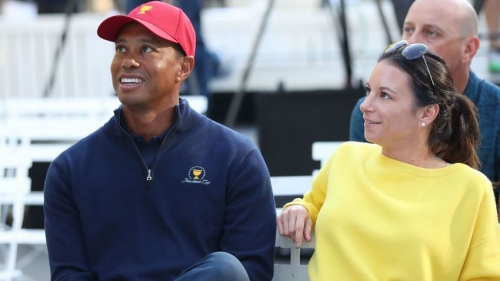 Reporter details Tiger Woods' new legal problem

02:17

– Source:
CNN

The first, filed in October 2022, alleges a trust owned and created by the golf star violated the Florida Residential Landlord Tenant Act by breaking her oral tenancy agreement to continue living in Woods' home.
As part of that suit, a trustee of Woods' trust, Christopher Hubman, has asked the court to order Herman to arbitrate her claims pursuant to an arbitration provision in a non-disclosure agreement she signed in 2017.
In an earlier briefing, Herman cited a statute that says plaintiffs in sexual harassment or assault disputes cannot be compelled to arbitrate those claims.
The most recent suit, filed in March, Herman argues the 2017 agreement is not enforceable in part because of a new federal law invalidating arbitration clauses in sexual assault or sexual harassment cases.
CNN's Jean Casarez contributed to this report.