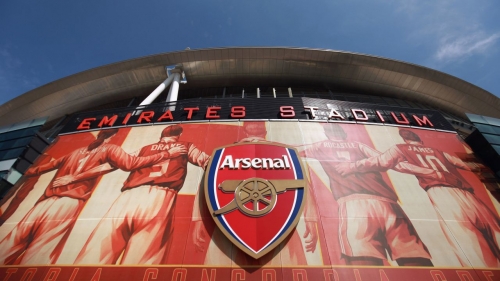 Some tickets for Arsenal's final home game of the season are being sold for extortionate prices.
Oli Scarff/Getty Images

CNN
—
Tickets for Arsenal's final game of the season against Wolverhampton Wanderers are being touted on resale website StubHub for extortionate prices.
The Gunners are on course to win a first Premier League title in 19 years and some people, it seems, are taking advantage of fans' desperation to see the team hoist the trophy in person at the Emirates Stadium on May 28.
At the time of writing, the cheapest tickets on StubHub are going for $1,175, while others are being touted for an eye-watering $65,000. The most expensive ticket – situated in the section where the Wolves fans would sit – is listed at $330,000. Seller details are not available on the website.
Akhil Vyas, a board member of the Arsenal Supporters Trust, says it remains "frustrating and disappointing" to see third-party websites reselling Arsenal tickets.
"But there is more to this than meets the eye," he tells CNN. "If any fans are selling their own ticket, despite having sympathy during this cost of living crisis, it's illegal and they shouldn't be doing it."
In the Premier League, tickets are meant to be resold through the club to other members or fans on waiting lists.
"If you are looking to buy tickets for matches in the Premier League you should buy them directly from Premier League Clubs," the Premier League says on its website.
"A 'ticket tout' (also known as a 'scalper') sells match tickets without authorisation, often at vastly inflated prices.
"Touts no longer just sell tickets outside the stadium, they also sell them (and aid unauthorised sales by others) on websites and online marketplaces."