close
Video
Fox News Flash top headlines for June 12
Fox News Flash top headlines are here. Check out what's clicking on Foxnews.com.
Pakistan's army and civil authorities are planning to evacuate 80,000 people to safety along the southern coast, and thousands in neighboring India sought shelter ahead of Cyclone Biparjoy, which is forecast to slam ashore in the densely populated region later this week, officials said Tuesday.
The cyclone is likely the most powerful to hit western India and Pakistan since 2021, and follows devastating floods that ravaged Pakistan last year, leaving 1,739 people dead and $30 billion in losses.
Biparjoy was packing maximum sustained winds of 111 mph, according to the India Meteorological Department. It's projected to hit land on Thursday near Jakhau port in the Kutch district of Gujarat. Pakistan's National Disaster Management Authority said the cyclone was 292 miles south of Karachi, the capital of Sindh province, on Tuesday morning.
BURMA SUSPENDS DELIVERIES OF INTERNATIONAL AID TO CYCLONE-HIT AREAS, UN SAYS
In India, thousands were evacuated from low-lying regions, including residents living within 3 miles of the coast in Gujarat. Those within 6.2 miles of the coast might be moved over the next two days if required, officials said.
"We have shifted 20,580 people from Gujarat's coastal districts and moved them to relief camps where they will be provided with food, drinking water and other essential material," said C. C. Patel, director of relief in the Gujarat state government.
Authorities also banned gatherings along the beaches and shorelines during the cyclone. All ports, including two of India's largest, Mundra and Kandla, have been shut down as a precaution.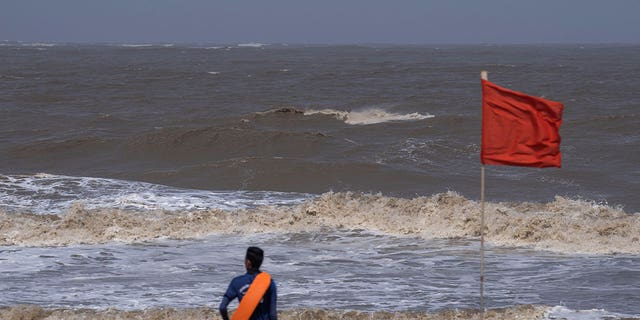 A lifeguard stands during high tide at a deserted Juhu beach on the Arabian Sea in Mumbai, India, on June 13, 2023. India and Pakistan brace for the first severe cyclone this year expected to hit their coastal regions later this week. (AP Photo/Rafiq Maqbool)
Government officials in Gujarat told Press Trust of India news agency that one woman was killed and her husband injured after strong winds caused a tree to fall on their motorcycle.
In Mumbai, in the neighboring state of Maharasthra, four boys were washed away by high tide off Juhu Beach on Monday evening. One body was recovered and search and rescue operations were ongoing for the three others, officials said. Authorities had closed the Mumbai beaches during high tide.
Fishermen in both countries have been asked to stay ashore and move their boats to safer locations.
MONSOON RAINS DELAYED IN INDIA AS EXTREME HEAT STRIKES PARTS OF COUNTRY
On Monday evening, India's Prime Minister Narendra Modi said he chaired a meeting to review the preparedness. "Our teams are ensuring safe evacuations from vulnerable areas and ensuring maintenance of essential services. Praying for everyone's safety and well-being," he tweeted.
In Pakistan, authorities backed by the military so far had evacuated 22,000 people from coastal towns, said Sharjeel Memon, the information minister in Sindh province. The rest of the 80,000 people are expected to be moved before the landfall on Thursday.
Experts say climate change is leading to an increase in cyclones in the Arabian Sea region, making preparations for natural disasters all the more urgent.
"The oceans have become warmer already on account of climate change," said Raghu Murtugudde, Earth system scientist at the University of Maryland. He said a recent study shows that the Arabian Sea has warmed up by almost 2.2 degrees Fahrenheit since March this year, making conditions favorable for severe cyclones.
CLICK HERE TO GET THE FOX NEWS APP
A 2021 study found that the frequency, duration and intensity of cyclones in the Arabian Sea had increased significantly between 1982 and 2019, he said.
U.N. climate reports have also stated that the intensity of tropical cyclones would increase in a warmer climate. A report by the Intergovernmental Panel on Climate Change in 2019 found that since the 1950s, the fastest sea surface warming has occurred in the Indian Ocean.
Cyclone Tauktae in 2021 was the last severe cyclone that made landfall in the same region. It claimed 174 lives, a relatively low figure thanks to extensive preparations ahead of the cyclone.
In 1998, a cyclone that hit Gujarat claimed more than 1,000 lives and caused excessive damage. A cyclone that hit Sindh province and the city of Karachi in 1965 killed more than 10,000 people.