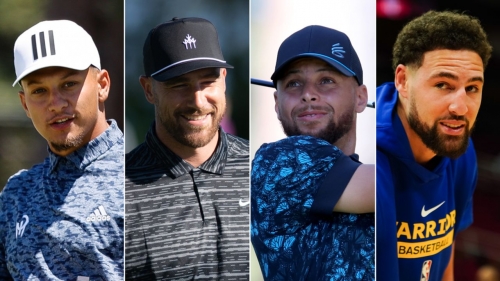 Kansas City Chiefs stars Patrick Mahomes and Travis Kelce are set to face four-time NBA champions Steph Curry and Klay Thompson in 'The Match.'
Getty Images

CNN
—
The NFL is set to take on the NBA in this year's edition of 'The Match,' as Kansas City Chiefs teammates Patrick Mahomes and Travis Kelce face Golden State Warriors stars Stephen Curry and Klay Thompson at the Wynn Golf Club in Las Vegas on June 29, Warner Bros. Discovery Sports (WBD Sports) announced Wednesday.
The two sets of superstars will compete in the live 12-hole golf event, exclusively televised on TNT, in what promises to be a cross-sport battle of champions.
Both the Chiefs and Warriors won the biggest prize in their respective sports last season and both participating pairs have a history of working well together.
Chiefs teammates Mahomes and Kelce have won two Super Bowls together, connecting for 48 touchdowns during five full NFL seasons.
But the superstar football pairing will face off against an equally impressive duo in Curry and Thompson who have led the Warriors to four NBA titles – together, they have hit more than 5,600 three-pointers in their combined careers to earn the nickname, 'The Splash Brothers.'
The 2023 event will also see two returning players, with Mahomes and Curry having already played – and lost – in previous editions of 'The Match.'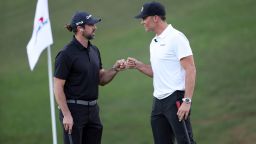 LAS VEGAS, NEVADA – JUNE 01: Tom Brady (R) and Aaron Rodgers celebrate during Capital One's The Match VI – Brady & Rodgers v Allen & Mahomes at Wynn Golf Club on June 01, 2022 in Las Vegas, Nevada. (Photo by Carmen Mandato/Getty Images for The Match)
Carmen Mandato/Getty Images for The Match
The Match: Brady and Rodgers trash talk their way to victory over Mahomes and Allen
Mahomes was paired with Josh Allen as the pair lost last summer's edition to Aaron Rodgers and Tom Brady while Curry and Peyton Manning fell to defeat in 2020 against Phil Mickelson and Charles Barkley.
This year will be the eighth edition of the spectacle which has raised $35 million for various organizations to date and has donated more then 27 million meals to Feeding America.
More details, including members of the usually entertaining commentary team, will be released closer to the event when all eyes will be watching to see which sport comes out on top.
CNN is a division of Warner Bros. Discovery, along with HBO, Warner Bros, TNT, TBS and other media assets.