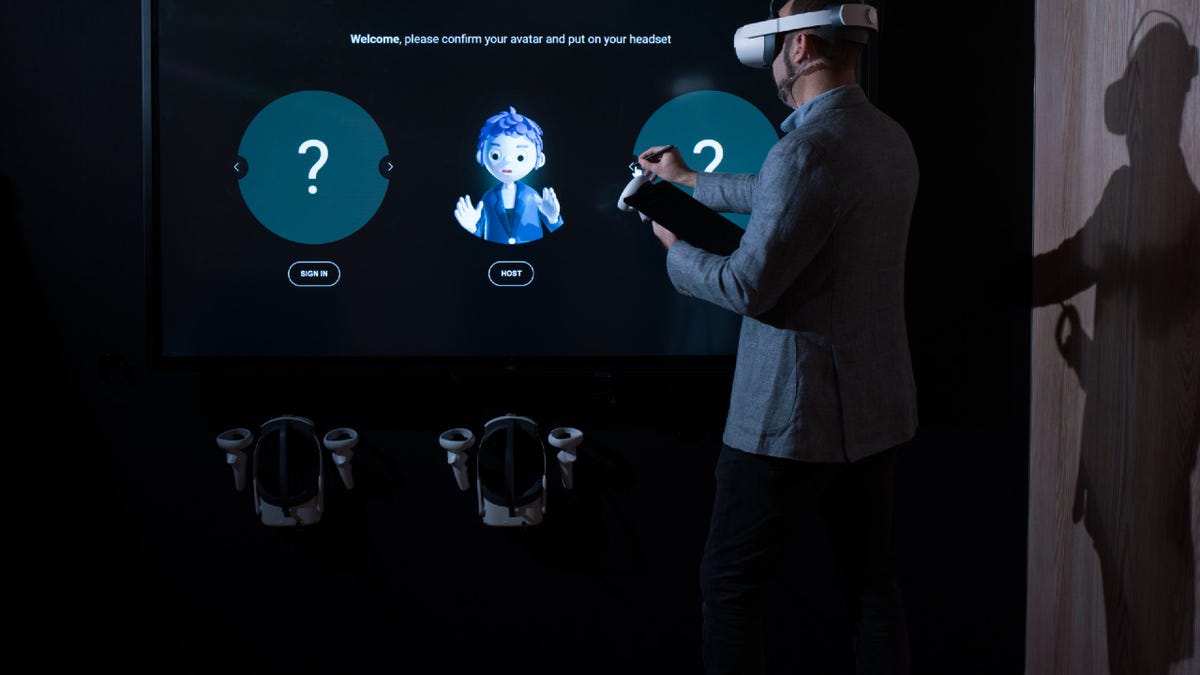 VR headsets could dominate the future of the workplace. 
Dell
CES 2023 feels the same and also quite different. Fancy, new, and outright weird tech fills the Las Vegas showroom halls I've visited many times before. But in the three years since I was last here in person, the world has changed quite a bit. Especially the way we work. 
It may take a little digging under the surface, but this year's CES show has a lot to say about the great shift toward hybrid and remote work, in everything from better video conference tools to attempts at building a metaverse-infused, mixed-reality workspace. 
Meetings in the metaverse
The metaverse office concept, at least according to one definition, is a shared collaborative space where one can participate via several means: virtual or augmented reality, 3D displays, standard laptop, tablet and phone screens; or in-person through things like smart whiteboards that work across all these different experiences.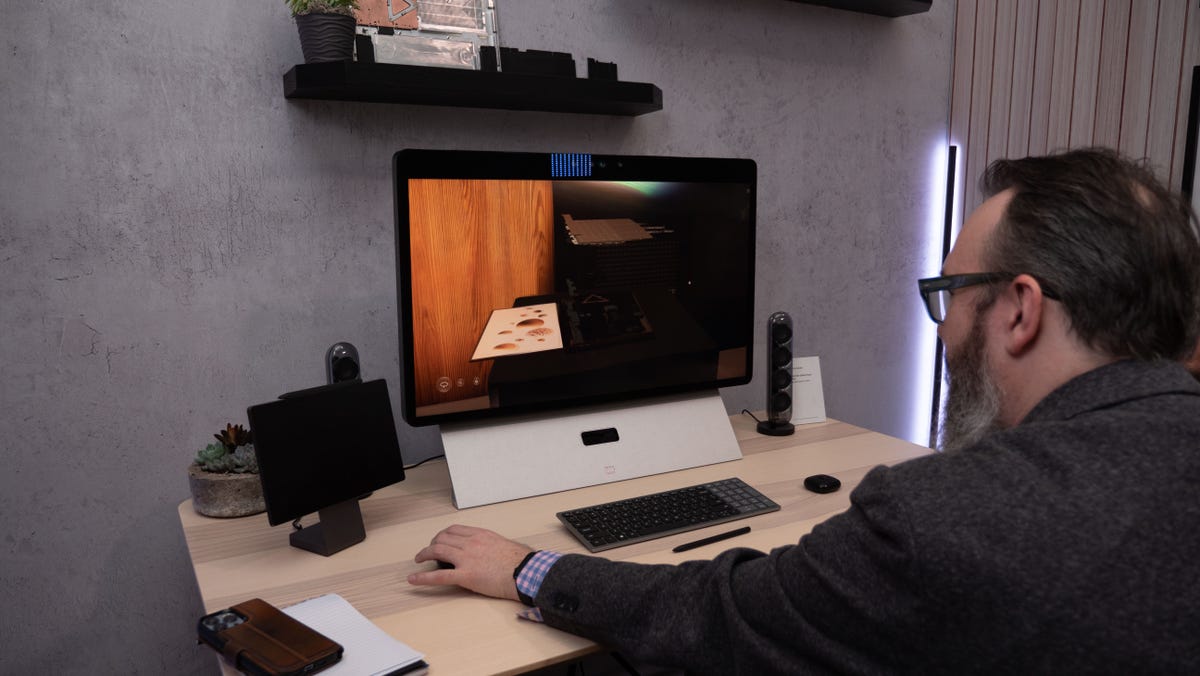 CNET/Josh Goldman

Dell has become a leader in showing off concept pieces and prototypes during CES, and this year, its Concept Nyx (the same name Dell uses for gaming prototypes) tackles that version of the metaverse head on. At a pre-CES preview, I was able to participate in a faux meeting by creating a 3D avatar for others to see, and also by sitting in front of an autostereoscopic display (allowing you to see in 3D without special glasses) that gave me a 3D view of a project. After that, I donned a VR headset to feel like I (or my avatar) was actually in that shared space and writing on a whiteboard with my VR controller. And after that, I was able to use a slate-style tablet to interact with the real-world version of that same whiteboard, but without wearing a headset. 
None of this is close to being a shipping product anytime soon, and like many things at and around CES, the hardware is carefully labeled as "conceptual." Of that batch of products and experiences, the oversize, glasses-free 3D display, using eye-tracking hardware to make the 3D image actually look decent, seemed like the part with the most workplace potential. 
Gamers go first
Much new PC technology is driven first by the gaming audience, which has a tolerance for gear that can be both expensive and experimental. That's why ideas like VR and autostereoscopic 3D often show up in gaming hardware first, before moving into more practical products for your nongaming hours. 
For example, this CES saw several new 18-inch gaming laptops, a screen size that's been virtually extinct since the early 2010s. The first of these bigger screens are in gaming laptops from Dell, Razer, Asus and Acer, but there's obvious crossover appeal for hybrid and remote workers who want the flexibility of a laptop but with a larger screen that feels more desktop-like. Razer laptops, with their minimalist styling, are especially popular with gamers and creative pros alike. I would not be surprised to see more professionally pitched laptops eventually grow into that new 18-inch size.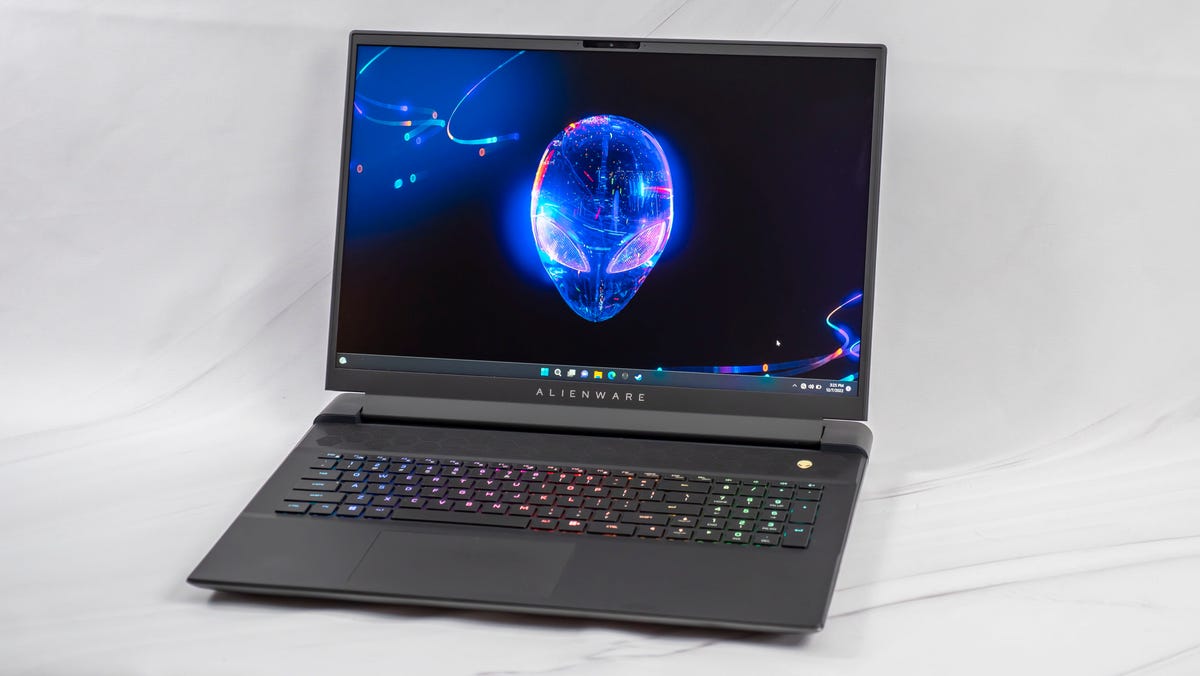 The 18-inch Alienware M18.

Josh Goldman/CNET

Asus also leaned into glasses-free 3D with its new ProArt Studiobook and Vivobook Pro laptops. Both, similar to Dell's display prototype, use eye tracking to make 3D viable. And those devices are aimed at artists and designers, not gamers. Acer also has a similar eye-tracking 3D laptop aimed at gamers, called the Predator Helios 300, as well as a professional display from 2022 called the Acer SpatialLabs View with that same technology. 
Laptops with glasses-free 3D were first tried back in 2012 and never made it to a second generation. The eye tracking in these new versions, however, makes the experience miles better.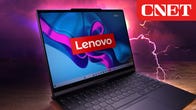 Now playing:
Watch this:

Lenovo Goes All-In on OLED and E Ink Laptops and Tablets…
4:32

More, and different, screens
Other experiments, like Lenovo's twin-OLED-screen Yoga Book 9i and color E Ink/OLED combo, the ThinkBook Plus Twist, might eventually offer some new features that will bleed into more staid work laptops, but it's far from a sure thing. That said, new E Ink devices like the 10.3-inch Yoga Paper could have more practical work applications, and I only say that because I've been using a similar-feeling new Amazon Kindle Scribe while walking the floor at CES 2023 to great effect.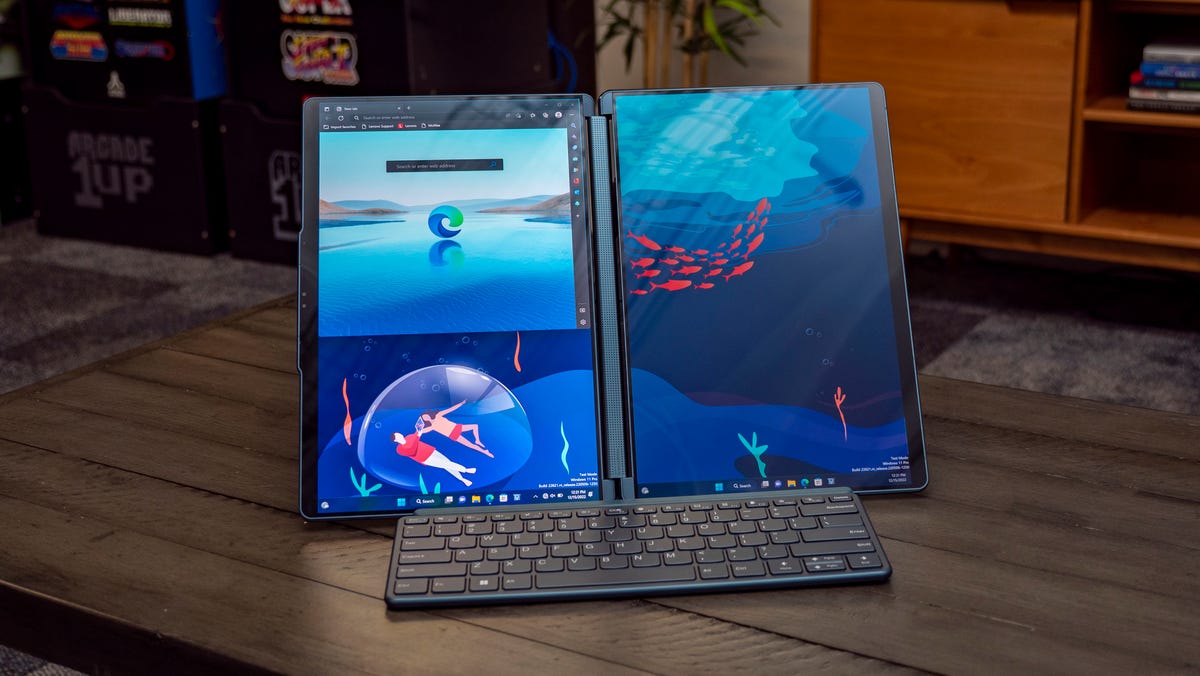 The Yoga Book 9i from Lenovo. 

Josh Goldman/CNET

The most welcome trend in both consumer and commercial laptops from the past two years continues unabated, I'm pleased to say. Nearly every new laptop we saw defaulted to a full-HD 1,080-resolution webcam, rather than the wimpy low-res versions that were common prepandemic. 
Even better, it's considered such a standard feature that PC makers hardly feel the need to call it out anymore. It was way too long in coming, and low-res webcams made that first year of remote work in 2020 more difficult than it needed to be for many. But now that we've normalized the hybrid workplace and accept video meetings as equal to in-person ones, I'd call it one of those subtle but important changes to how we work that's making life just a little bit easier. 
The best laptops in every category
Best Laptop for 2023
Best Windows Laptops
Best Laptop for College 
Best Laptop for High School Students
Best Budget Laptop Under $500 
Best Dell Laptops 
Best 15-Inch Work and Gaming Laptops
Best 2-in-1 Laptop
Best HP Laptops
Best Gaming Laptop 
Best Cheap Gaming Laptop Under $1,000
Best Chromebook: 8 Chromebooks Starting at Under $300