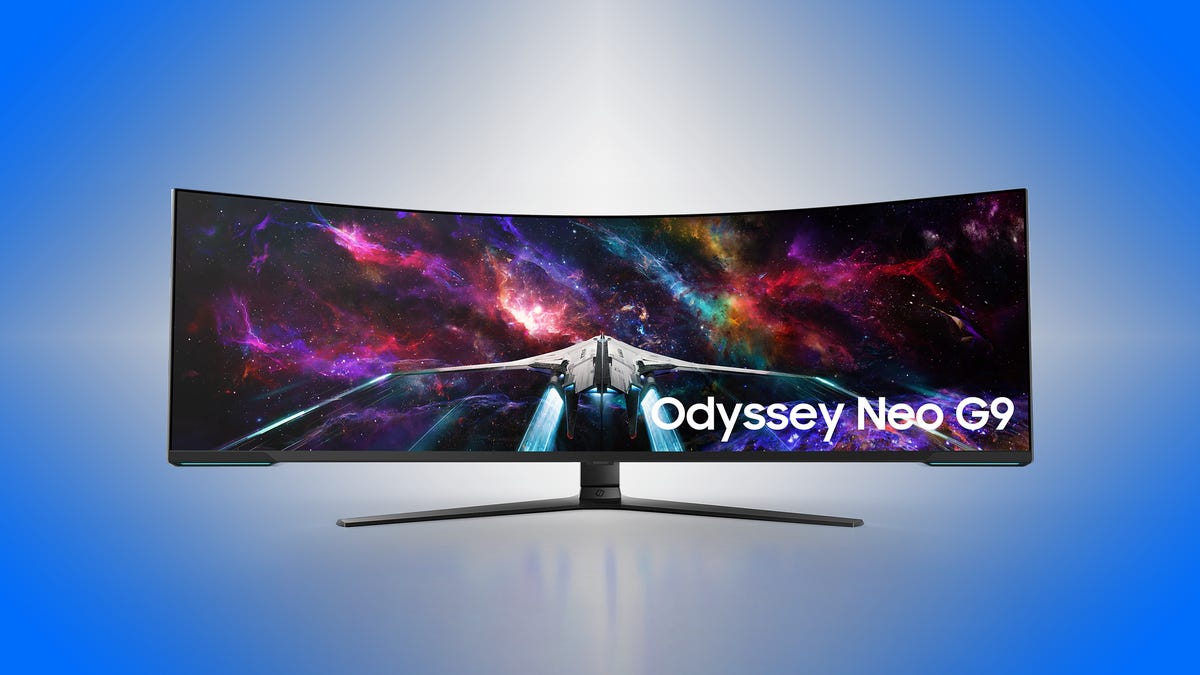 You might need more space for this new Samsung monitor.
Samsung
CES 2023, the annual electronics show that previews upcoming tech and future concepts, kicked off Thursday in Las Vegas. This year's show features concept cars, flamboyant fridges and wireless TVs as some of the main attractions. There are plenty of reveals that should interest gamers, too, especially as companies like Sony promise that supply issues are beginning to resolve.
From new laptops to huge monitors, here's some of the most interesting gaming hardware we've seen at CES.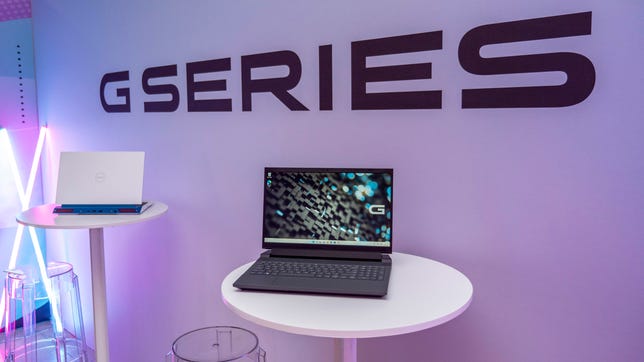 Josh Goldman/CNET
Dell's revamped, budget-friendly gaming laptops
Dell revamped its G15 and G16 gaming laptops, and they are loaded with the latest Intel, AMD and Nvidia chips, according to CNET's Joshua Goldman. They have chunky, angular bodies with two-tone designs, and importantly, these laptops can play AAA games without breaking the bank. The prices for the new G15 and G16 start around $849 and $1,499, respectively. The laptops are expected to start shipping in the next few months. UK and Australia availability and prices are still TBA.
Read more about Dell's G15 and G16 gaming laptops.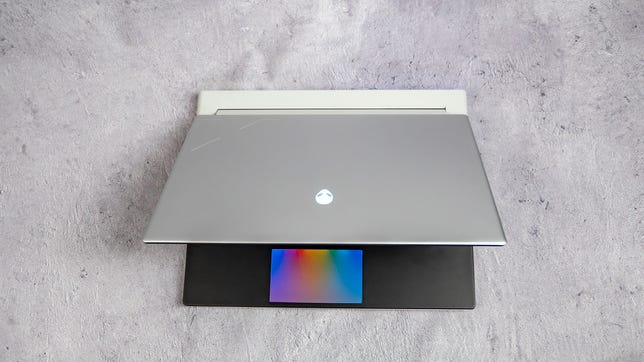 Josh Goldman/CNET
Alienware's thin and powerful gaming laptops
Alienware unveiled four new gaming laptops at CES, Goldman reported. Two of those laptops in particular caught our eyes. Alienware said its second-gen x14 is the thinnest 14-inch gaming laptop in the world. The x14 arrives this winter and starts at $1,799, but UK and Australian release dates and pricing weren't announced.
Then, Alienware announced the new m18, which comes with an 18-inch screen and your choice of Intel or AMD processors and Nvidia or Radeon graphics. It has seven heat pipes and four fans to keep everything cool, dual user-replaceable DDR5 SO-DIMM slots and up to 9TB of potential storage. Alienware will offer the m18 with either 165Hz, 2,560×1,600 pixel-resolution or 480Hz, 1,920×1,200-pixel resolution screens. Only the high-end configuration will be available at launch with a starting price around $2,800. 
Read more about Alienware's four new gaming laptops.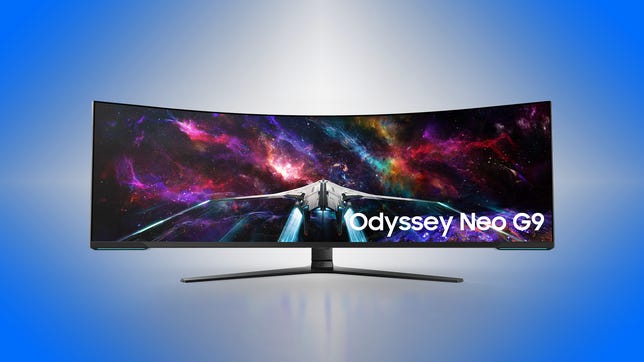 Samsung
Samsung's new gaming monitor is a monster
Gaming monitors have grown throughout the years, and this year is no different. Samsung unveiled its behemoth 57-inch Odyssey Neo G9, a curved, Display HDR 1000 model monitor at CES, as reported by CNET's Lori Grunin. The monitor has a 7,680×2,160-pixel resolution, a 240Hz refresh rate and a 32:9 aspect ratio. However, the Nvidia GeForce RTX 4090 is probably the only GPU that can handle this monitor, so you might have to upgrade your setup if you want to play anything smoothly. This monitor is expected to ship later this year, but no price was announced.
Read more about Samsung's 57-inch Odyssey Neo G9.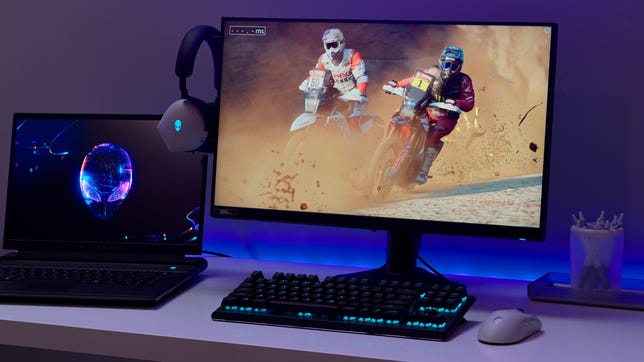 Alienware
Alienware's fastest gaming monitor to date
Alienware's new 25-inch AW2524H gaming monitor is a contender for the fastest gaming monitor at CES 2023, according to Grunin. The monitor can hit a 500Hz refresh rate when overclocked, and it has a native 480Hz refresh rate. This monitor is based on IPS, which gives it better color, viewing angles and higher brightness than the first 500Hz monitor, Asus's ROG Swift 500Hz, which uses TN technology. It's expected to ship in early February in China and late March in the US, but a price hasn't yet been announced.
Read more about Alienware's new 25-inch AW2524H monitor.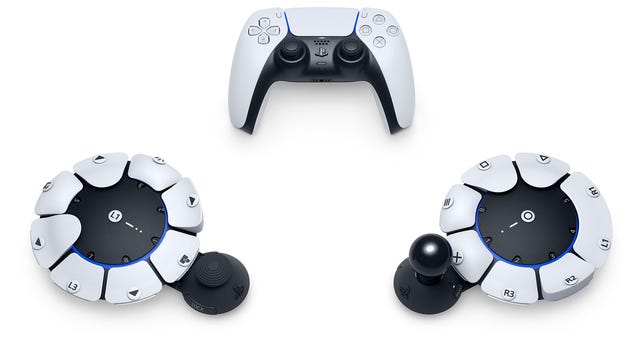 Sony shows its new accessibility controller
Sony unveiled Project Leonardo, a new gaming controller kit designed to be customized for people with disabilities, reported CNET's Steven Musil. Sony's Interactive Entertainment CEO Jim Ryan said the kit "will allow players with disabilities to play more easily, more comfortably and for longer periods." Sony didn't announce a price or release date for the kit.
Read more about Sony's Project Leonardo.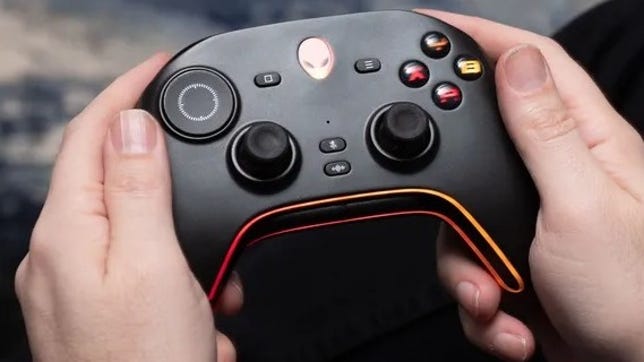 Josh Goldman/CNET
Dell's concept Nyx controller
If you're more comfortable PC gaming with a controller than a keyboard, Dell showed off a concept Nyx controller you might be interested in. The controller looks like a standard controller, but it has a few extra features, according to CNET's Dan Ackerman. There's a fingerprint reader under its center button, dual scroll wheels under the center area so you can easily zoom and select items, and there are two shift buttons on the back of the controller that let you change between sets of commands. There are also touch sensors under the shoulder buttons you can scroll your finger over for different effects. The controller is only a concept, so there's no word on a release date or price.
Read more about Dell's concept Nyx controller.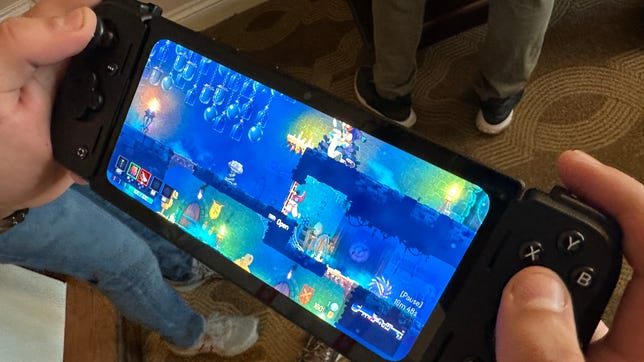 Scott Stein/CNET
Razer's new gaming handheld is available for preorder now
Razer's Edge, a convertible gaming tablet, first debuted almost a decade ago. Since then the gaming tablet has undergone some changes, and you can preorder the new version now, according to CNET's Scott Stein. The Edge is an Android tablet with a snap-on gaming controller and a 2,400×1,080-pixel resolution display that runs at up to 144Hz. Razer said it'll be the best way to try Xbox cloud gaming or to play games via Steam Link. You can also store games on its 128GB of storage so you can play on the go or bump up your storage to 2TB thanks to a microSD card slot. You can preorder the new Edge for $400, and it's expected to arrive Jan. 26.
Read more about Razer's Edge.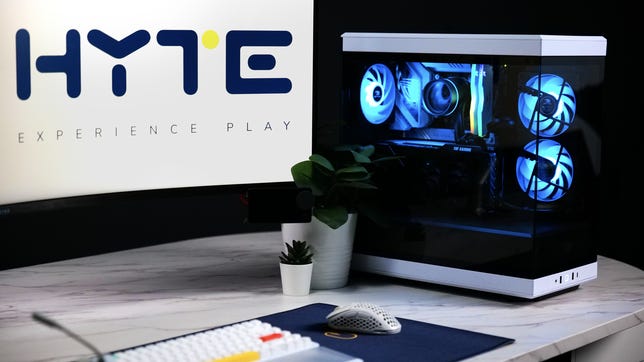 HYTE
See inside your PC with HYTE's new glass tower case
Building your own PC can be a fun process and a point of pride for some gamers, and you can show off your rig with HYTE's new glass tower case, the Y40. The case is the successor to the Y60 and features two-piece panoramic tempered glass, giving you an unobstructed view into your PC. The glass side panel can be removed with a tool-less tab, too, for easy access to your PC's components. The Y40 supports up to a 280mm all-in-one liquid cooler mounted to the side and up to a 360mm AIO mounted on the top. The case has two USB Type-A ports, one USB Type-C port and a 3.5mm combo jack, and it's available in three colors — black with a black interior, white with a black interior, and red with a black interior. The Y40 is available now for $150.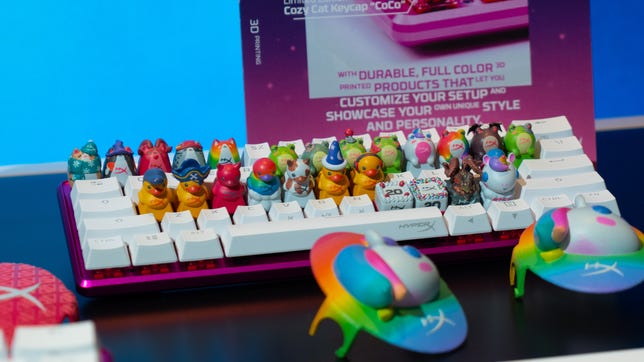 Lori Grunin/CNET
HyperX's 3D-printed keycaps
HyperX, the peripheral arm of HP, announced 3D-printed keycaps to help personalize your keyboard, said Ackerman. HyperX previewed different themed keycaps, including cute and cozy as well as a dark fantasy theme full of skulls and horns. There are WASD replacement keys for gaming and mini sculptures that are more decorative but still functional. The keycaps will be released in limited waves with additional designs starting this month and will cost about $20.
Read more about HyperX's 3D-printed keycaps.
Samsung
Samsung debuts gaming-focused soundbars
Sound is an important part of any gaming experience, whether you're playing an atmospheric game like Dead Space or chatting with your friends in Call of Duty: Warzone 2.0. Samsung's latest Dolby Atmos soundbars are focused on giving you the best sound within your games, according to CNET's Ty Pendlebury. The HW-G60C includes echo-canceling microphones and LED lighting. It's designed to be used with a PC, but it should work with a TV. The HW-Q990C includes sound modes like Game Pro 2.0 and Adaptive Sound 2.0, which gives "clear sound using AI sound-optimization technology." Pricing and availability haven't been announced.
Read more about Samsung's gaming-focused soundbars.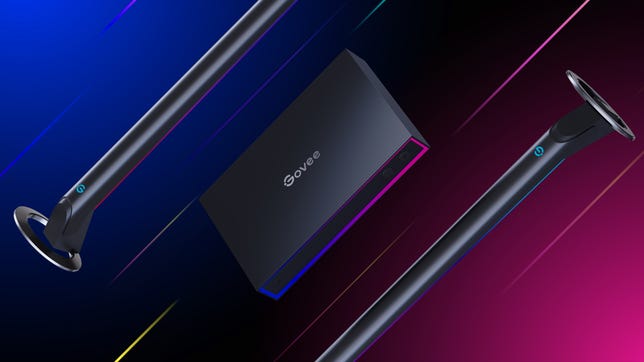 Govee
Govee's gaming box makes a light show while you play
Smart lighting upstart Govee introduced its AI Gaming Sync Box kit at CES, CNET's Andrew Blok reported. Govee said the kit has "near zero synchronization delay." The box will also trigger certain lighting effects for in-game achievements. Govee expects the kit to cost between $300 and $350, and expects it to be available some point this year. 
Read more about Govee's gaming box.
More from CES 2023

CES 2023's Wildest Highlights: Flying Cars, Flying Boats and Folding Screens
All the Cutting-Edge CES TVs to Get Excited About
The Wackiest Tech of CES 2023: Car Companions, Smell Showers and More