If box office earnings are anything to go by, audiences tend to love movies based on true stories.
From "Titanic" to "Schindler's List," and "Erin Brockovich" to Elvis," these films can bring in millions and launch award-winning careers.
While "Titanic" was always known to be a fictional love story tied to an accurate depiction of what happened on the disaster-bound ship and the real Erin Brockovich has said the movie based on her life was spot on, other films have faced scrutiny for claiming to depict real events.
'LEAVE HER ALONE!' FANS DEFEND SANDRA BULLOCK AFTER SHE RECEIVES BACKLASH FOR 'BLIND SIDE' CONTROVERSY
Here's a look at some movies that may have stretched the truth.
"The Blind Side"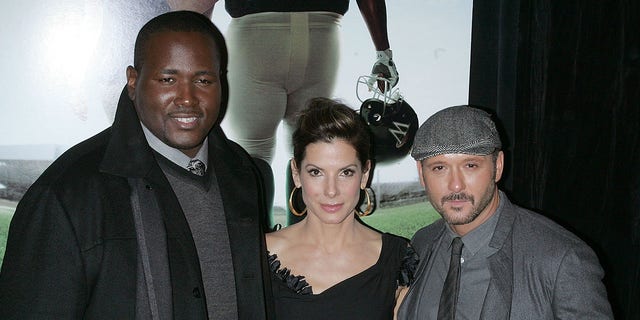 Quinton Aaron, Sandra Bullock and Tim McGraw starred in "The Blind Side." (Jim Spellman/WireImage)
Released in 2009, "The Blind Side" starred Sandra Bullock, Tim McGraw and Quinton Aaron. It was "based on the extraordinary true story" and the characters used the same names as the people they portrayed: Leigh Anne Touhy, Sean Touhy and Michael Oher.
The movie told the story of a teenager, Oher, who the Touhy family found wandering the streets in freezing weather. They took him home, hired a tutor to help with his dismal grades and taught him how to play football. Oher, both in the movie and in real life, played in the NFL.
"The Blind Side" was hailed as an inspiration, and it was nominated for a best picture Oscar. Bullock won the Oscar for best leading actress.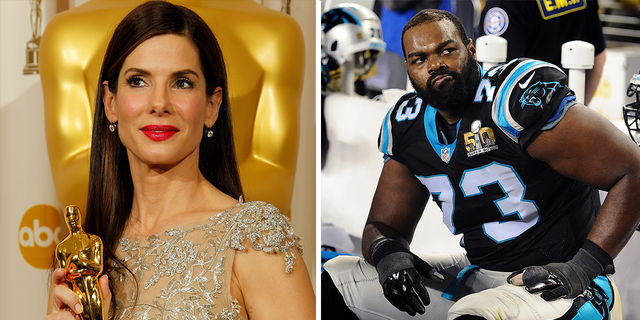 Sandra Bullock received multiple awards for her portrayal of Leigh Anne Tuohy in the film "The Blind Side" about former NFL player Michael Oher. (Jeffrey Mayer/WireImage I Jeff Siner/Charlotte Observer/Tribune News Service via Getty Images)
Despite how popular the movie was, Oher has long taken issue with his depiction in it, most recently in a bombshell lawsuit filed this week. In court documents, he explained how the movie was based on a lie.
While he believed until this year that the Touhy family adopted him, he's now alleging that what he thought were adoption papers were actually papers for a conservatorship. While the original agreement was that the conservatorship would last until either it was terminated or Oher turned 25, it's still legally in place. The former NFL player is now 37.
He also claimed he's never received a cent from the movie based on his life while the Tuohys received $225,000, along with a small percentage of the proceeds. The family has denied this, saying Oher has received an equal cut of any money they've made from "The Blind Side."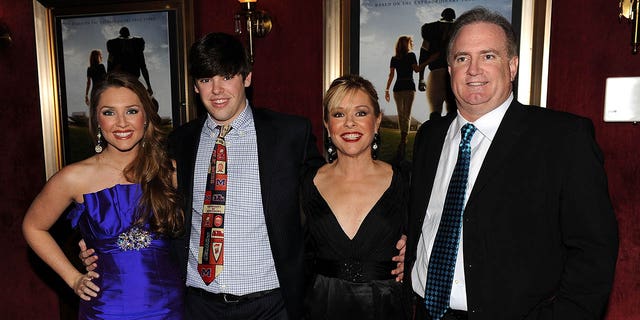 (L-R) Collins Tuohy, Sean Tuohy Jr., Leigh Anne Tuohy and Sean Tuohy attend the premiere of "The Blind Side" at the Ziegfeld Theater Nov. 17, 2009, in New York City.   (Stephen Lovekin/Getty Images)
The family has also claimed Oher threatened to "plant a negative story" about them in the press if they didn't give him $15 million. Despite the controversy, the Tuohys say they hope to iron things out with Oher because they still love him and want him in their lives.
MICHAEL OHER'S ADOPTION REVELATION FACES PUSHBACK FROM TUOHY FAMILY MEMBERS
In his 2011 memoir, Oher wrote that he didn't appreciate how the movie made him look "dumb" when really he was a kid "who had never had consistent academic instruction." In later interviews, he said he got a bad reputation during his football career from the film.
"Fargo"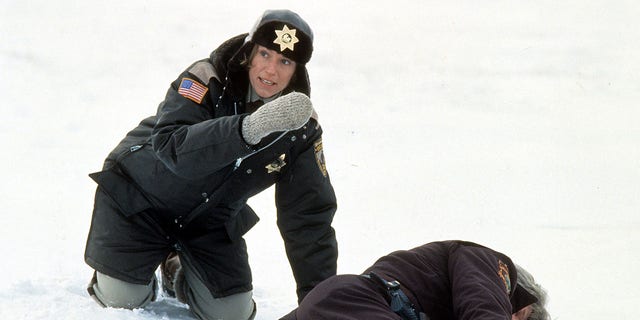 Frances McDormand next to a murdered officer in the snow in a scene from the 1996 film "Fargo."  (Gramercy Pictures/Getty Images)
When the Coen brothers released "Fargo" in 1996, they included a note at the beginning that said, "This is a true story. The events depicted in this film took place in Minnesota in 1987. At the request of the survivors, the names have been changed. Out of respect for the dead, the rest has been told exactly as it occurred."
As it turned out, that was not the case.
The movie told the story of a man who, desperate for money, hired two men to kidnap his wife so that her wealthy father would pay a ransom. Things spiral out of control after that, but as Ethan Coen told HuffPost in 2016, "We wanted to make a movie just in the genre of a true story movie. You don't have to have a true story to make a true story movie."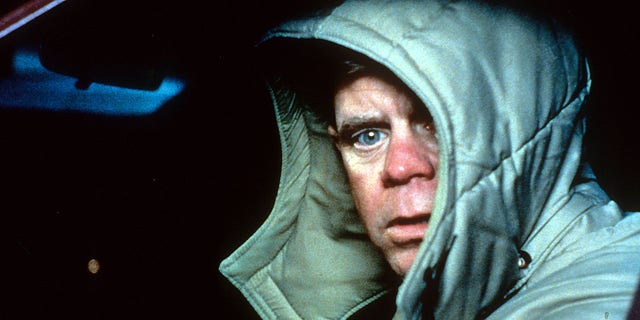 William H. Macy bundled up in car in a scene from the film "Fargo."  (Gramercy Pictures/Getty Images)
Joel Coen told Far Out magazine, "If an audience believes that something's based on a real event, it gives you permission to do things they might otherwise not accept."
KIRSTEN DUNST, JESSE PLEMONS TALK FX'S 'FARGO' TV SERIES
However, the most memorable scene from "Fargo," the wood chipper scene, was based on something that actually happened. In the movie, one of the criminals is found in the process of putting his partner through the machine. Years before the film's release, a man named Richard Crafts was convicted of killing his wife. He disposed of her body by putting her through his own wood chipper.
"A Beautiful Mind"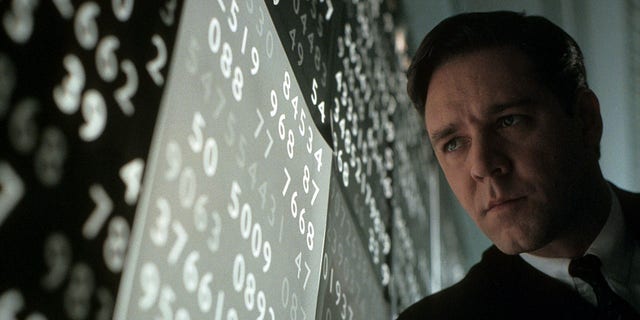 Russell Crowe looking at a wall of numbers in a scene from "A Beautiful Mind" in 2001. (Universal/Getty Images)
Russell Crowe starred in "A Beautiful Mind," the award-winning 2001 biopic of mathematician John Nash. While the premise for this movie was accurate, several key details were changed.
The movie tells the story of a gifted man who studied at Princeton, where he met his wife. But his life took a dark turn when he began developing symptoms of schizophrenia.
While this happened in Nash's life, the details are quite different.
In the film, it's revealed that multiple characters are actually just Nash's hallucinations. In reality, it's exceedingly rare for people with schizophrenia to have hallucinations, and there's no evidence Nash had them.
The real John Nash and Russell Crowe's version of John Nash. (Will Ragozzino/Patrick McMullan/Universal)
Jennifer Connelly co-stars in the film, playing the role of Nash's wife, Alicia. She's seen struggling with his symptoms and trying desperately to reach him at his lowest moments. The real Alicia divorced Nash in 1963, six years after they got married. He did continue living with her and, as shown in the movie, they did have a child. He also had another child before he married her, a fact missing from the movie.
RUSSELL CROWE CONSIDERING RETIRING FROM ACTING: 'YOU WILL HEAR FROM ME AGAIN'
Other smaller details were changed too. In the movie, Nash gave an inspirational speech when he won the Nobel Prize, but video footage of the actual event shows he didn't speak at all when he accepted the honor. At one point, Crowe's Nash mentions that he takes newer medications to treat his mental illness, but the real Nash stopped taking meds altogether in 1970.
"Saturday Night Fever"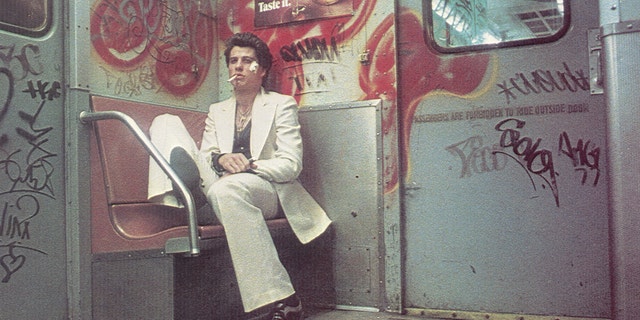 John Travolta sits on a bench inside a subway car painted with graffiti in a still from director John Badham's film "Saturday Night Fever" in 1977.  (Paramount Pictures/Getty Images)
One of John Travolta's most iconic roles was that of Tony Manero in "Saturday Night Fever." The film was released in 1977, and it starred Travolta as a 19-year-old in Brooklyn who struggles at home but discovers himself at his local disco.
The movie was based on a "true story" that ended up not being true at all.
"Saturday Night Fever" was adapted from a 1976 article in New York Magazine called "Tribal Rites of the New Saturday Night" by Nik Cohn. His story focused on a man named Vincent who he called "the very best dancer in Bay Ridge."
"Everybody knew him," Cohn wrote. "When Saturday night came round and he walked into 2001 Odyssey, all the other Faces automatically fell back before him, cleared a space for him to float in, right at the very center of the dance floor. Gracious as a medieval seigneur accepting tributes, Vincent waved and nodded at random. Then his face grew stern, his body turned to the music. Solemn, he danced, and all the Faces followed."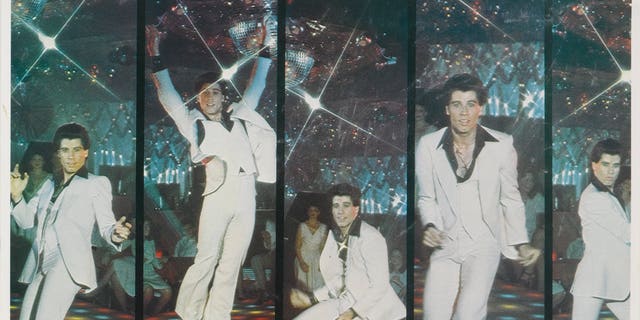 A lobby card for the 1977 film "Saturday Night Fever," featuring actor and dancer John Travolta. The film was distributed by Paramount Pictures.  (Movie Poster Image Art/Getty Images)
He prefaced the article with a note that said, "Everything described in this article is factual and was either witnessed by me or told to me directly by the people involved. Only the names of the main characters have been changed."
'EMPIRE STRIKES BACK,' 'SATURDAY NIGHT FEVER' HEADING TO NATIONAL FILM REGISTRY
In 1995, nearly 20 years after Cohn's story was published, he recanted it in a piece he wrote for The Guardian.
"The problem was that my story was a fraud. I'd only recently arrived in New York. Far from being steeped in Brooklyn street life, I hardly knew the place," he wrote in part. "As for Vincent, my story's hero, he was largely inspired by a Shepherd's Bush mod whom I'd known in the Sixties, a one-time king of the Goldhawk Road."
"Catch Me If You Can"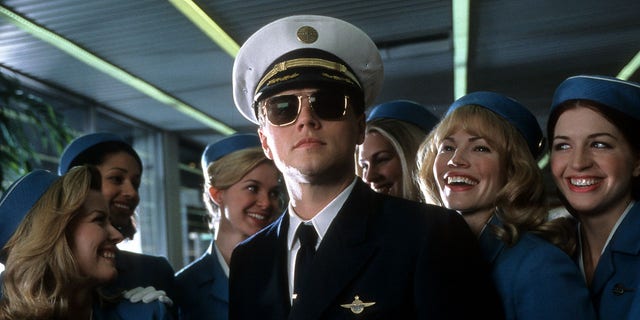 Leonardo DiCaprio with flight attendants surrounding him in a scene from the 2002 film "Catch Me If You Can." (DreamWorks SKG/Getty Images)
"Catch Me If You Can" from 2002 tells the story of a conman named Frank William Abagnale Jr., played by Leonardo DiCaprio. The audience sees Abagnale pretend to be a pilot, a doctor and a lawyer, all while forging checks for these professions. Throughout the movie, he interacts with an FBI agent played by Tom Hanks who, as the title implies, can't seem to catch him.
CLICK HERE TO SIGN UP FOR THE ENTERTAINMENT NEWSLETTER
Abagnale said in an interview with Charleston Stage the movie is 80% accurate, but many of the claims he's made in the years since he rose to infamy as a con artist have been questioned or debunked. A journalist named Alan C. Logan wrote a book about Abagnale, and in his research he claims to have discovered that for most of Abagnale's late teen years (the years depicted in "Catch Me If You Can"), he was in prison.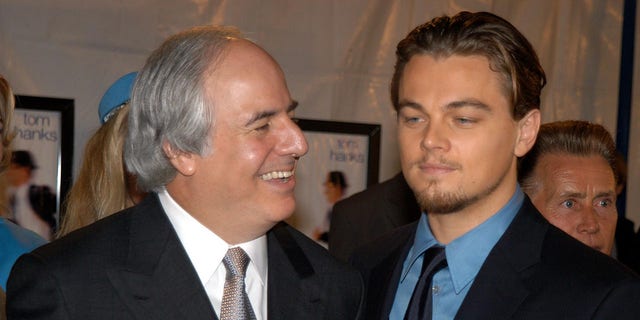 Frank Abagnale Jr. and Leonardo DiCaprio during the Dreamworks premiere of "Catch Me If You Can" at Mann Village Theater in Westwood, Calif. (Jeff Kravitz/FilmMagic, Inc)
As Logan explained on a podcast called "The Pulse" in 2021, Abagnale only began telling the version of events shown in the movie in 1977 when he appeared on a game show called "To Tell the Truth." This is when he began getting widespread attention for his alleged exploits. So, it's possible a great deal of the movie is entirely fiction.
CLICK HERE TO GET THE FOX NEWS APP
One thing the Spielberg film did get right was Abagnale's habit of writing bad checks. He spent time in prisons in the U.S., France and Sweden for forgery, fraud and theft.