close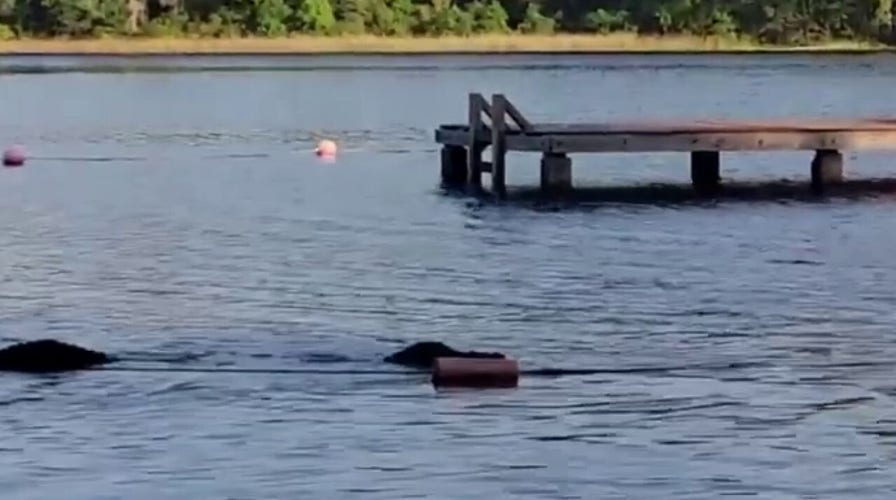 Video
Massive alligator swims toward children playing in Houston lake
A massive alligator in Texas was captured on video swimming toward a group of children playing in a Houston area lake. (Credit: David Siljeg)
A group of Girl Scouts swimming in a Huntsville, Texas, lake rushed to safety over the weekend as they came face-to-face with an alligator estimated to be longer than 10 feet, which swam toward them before getting tangled in a rope.
The incident happened at Lake Raven in Huntsville State Park, FOX 8 reported.
The state park is located nearly 60 miles from Houston, and according to signs posted near the swimming area, alligators are common in the area.
LONGEST ALLIGATORS IN THE US THAT BROKE AMERICAN HUNTING RECORDS – OFFICIALLY AND UNOFFICIALLY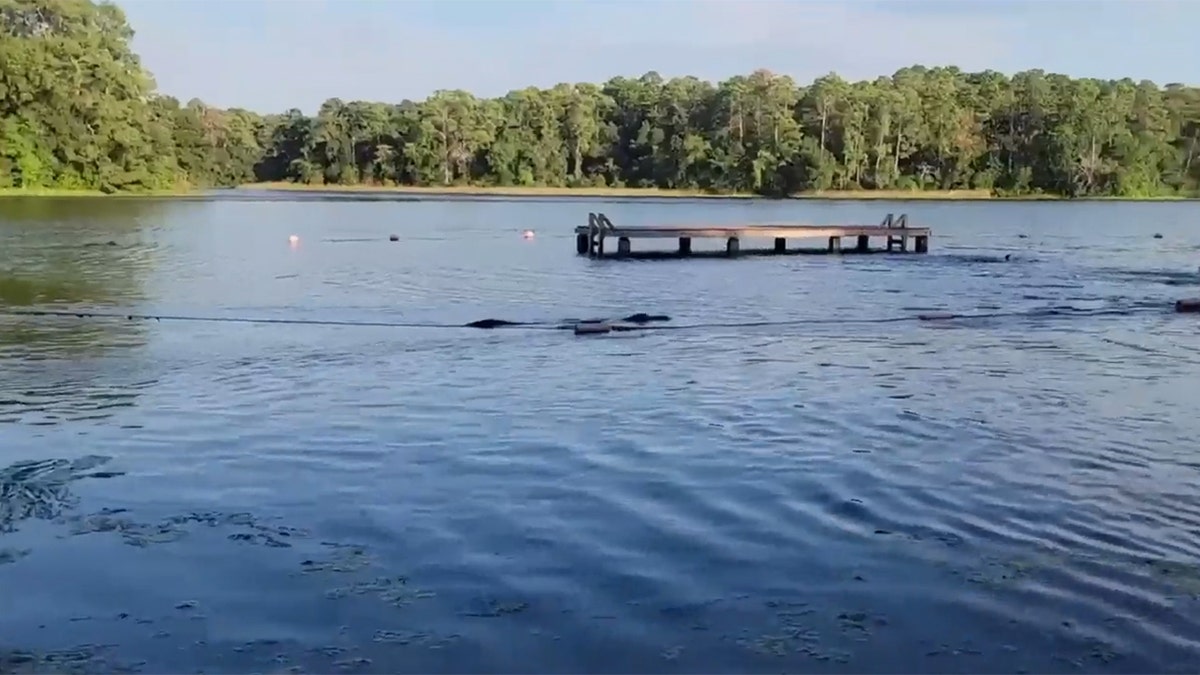 An alligator in Huntsville, Texas, which some estimate to be more than 10 feet long, swims toward a group of Girl Scouts in Lake Raven. (David Siljeg)
Video captured on a cellphone over the weekend shows how close alligators can potentially get to swimmers.
In the video, recorded by David Siljeg, a large alligator can be seen swimming toward the group in the lake.
One of the adults on shore sprints toward the children in order to help get them on the landward side of a rope between land and a platform.
AMERICA'S STRANGEST ALLIGATOR ENCOUNTERS: SEE THESE 13 STARTLING STORIES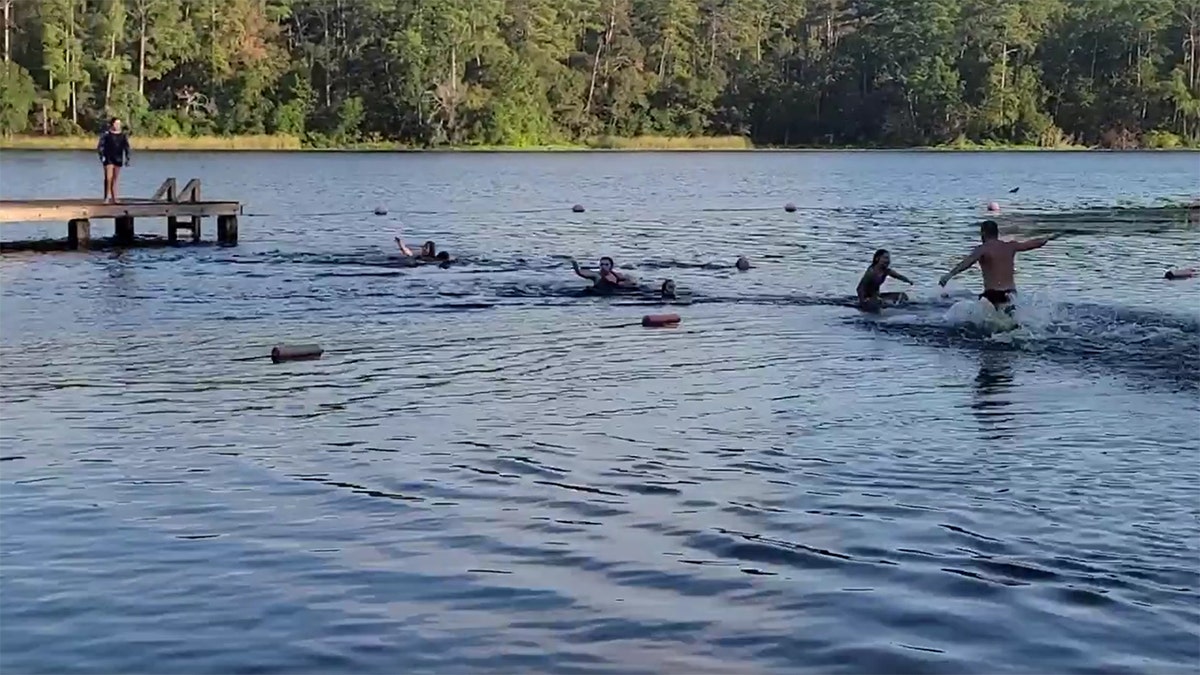 Girl Scouts swimming at Lake Raven in Huntsville, Texas, scramble ashore as an estimated 10-foot alligator swims toward them. (David Siljeg)
On the floating platform just beyond the rope, one of the children can be seen jumping into the water to reunite with the rest of the group. As she neared the rope, the alligator appeared to go underwater briefly before getting tangled.
"The gator was definitely aiming for her," Siljeg told FOX 26. "It was like a movie scene, but real."
None of the children were injured by the curious predator.
LARGE ALLIGATOR FOUND 'PATIENTLY WAITING' FOR LOUISIANA DOLLAR STORE TO OPEN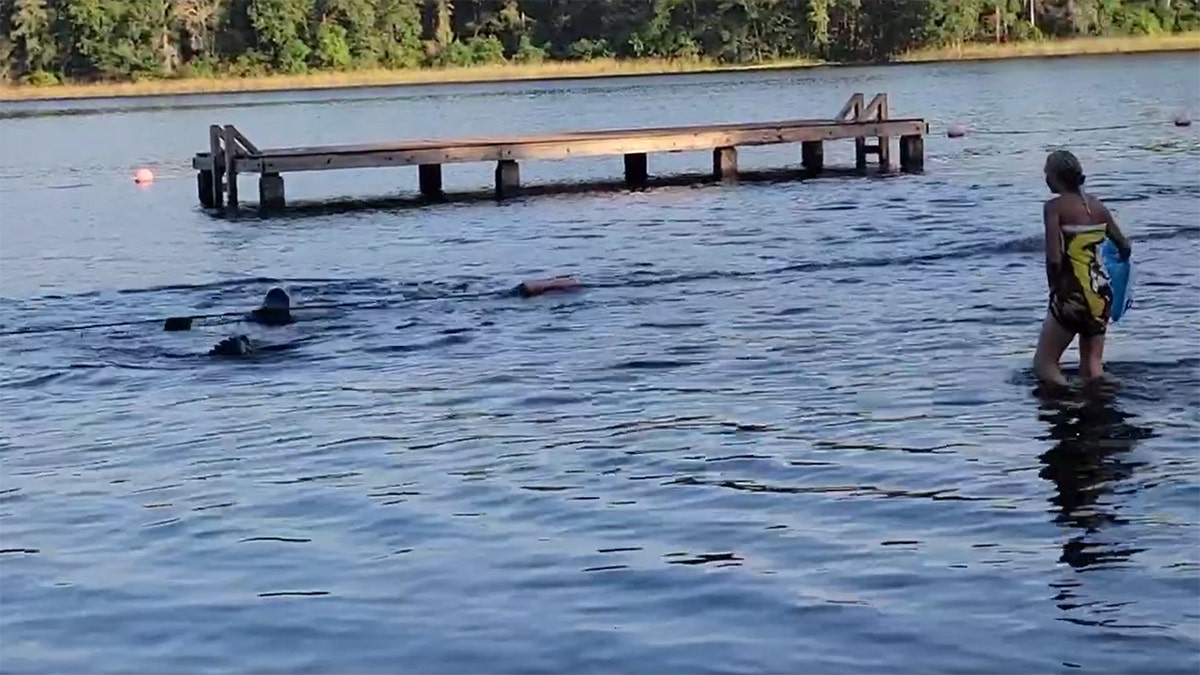 An alligator swimming toward a group of children in Lake Raven in Huntsville, Texas, is seen stuck in a rope. (David Siljeg)
Noel Garcia, who was seen pouncing into action to help the scouts, told the station the gator was "definitely sneaking."
He also said that when the alligator got tangled in the rope, it may have possibly saved the children.
"It wasn't the best feeling," said Garcia. "Luckily, the rope was there to distract him."
Signs warning swimmers of alligators are posted near the swimming area at Huntsville State Park.
CLICK HERE TO GET THE FOX NEWS APP
The station reported that there was another incident earlier this summer, at the same swimming spot, which required the swimmers to be rescued from the dock when an alligator swam between them and the shore.
Still, no injuries were reported from either incident at Lake Raven.
Greg Wehner is a breaking news reporter for Fox News Digital.