close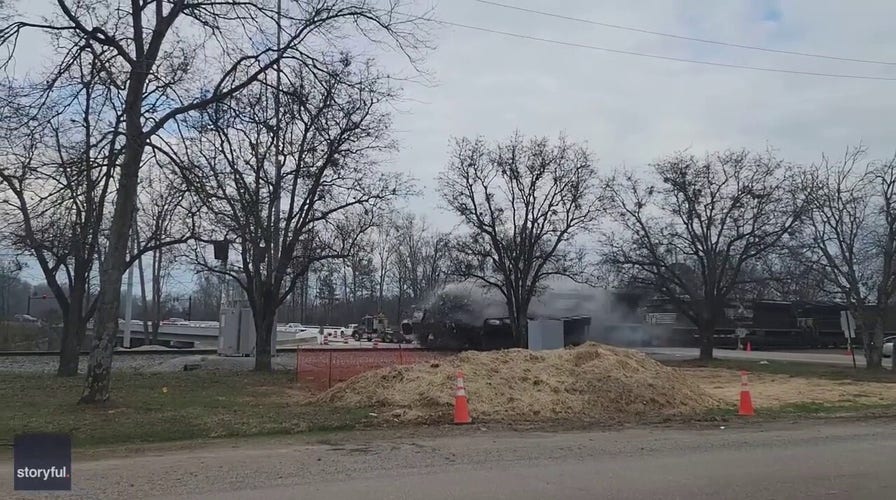 Video
Train in Tennessee slams into truck carrying concrete beam, derails
A Norfolk Southern train crashed into a truck carrying a 134-foot concrete truss beam Tuesday. Two train workers were injured, and several cars derailed. (Marc A Walwyn via Storyful)
A Tennessee police department fired five officers and suspended three others after wild allegations of sexual escapades, including a "Girls Gone Wild"-style hot tub party.
A female La Vergne police officer who claimed to be in "an open marriage" were accused of sordid behavior that included oral sex at headquarters and a manage a trios.
"This situation is unacceptable and as soon as it was brought to our attention it was immediately investigated and action was taken upon the individuals involved," Mayor Jason Cole said in a statement provided to Fox News Digital.
"Our top priority moving forward will include rebuilding the public's trust. I have full confidence in the police department's leadership team and their ability to lead the department. We will be retraining all of our employees in the rules, regulations, and expectations set forth by city leadership."
The department opened an internal investigation last month into allegations of rampant sexual escapades and multiple unreported trysts involving a female officer, identified as Maeghan Hall, and several colleagues, News Channel 5 reported.
The four fired men were Patrol Officer Juan Lugo Perez, Sgt. Lewis Powell, Detective Seneca Shields and Sgt. Henry Ty McGowan. While K-9 officer Larry Holladay, Patrol Officer Patrick Magliocco and Patrol Officer Gavin Schoeberl were reportedly suspended.
COLORADO DEPUTY WITH ONLYFANS ACCOUNT RETIRES AFTER BEING DISCOVERED BY FEMALE OFFICER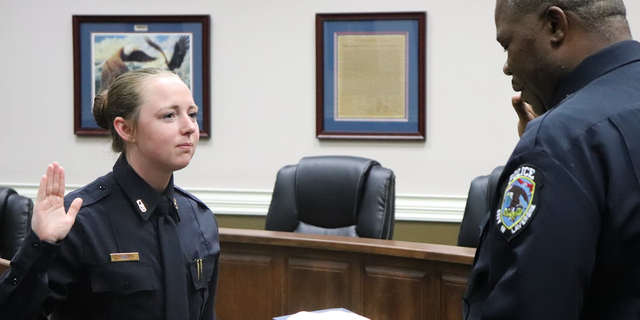 Former La Vergne Police Department Officer Maeghan Hall. 
(La Vergne Police Department )
The department is down nearly 12% of its officers following the scandal, according to Fox 17 and now employs a total of 60 sworn officers.
The investigation was launched after the city's mayor received a tip that Hall was carrying out intimate relationships with male officers, WSMV reported.
The internal investigation, released on Dec. 28, found the trysts took place at the officers' homes, hotels and parties. One escapade was allegedly carried out during a booze-fueled hot tub party where Hall reportedly took off her top at one officer's house that included family members of the officers. Hall was also accused of having a threesome with Magliocco and his wife.
DETROIT COP RESIGNS AFTER RACY ONLYFANS PAGE DISCOVERED BY DEPARTMENT
Hall is married herself, but allegedly told her male colleagues she was in an "open marriage," according to the investigation.
There were also two reported on-duty affairs, when Hall was accused of performing oral sex on Powell and Shields at the police station and in the department's gym.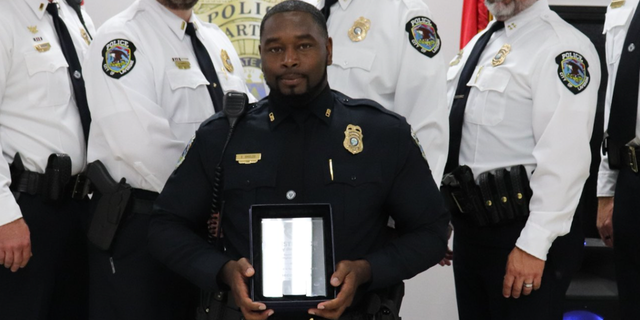 Former La Vergne Police Department Detective Seneca Shields. 
(La Vergne Police Department)
Magliocco admitted to having sex with Hall on "numerous occasions," and accused her of also bragging about colleague Powell's "big Black d—."
4 MICHIGAN COPS FIRED OVER ON-THE-JOB SEX WITH DISPATCHER SCANDAL
"This is a difficult situation for our department and for the city, but I want to be clear that the actions of a few do not represent this department as a whole," Chief Burrel "Chip" Davis said in a statement provided to Fox News Digital.
"This situation is being addressed internally with our staff, we are bringing in counselors to help our officers work through these circumstances, and we will continue to provide the most professional protection as possible for this community."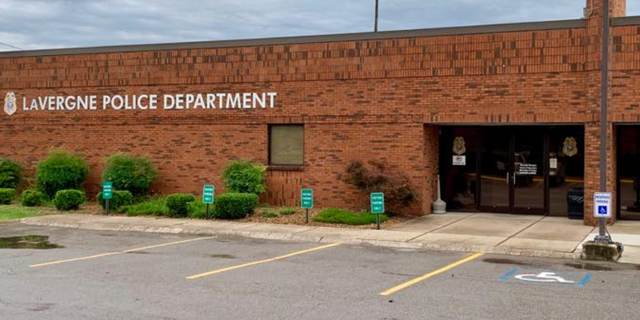 Outside view of the La Vergne Police Department in Tennessee. 
(La Vergne Police Department )
The police chief added that the department has enough staff members to cover patrol shifts and is working to "rebuild the trust of our citizens and our community."
The accused male officers admitted to having undisclosed intimate relationships with Hall, according to WSMV.
CLICK HERE TO GET THE FOX NEWS APP
"Shocked and overall disappointed with our police department and what's happened," newly-elected La Vergne alderman Kara Hobbs told WTVF.