Online dating is the most common way for singles to get together these days. Whether it's a website like Match.com, OKCupid.com, OurTime.com, eHarmony or applications like Bumble, Hinge and Tinder, lots of people out there are looking for love using the web.
CLICK TO GET KURT'S CYBERGUY NEWSLETTER WITH QUICK TIPS, TECH REVIEWS, SECURITY ALERTS AND EASY HOW-TO'S TO MAKE YOU SMARTER
If you've heard of "The Tinder Swindler" on Netflix, you may already know this, yet schemes are getting extreme when it comes to online dating. Romance scams are skyrocketing, Americans were scammed out of over $500 million last year because of them.
So how can you make sure you don't have a crazy person come after you when you're swiping left and right? Be sure to follow our tech tips when it comes to online dating.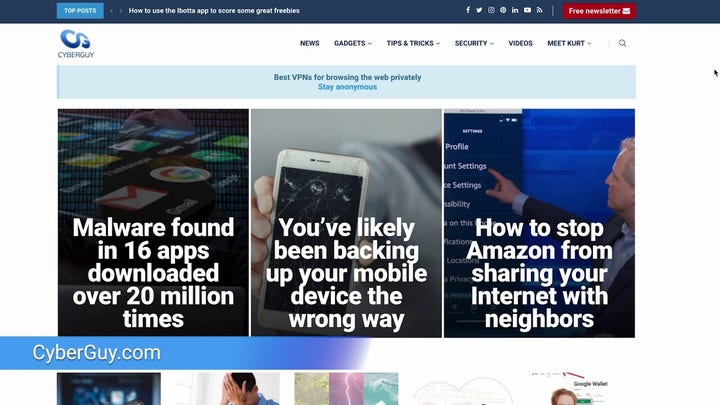 Video
Protect yourself when online dating 
Whether you're searching to find a new love interest, or you're like Taylor Swift and have an ex or two you don't want to come after you, it's important to maintain your privacy online – especially when it comes to internet romance.
HOW TO AVOID THE WORST DATING APP SCAMMERS
Watch out for red flags 
If you're connecting with anyone online, whether for friendship or more, be sure to watch out for these red flags:
Scammers lie about their profession (they often claim to have a job like a secret government position, oil rig worker, someone in the military, a traveling doctor, or someone who travels often for work)
They want to chat with you immediately on another platform like WhatsApp, Google Hangouts, or Facebook messenger
They ask for money at any point while you're getting to know each other – usually for something like a way to travel to see you, to pay off a debt, or to cover a medical expense
They won't video chat with you – this is a major sign of a catfish if you've never seen their face live
The person lovebombs you or moves the relationship too quickly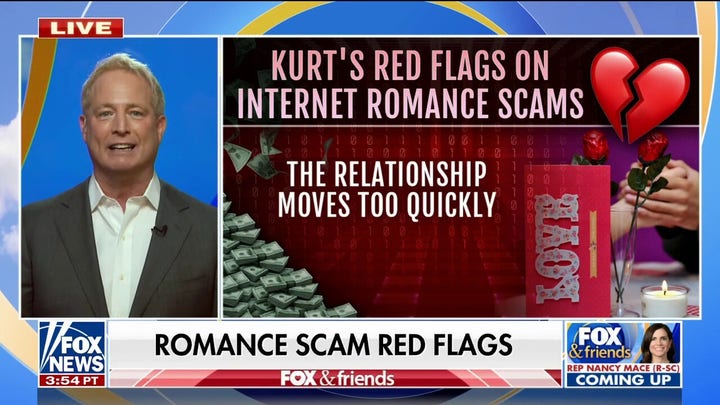 Video
While it's not impossible for a model to be swiping on these apps, if the person you're talking to is using photos that look too perfect across the board or you think for some reason they may be a catfish, they most likely are.  Be sure to reverse search any profile image that seems suspect by following these steps.
HOW TO PROTECT YOURSELF FROM THE 'DO ME A FAVOR' SCAM
Don't post identifying photos on the apps 
While you won't have much success if you're hiding your face on dating apps or websites, you should be careful about what photos you choose.
Don't pick a photo you've taken outside of your or a family member's home, for example. Always check what's in the background of photos you pick, because you don't want to accidentally post a picture of your house number or license plate – these are pieces of information a scammer can use to find out where you live and more personal information about you.
If you're using a photo from your house, make sure you're inside and it doesn't show the street you live on through a window in view.
It's best to use photos from a vacation or busier areas that you've visited.
It's also best to use photos on a dating app that don't match photos on your social media or public websites like LinkedIn, as that makes it easier for people you don't want to talk to on dating apps to find you in real life.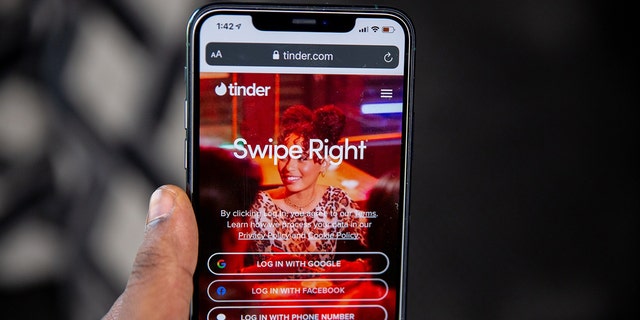 The homepage is displayed for the dating app Tinder on an iPhone. (CyberGuy.com)
Don't use your full name on dating apps 
CAUGHT RED-HANDED: FINALLY, SOME JUSTICE AGAINST A SPYWARE CREEP
You should also not provide your last name automatically to strangers on apps. You don't even need to be a true internet sleuth to find out key information like your home address or phone number using a simple Google search. Giving this information out to the wrong people can lead to you being the target of a scam, harassment or worse.
Make your social media private 
Unless you want anyone in the world to be able to see your personal photos and posts, you should be making all of your social media accounts private. It's a lot harder for someone to find you on social media if you're not using your full name that matches a name on a dating app or website.
Staying safe on your date 
After following all of our above tips, if you do find yourself going out with an individual, be sure to stay safe on your date by checking out our tips and picks for Best Tech for Personal Protection
How have these tech tips helped you when it comes to online dating? Any other tips you'd like to share? We'd love to hear from you.
CLICK HERE TO GET THE FOX NEWS APP
For more of my tips, subscribe to my free CyberGuy Report Newsletter by clicking the "Free newsletter" link at the top of my website.
Copyright 2023 CyberGuy.com. All rights reserved. CyberGuy.com articles and content may contain affiliate links that earn a commission when purchases are made.