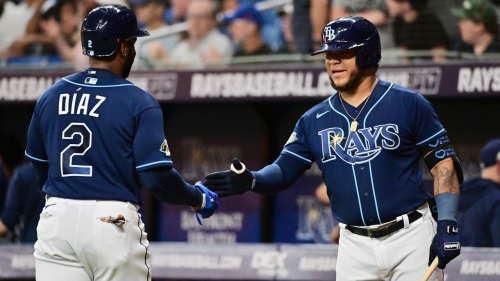 Yandy Diaz and Harold Ramírez celebrate in the third inning against the Houston Astros.
Julio Aguilar/Getty Images

CNN
—
The Tampa Bay Rays made MLB history Monday after opening their season with a 14th-straight win at home.
An 8-3 victory against the reigning World Series champions, the Houston Astros, saw the Rays pass the 2009 Los Angeles Dodgers for the longest home winning streak to start the season in the modern era.
The Rays trailed 3-2 in the third inning at Tropicana Field but hit back with four runs to take a commanding lead in the game.
Shortstop Wander Franco then produced the best play of the contest, sprinting 96 feet to chase down a fly ball in foul territory before taking an over-the-shoulder catch with his bare right hand.
"In all reality, I couldn't reach it," Franco said through interpreter Manny Navarro, according to MLB.com. "I tried all I could with my glove, and my hand just happened to be there and it fell right into it."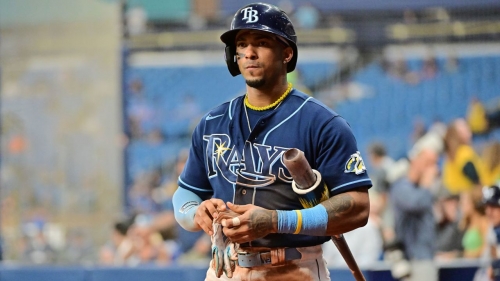 Wander Franco walks up to bat in the sixth inning against the Astros.
Julio Aguilar/Getty Images
After starting the season with a 20-3 record, the Rays are just behind the 1955 Brooklyn Dodgers and 1911 Detroit Tigers for the best start to an MLB season, with both those teams going 20-2.
The all-time record for a winning home start to the season is the 21-game unbeaten streak of the 1880 Chicago White Stockings, the precursor to the Chicago Cubs.
As they continue to rewrite baseball's history books, the Rays' league record of 22 straight games with a home run to start the season did come to an end as they failed to hit a homer against the Astros.
"It's not an obligation for us to hit a home run in order for us to win the game," said Franco. "But in all aspects of the game, we're all playing really well, and it's showing."