close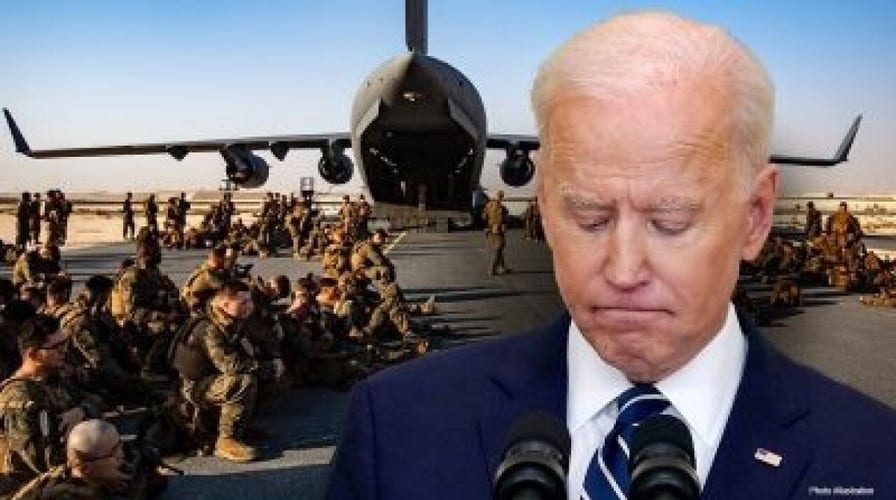 Video
Afghanistan cable warned Biden Kabul would fall after US withdrawal: Rep. Michael McCaul
Rep. Michael McCaul, R-Texas, says Congress has gained access to a classified 'dissent cable' that warned Biden about the risks of withdrawing from Afghanistan on 'America Reports.'
Taliban used U.S. military vehicles gifted to Afghan security forces in recent border skirmish with Iran: report
Last week, in the aftermath of a deadly confrontation between Iranian and Taliban border guards, videos across social media platforms showed large numbers of Taliban military trucks and tanks purportedly heading to the border with Iran.
The Taliban "deployed M117 Armored Security Vehicles, M113 Armored Personnel Carriers, MaxxPro Mine-Resistant Ambush Protected Vehicles (MRAPs), and Humvees to the Iranian border." Bill Roggio, a senior fellow at the Foundation for Defense of Democracies, told Fox News Digital. Roggio, managing editor of The Long War Journal, explained that the "vehicles given by the U.S. to the now-defunct Afghan National Defense and Security Forces, were seized by the Taliban during its conquest of Afghanistan during 2021."
The Department of Defense's Afghanistan spokesperson, Army Lt. Col. Rob Lodewick, confirmed to Fox News Digital that the vehicles were among "a small number of the more than 32,000 tactical vehicles procured for the [Afghan National Defense and Security Forces] over the course of 16 years via the Afghan Security Forces Fund." Lodewick explained the "equipment likely remains in a poor state of readiness" due to "extensive cannibalization and overly-strained maintenance efforts."
OUT OF AFRICA: VET GROUPS COME TO RESCUE OF AFGHANS ON TALIBAN KILL LIST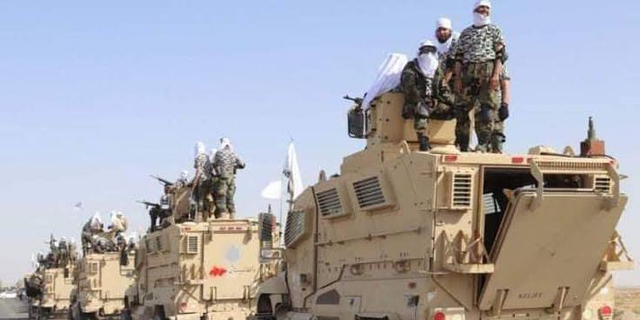 Taliban forces stand astride MaxxPro Mine-Resistant Ambush Protected Vehicles purportedly headed to the Iranian border (Courtesy of Leslie Merriman)
Leslie Merriman, who runs a nonprofit organization inside Afghanistan, told Fox News Digital that her sources indicated the Taliban sent as many as 20,000 fighters and 2,000 suicide bombers to the Iranian border at the end of May.
Roggio said he expects the Taliban's deployment of forces was smaller than 20,000 fighters, though he believes the Taliban could field such numbers. According to Roggio, the Taliban likely have between 150,000 and 200,000 military personnel mobilized in Afghanistan at present.
By comparison, Iran had 523,000 active-duty and 350,000 reserve military personnel as of 2020. They also have superior military equipment, including "jets, drones, and anti-armor weapons," according to Task and Purpose's assessment of developments at the border.
It is unclear whether Iran deployed weaponry and personnel to the border in response to the Taliban's show of force. Iranian Ministry of Foreign Affairs did not respond to a Fox News Digital request for comment on the recent escalation.
GOP SEEKS NEW TALIBAN SANCTIONS FOR HUMAN RIGHTS ABUSES NEARLY TWO YEARS AFTER AFGHANISTAN WITHDRAWAL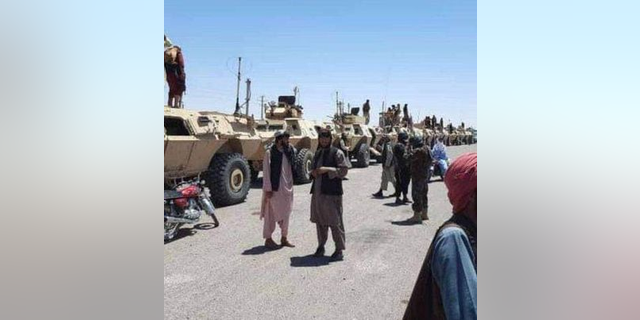 Taliban reportedly sent M117 Armored Security Vehicles, once the property of Afghan National Defense and Security Forces, to the Iranian border after a deadly dispute between border guards. (Courtesy of Leslie Merriman)
The Taliban's mobilization occurred after guards from Iran and Afghanistan exchanged fire at a border crossing in Nimruz province on May 27, killing one Taliban border guard and as many as three Iranian guards. Each side accused the other of inciting the violence, which reportedly involved the use of machine guns and mortars. In the aftermath of the incident, Taliban military commander Abdul Hamid threatened on social media that Taliban forces would "conquer Iran within 24 hours" and "erase them from the map of the earth" if their leaders gave such orders.
Reports suggest the lethal dispute resulted from the Taliban's failure to provide Iran with adequate water from the Helmand River in accordance with an agreement between the countries that dates back to 1973. Iran expert and editor-in-chief of the Foreign Desk Lisa Daftari told Fox News Digital that discord over the 1973 agreement has been long-standing.
She said the agreement "was never ratified or formally upheld, leading to conflict between the two countries for decades. Iran's regime accuses Afghanistan of not giving enough water, and Afghanistan has denied those accusations, blaming a lack of water as the main issue," Daftari added.
By the time of the deadly confrontation, tensions were already high at the border after six months of skirmishes between Iranian and Taliban border guards. In December 2022, "fierce clashes" took place after Iranian border personnel began building a border wall between Nimruz province in Afghanistan and Shagalak in Iran. Iran may have constructed the wall in an attempt to reduce undocumented migration.
The United Nations High Commissioner for Refugees estimates that 2.1 million Afghans who fled to Iran after the Taliban's takeover of Afghanistan are now living in the country without documentation.
IRAN HANGS TWO ON BLASPHEMY CHARGES AS EXECUTIONS CONTINUE TO SPIKE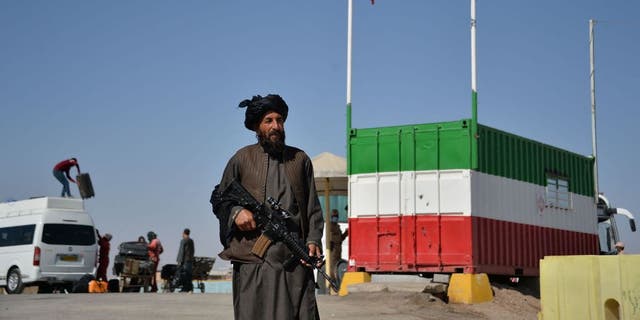 A Taliban fighter stands guard at the Islam Qala border between Iran and Afghanistan on Oct. 19, 2021. (Hoshang Hashimi/AFP via Getty Images)
In late April, border forces were "on high alert" after Taliban authorities failed to coordinate with Iranian border personnel before constructing a road near the heavily-trafficked border crossing at Islam Qala in Afghanistan's Herat province. On May 20, Iranian construction of a border wall at the Islam Qala crossing stoked further ire, with both sides allegedly "brandishing their weapons," according to Afghan media site Hasht-e Subh Daily.
As of June 6, the Taliban appear to have removed their forces and military vehicles from the border with Iran. Both sides have downplayed tensions in the media. Tehran-based Tasnim News reported on June 2 that the Taliban stated its commitment to "the agreement that has been made," possibly a reference to the 1973 accord over Helmand River access. "We do not want a technical issue to become so political that its negative publicity drives the two nations apart," the Taliban said.
A Taliban spokesman looked to downplay the recent skirmishes and told Fox News Digital that it was a technical issue. "We have (an) agreement signed in 1973. The issue can be resolved on the basis of that agreement, not by any saber-rattling."
In an interview with Tehran's Mehr News, Deputy Chief of Police of Iran Qasim Rezaei shifted focus to discuss the need for increased professionalization in the Taliban's border forces. "We had communication with the border guards of the previous government, and we almost jointly managed the border," Rezaei explained. By comparison, he said the Taliban are "inexperienced and they've taken unconventional actions and they shoot without purpose." Rezaei said Iran has offered to help train Taliban border guards in standard protocols.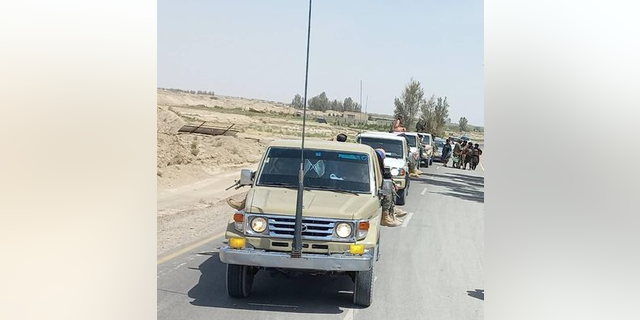 An array of Toyota Hiluxes and sedans were part of the convoy of Taliban military vehicles and personnel allegedly sent to the Iranian border as a show of force. (Courtesy of Leslie Merriman)
CLICK HERE TO GET THE FOX NEWS APP
Merriman said her sources within the Taliban indicate that Iranian officials are now telling their personnel that the events of the last weeks were "a training activity." "They're letting the Taliban back out gracefully," Merriman said.
Both Iran and Afghanistan benefit from keeping the peace, Daftari explained. "Right now, Iran's regime and the Taliban have more in common than in conflict," she said. "The tensions over the Helmand River have been ongoing for years, but currently, Afghanistan's newly empowered Taliban government and the mullahs in Tehran have every interest in maintaining peaceful relations to curb Western influence in the region and to ensure a longer list of trade and interest-aligned partners."
THE Associated Press contributed to this report.
Beth Bailey reports on Afghanistan, the Middle East, Asia, and Central America for Fox News Digital. She has contributed to the Washington Examiner and the Detroit News. She was formerly a civilian intelligence analyst with the Department of the Army, and co-hosts The Afghanistan Project Podcast.