close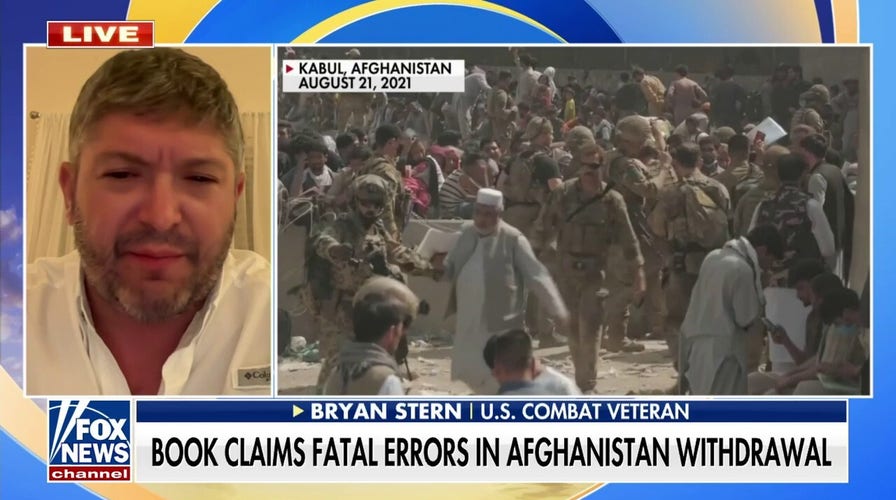 Video
Book suggests fatal mistakes were made during the Afghanistan withdrawal
Project Dynamo co-founder Bryan Stern, who helped rescue Americans and Afghan allies during the Afghanistan withdraw, on what could have caused the fatal errors.
The Taliban on Tuesday is celebrating their second anniversary of returning to power in Afghanistan with a spokesman for the Islamist group hailing the "conquest of Kabul" that unfolded as American troops were withdrawing from the country.
On Aug. 15, 2021, the Taliban entered Afghanistan's capital of Kabul as former president Ashraf Ghani fled the country and its military collapsed. Today, Afghanistan's new Islamist rulers have declared a public holiday and are expected to hold parades and gatherings to commemorate their takeover, according to Reuters.
"On the second anniversary of the conquest of Kabul, we would like to congratulate the mujahid [holy warrior] nation of Afghanistan and ask them to thank Almighty Allah for this great victory," Taliban spokesman Zabihullah Mujahid was quoted as saying.
"Now that overall security is ensured in the country, the entire territory of the country is managed under a single leadership, an Islamic system is in place and everything is explained from the angle of Sharia," he added.
DEADLY EXPLOSION ROCKS AFGHAN HOTEL: AT LEAST 3 DEAD, DOZENS INJURED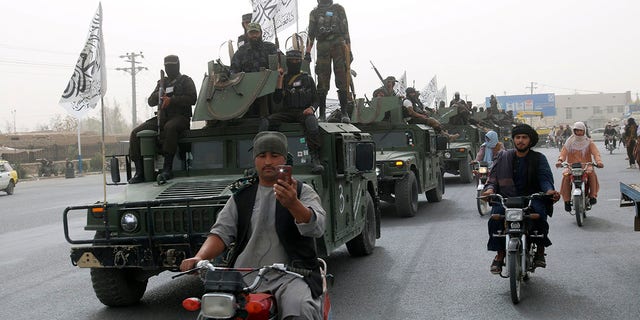 Taliban fighters patrol on the road during a celebration marking the second anniversary of the withdrawal of U.S.-led troops from Afghanistan, in Kandahar, south of Kabul, Afghanistan, on Tuesday, Aug. 15. (AP/Abdul Khaliq)
Reuters reports that security is tight in Kabul on Tuesday, with Taliban soldiers stepping up their surveillance.
However, countries around the world continue to refuse to recognize the Taliban's leadership in Afghanistan.
The United Nations Human Rights Office released a joint statement this week signed by more than two dozen "human rights experts" in opposition of the changes the Taliban has incorporated within Afghanistan under their Islamist brand of rule.
"Two years ago, the Taliban seized power in Afghanistan. Since then, the policies they have imposed on the Afghan population have resulted in a continuous, systematic and shocking rescinding of a multitude of human rights, including the rights to education, work, and freedoms of expression, assembly and association," it said. "Consistent credible reports of summary executions and acts tantamount to enforced disappearances, widespread arbitrary detention, torture, and ill treatment, as well as arbitrary displacement have caused increased concern."
ARMY VETERAN SEEKS TO SAVE AFGHAN COMMANDO STUCK IN TURKEY, LIVING IN FEAR OF TALIBAN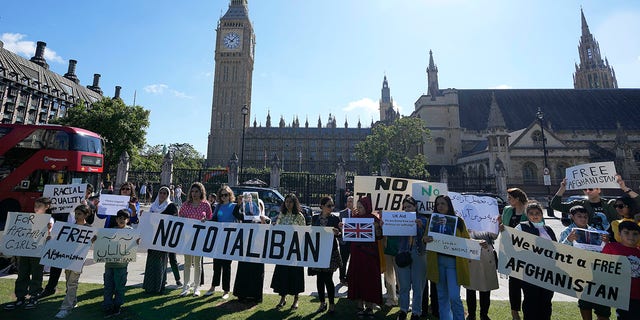 People protest in Parliament Square at the anniversary of the Taliban takeover of Afghanistan in London, on Tuesday, Aug. 15. (AP/Frank Augstein)
"The hardest hit are women and girls, ethnic, religious and other minorities, people with disabilities, displaced persons, LGBTQ+ persons, human rights defenders and other civil society actors, journalists, artists, educators, and former government and security officials," the statement continued.
It added the Taliban has "introduced the use of cruel and undignified punishments, such as stoning, flogging and burying under a wall in contravention of international human rights standards."
More than a dozen Taliban fighters pose for a photograph in Kabul, Afghanistan, celebrating the country's Independence Day on Aug. 19, 2021, just days after their takeover two years ago. (AP Photo/Rahmat Gul)
CLICK HERE TO GET THE FOX NEWS APP
The statement called for the Taliban to "immediately reverse course on the treatment of women and girls," "reopen schools at all levels and universities for girls and women and fulfill the right to education" and to "end reprisals against former government and security officials as well as civil society members," among other demands.
Greg Norman is a reporter at Fox News Digital.