close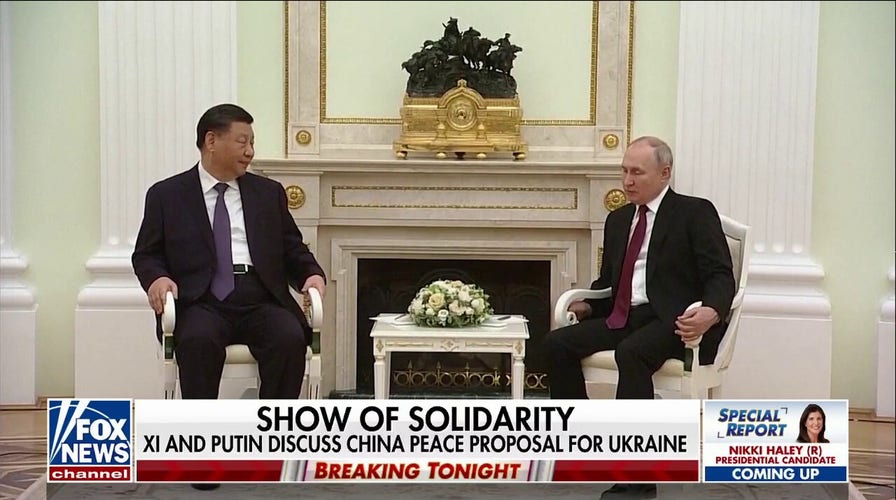 Video
Putin says Russia respects China's plan to end the war
Fox News senior correspondent Mike Tobin has the latest on the meeting between President Xi and President Putin on 'Special Report.'
Taiwan on Tuesday is expressing skepticism of China's push to broker peace between Russia and Ukraine, declaring to the world that "we ain't no idiots."
Taiwan's Foreign Minister Joseph Wu made the remark as Chinese President Xi Jinping is currently on day two of a three-day trip to Russia, while the prime minister of Japan – another regional neighbor that also is engaged in territorial disputes with Beijing – is in Ukraine for a surprise meeting with Ukrainian President Volodymyr Zelenskyy.
"The People's Republic of China threatens war against Taiwan and others but wants to propose a peace plan to Russia, who initiated the war against Ukraine. We ain't no idiots," Wu wrote on Twitter.
"Want peace? Both autocrats should immediately stop their threats, aggression and expansionism," he added, taking a swipe at Russian President Vladimir Putin.
PUTIN AND XI FINISH FIRST ROUND OF TALKS IN MOSCOW AS BLINKEN HITS CHINA'S PROPOSED PEACE PLAN FOR UKRAINE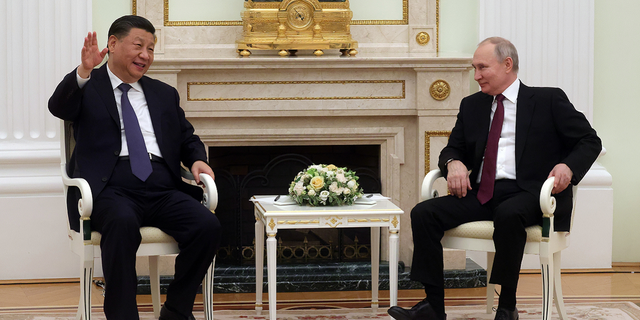 Taiwan is expressing skepticism about China's recent push to broker peace between Russia and Ukraine. (Sergei Karpukhin, Sputnik, Kremlin Pool Photo via AP)
Putin hosted his Chinese counterpart Xi at the Kremlin in Moscow on Monday for about 4 ½ hours of one-on-one talks, Russian news outlets reported.
Putin and Xi exchanged greetings by calling each other a "dear friend," while Putin complimented the 12-point peace plan for the war in Ukraine that China recently released, which has been summarily rejected by U.S. officials.
The meeting in Moscow also came just days after the International Criminal Court issued an arrest warrant for Putin for allegedly deporting Ukrainian children to Russia during the 13-month-long invasion.
U.S. Secretary of State Antony Blinken panned Xi's visit as China providing "diplomatic cover" for the "atrocities" that Russia is committing in Ukraine.
RUSSIA'S MEDVEDEV GOES ON TIRADE AGAINST INTERNATIONAL CRIMINAL COURT, THREATENS THE HAGUE WITH MISSILE STRIKE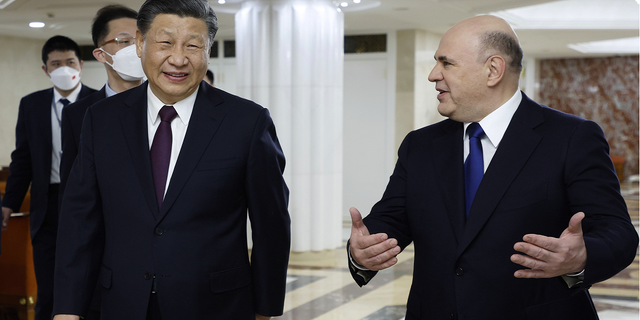 Russian Prime Minister Mikhail Mishustin, right, speaks with Chinese President Xi Jinping, left, during their meeting in Moscow Tuesday, March 21. U.S. Secretary of State Antony Blinken says Xi's visit is providing "diplomatic cover" for Russia's actions in Ukraine. (Dmitry Astakhov, Sputnik, Government Pool Photo via AP)
"Russia's purported annexation of sovereign Ukrainian territory, including vast areas it doesn't even control, and its ongoing brutal attacks on civilians, make clear that President Putin currently has no interest in such a peace," Blinken said Monday.
"That President Xi is traveling to Russia days after the International Criminal Court issued an arrest warrant for President Putin suggests that China feels no responsibility to hold the Kremlin accountable for the atrocities committed in Ukraine," he added. "And instead of even condemning them, it would rather provide diplomatic cover for Russia to continue to commit those very crimes."
Chinese Foreign Ministry Spokesperson Wang Wenbin said he wanted to reiterate Monday that "President Xi's visit is a trip for friendship, a trip for cooperation and a trip for peace.
"China will uphold an objective and fair position on the Ukraine crisis and play a constructive role in promoting talks for peace," he said.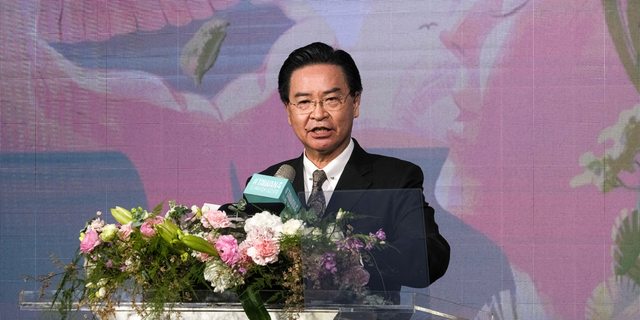 On Tuesday, Taiwan Foreign Minister Joseph Wu said Taiwan are not idiots when it comes to how they view China's push for ending the Russia-Ukraine war.
Meanwhile, Japanese Prime Minister Fumio Kishida is expected to meet with Zelenskyy in Kyiv on Tuesday.
CLICK HERE TO GET THE FOX NEWS APP
He will "show respect to the courage and patience of the Ukrainian people who are standing up to defend their homeland under President Zelenskyy's leadership and show solidarity and unwavering support for Ukraine as head of Japan and chairman of G-7," The Associated Press quoted the Japanese Foreign Ministry as saying.
Fox News' Paul Best contributed to this report.
Greg Norman is a reporter at Fox News Digital.