close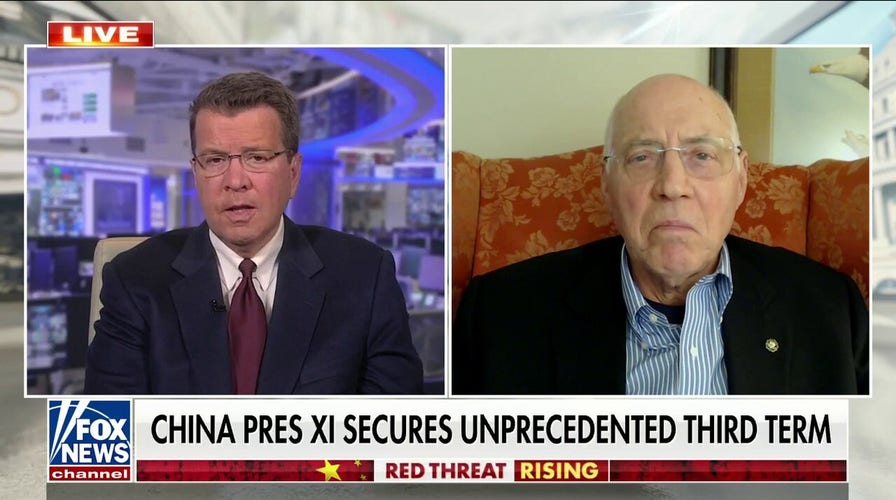 Video
Xi Jinping continues to claim that 'the West' is trying to 'contain and suppress' China: Bob Maginnis
Retired U.S. Army Lt. Col. Bob Maginnis weighs in on China's Xi Jinping securing an unprecedented third presidential term on 'Cavuto Live.'
Taiwan President Tsai Ing-wen said that her country refuses to "engage in a meaningless contest of dollar diplomacy with China" after Honduras opened ties with Beijing on Sunday, ending relations with Taiwan that date back several decades.
"It is with deep regret that today we end our diplomatic relations with Honduras," Tsai said in a statement on Sunday. "These past few years, China has persistently used any and all means to suppress Taiwan's international participation, intensify its military intimidation against Taiwan, and disrupt regional peace and stability."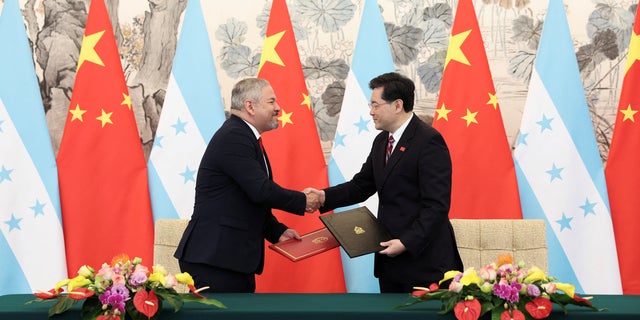 Chinese Foreign Minister Qin Gang shake hands with Honduras Foreign Minister Eduardo Enrique Reina during the ceremony of establishment of diplomatic relations between the two countries at Diaoyutai State Guesthouse March 26, 2023, in Beijing, China.  (Lintao Zhang/Pool via REUTERS)
Taiwan's Ministry of Foreign Affairs accused Honduran President Xiomara Castro of trying to start a bidding war for their diplomatic relations, with the Central American country allegedly asking for billions in aid.
US DENIES THAT CHINA EXPELLED AMERICAN WARSHIP FROM NEAR DISPUTED ISLANDS
"The Castro administration demanded massive amounts of economic aid, totaling billions of US dollars, and weighed Taiwan's assistance proposals against those submitted by China," the ministry said in a statement on Sunday.
"Based on the long-standing friendship between the two countries, Taiwan proposed assistance programs with the greatest sincerity and to the best of its capabilities. But Honduras continued to make willful and peremptory demands, even publicly releasing incorrect information, causing harm to the government of Taiwan."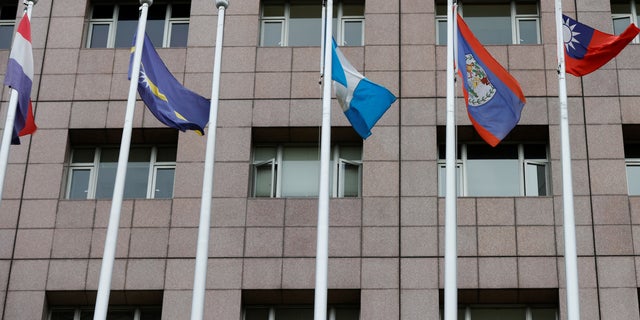 An empty flag pole where the Honduran flag used to fly is pictured next to flags of other countries at the Diplomatic Quarter which houses embassies in Taipei, Taiwan March 26, 2023.  (REUTERS/Carlos Garcia Rawlins)
China, which sees Taiwan as part of its territory under its "one-China principle," dismissed the allegations that it had bought Honduras' diplomatic relations.
"The remarks are preposterous and groundless. Honduran Foreign Minister Enrique Reina said in a recent interview that President Castro made the decision to grow relations with China in response to the trend of the world and in light of the realities of Honduras," Chinese foreign ministry spokesperson Wang Wenbin said on Thursday. "The one-China principle represents the prevailing trend of the world and has the overwhelming support of the international community."
CHINESE OFFICIAL SNAPS AT REPORTER: 'THERE IS NO SUCH THING AS A TAIWANESE PRESIDENT'
Castro, a socialist who became president last year, originally said on March 14 that she had instructed Honduran Foreign Minister Eduardo Enrique Reina to open relations with Beijing, explaining that it was a sign of her "determination to comply with the Government Plan and expand the borders freely in concert with the nations of the world."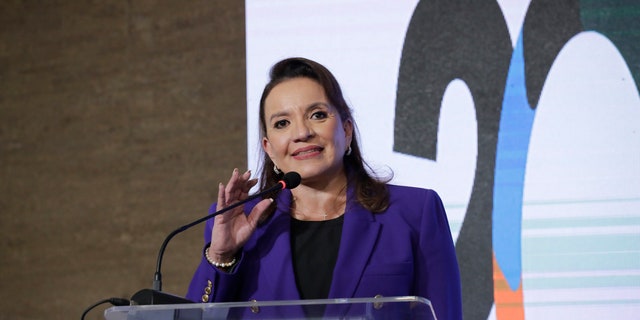 Honduras President Xiomara Castro of the Freedom and Refoundation Party (Libre) speaks during a ceremony to present credentials from the National Electoral Council certifying her victory in the Presidential Elections on December 30, 2021, in Tegucigalpa, Honduras.  (Inti Ocon/Getty Images)
Taiwan now only has formal relations with 13 nations, including seven in Latin America and the Caribbean. Nicaragua, which shares a border with Honduras, cut ties with Taiwan in December 2021, saying at the time that "Taiwan is an inalienable part of the Chinese territory."
CLICK HERE TO GET THE FOX NEWS APP
In a warning to other countries, Taiwan's Ministry of Foreign Affairs accused China on Sunday of making "ostentatious commitments to lure Taiwan's diplomatic allies into switching diplomatic recognition."
"However, once China achieves its diplomatic objectives, it often fails to uphold its pledges, leaving some beneficiary countries mired in debt," the ministry said in a statement.
Paul Best is a breaking news reporter for Fox News Digital and Fox Business. Story tips and ideas can be sent to [email protected] and on Twitter: @KincaidBest.