close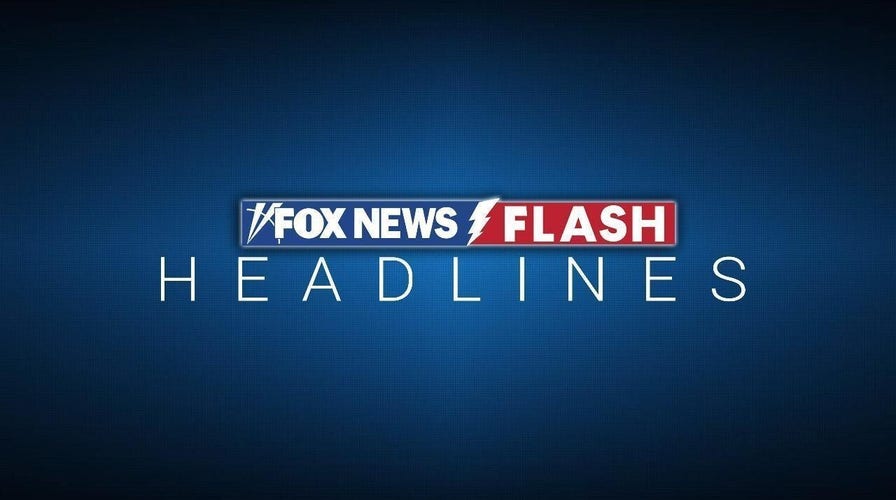 Video
Fox News Flash top headlines for August 26
Check out what's clicking on Foxnews.com.
Sweden pledged Wednesday to rush fearsome Archer artillery cannons to Ukraine "as soon as possible" but also cautioned that future military aid would have to be balanced with its own defense needs as a would-be future member of the NATO military alliance.
Speaking on a visit to the Ukrainian capital, Swedish Prime Minister Ulf Kristersson said Archer howitzers, as well as 51 infantry fighting vehicles and anti-tank weapons that Sweden has promised, will together "make a significant contribution to Ukraine's combat power."
The latest promised package of Swedish military aid comes as Ukraine is fiercely clinging to territory in the east of the country against renewed Russian assaults. Ukraine is counting on continued Western military aid to repel Russian advances and to launch its own offensives.
The truck-mounted Archer is a so-called "shoot and scoot" weapon, able to quickly fire a succession of three rounds and be on the move again before the first shell hits its target.
NATO Secretary-General Jens Stoltenberg said this week that Ukraine's Western suppliers are "in a race of logistics" to stop Russia from seizing the battlefield initiative.
SWEDEN SAYS CLAIMS THAT ITS AGENCIES KIDNAP MUSLIM CHILDREN IS PART OF A SYSTEMATIZED DISINFORMATION CAMPAIGN
Archer cannons will join other Western-supplied equipment that has helped tilt artillery engagements in Ukraine's favor, along with French-made Caesar howitzers, U.S.-supplied HIMARS and other precision-strike systems.
Kristersson, speaking at a news conference in Kyiv with Ukrainian President Volodymyr Zelenskyy, wouldn't say exactly when his country's Archer cannons would arrive, citing security needs and "practical reasons as well, in terms of training and things like that."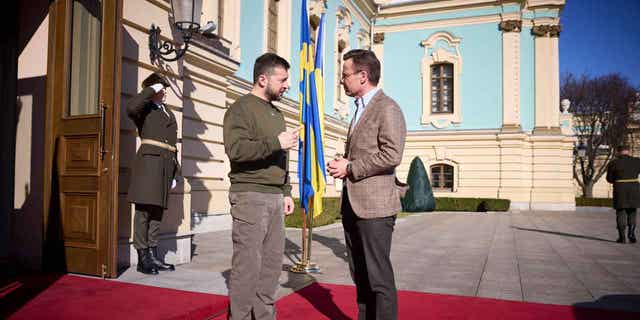 Swedish Prime Minister Ulf Kristersson, right, and Ukrainian President Volodymyr Zelenskyy talk during a meeting in Kyiv, Ukraine, on Feb. 15, 2023. (Ukrainian Presidential Press Office via AP)
But he said training would start "very soon" and pledged Archer deliveries "as soon as possible."
Zelenskyy described the Archer as "one of the best artillery pieces" and predicted it would impact Russia's invasion forces on the battlefield.
"The stronger Ukraine is now, the sooner the Russian aggression ends," he said.
SWEDEN LOOKING TO ABOLISH PERMITS NEEDED FOR DANCING
Kristersson was less emphatic about another weapons system on Kyiv's wish-list: Fighter planes.
He didn't rule out such support. But he suggested that Sweden wouldn't want to go it alone as a potential supplier and that other nations would have to rally around the idea of plane deliveries, as they eventually did around sending NATO-standard tanks to Ukraine.
"We don't exclude anything right now, this is not the time of excluding anything," the Swedish prime minister said. "But at the same time we also acknowledge the fact that we need an international coalition to do further steps. That is quite obvious."
Kristersson said Sweden's drive to join NATO — along with fellow candidate nation Finland — will also play into its thinking about military supplies to Ukraine.
CLICK HERE TO GET THE FOX NEWS APP
Being a candidate for NATO membership "puts us in a very special situation right now. We have very obvious reasons to be very careful with our own defense right now." he said.
"We will do everything we can to support Ukraine and we will do it in a way that doesn't adventure or risk the Swedish ability to defend ourselves, because that is a core competence for a NATO-applicant country to uphold," the prime minister said.