close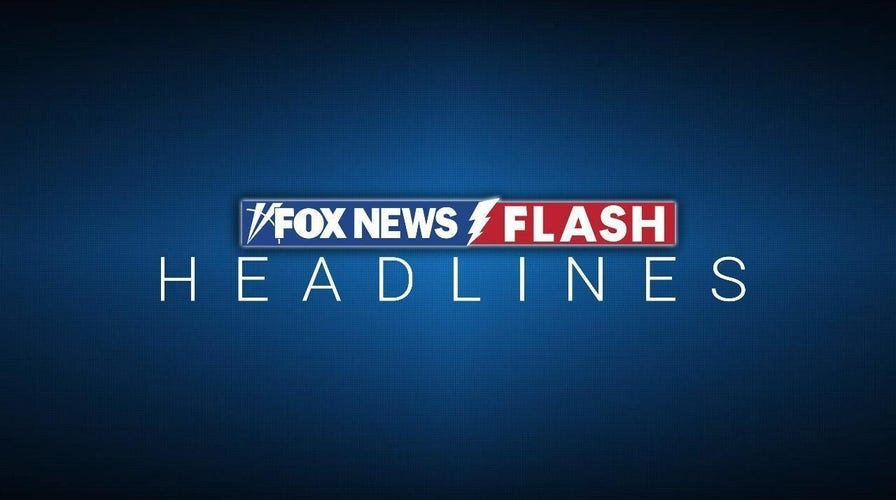 Video
Fox News Flash top headlines for January 31
Fox News Flash top headlines are here. Check out what's clicking on Foxnews.com.
Sudanese authorities have released a man convicted of the 2008 killing of a U.S. diplomat in a drive-by shooting in the capital, Khartoum, his family said Tuesday. The release followed a 2020 deal between Sudan and the Trump administration that included compensation settlements for killings of Americans.
Abdel-Raouf Abu Zaid, designated a terrorist by the United States, was captured weeks after the shooting. He was convicted and sentenced to death for the killing of John Granville, an official with the U.S. Agency for International Development, and Granville's Sudanese driver.
Abu Zaid spent most of the past 15 years behind bars in Kubar Prison in Khartoum and was released on Monday, according to his brother, Abdel-Malek Abu Zaid, who posted photos on social media showing the scene outside the prison following Abdel-Raouf's release.
Abdel-Malek would not elaborate but one of the daily newspapers in the country, the Sudani, reported that the Abu Zaid family had paid blood money to the slain driver's family. Under Islamic law, or Sharia, which Sudan's judiciary follows, a convict can be pardoned if his victim's family is financially compensated.
U.S. DIPLOMAT KILLED IN SUDAN SHOOTING
A spokesman for Sudan's ruling military declined to comment on the case. Other officials could not be reached for comment.
The U.S. State Department said it was aware of the reported release of Abdel-Raouf Abu Zaid, designated a terrorist in 2013 by the U.S., and was seeking more information from the authorities in Khartoum.
"We call for full accountability for the murders," of Granville and his driver, Abdel Rahman Abbas Rahama, the State Department said.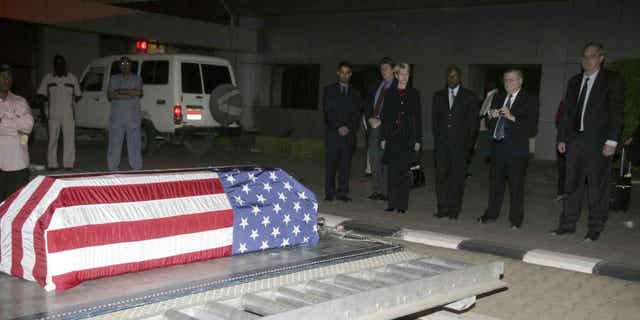 The coffin of John Granville, 33, who worked for the U.S. Agency for International Development, is received by U.S. officials in Khartoum, Sudan, on Jan. 3, 2008. Sudanese authorities have released a man convicted of the 2008 killing of John Granville.
(AP Photo/Abd Raouf, File)
Earlier this month, Abu Zaid's family apologized for the killing of Granville and his driver, saying in a video message: "We, as a family, apologize and acknowledged Abdel-Raouf's mistake and he already admitted his mistake and expressed his regret and remorse for what has happened."
Three other men were sentenced to death along with Abu Zaid while a fifth man received a two-year sentence for providing the weapons used in the attack.
SUDAN POLICE QUESTION WITNESSES IN U.S. DIPLOMAT SLAYING
The four awaiting hanging broke out of prison in June 2010, killing a Sudanese police officer and wounding another in a shootout in Khartoum's twin city of Omdurman, according to a Sudanese notice to the international police agency, Interpol.
Abu Zaid was recaptured weeks later and returned to Kubar Prison. The three other men were not recaptured. Local reports have said two of them later died in Somalia while the third is still living there.
In 2020, Sudan's former transitional government of Prime Minister Abdalla Hamdok reached a deal with the Trump administration to stop any future compensation claims being filed against the African country in U.S. courts.
This came after Sudan paid $335 million to settle compensation lawsuits at U.S. courts related to the 1998 bombings of the U.S. Embassies in Kenya and Tanzania, the deadly 2000 bombing of the USS Cole at Yemen's southern port of Aden which killed 17 Marines, as well as Granville's killing.
CLICK HERE TO GET THE FOX NEWS APP
Granville, 33, was an official for the USAID. He was working to implement a 2005 peace agreement between Sudan's north and south that ended more than two decades of civil war.
He was being driven home early in the morning on Jan. 1, 2008, from a New Year Eve party, when another vehicle intercepted his car and the gunmen inside opened fire on Granville's vehicle, killing him and his driver, also a USAID employee. The attackers then fled the scene.