close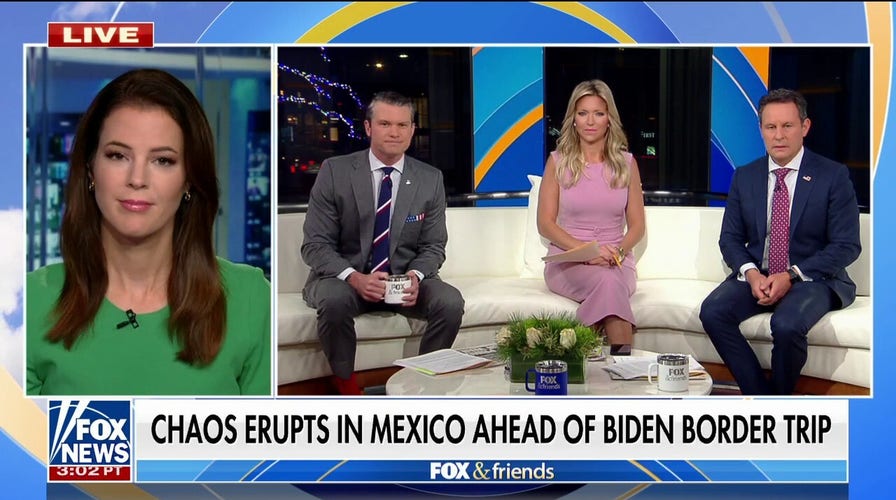 Video
Arrest of El Chapo's son sparks riots in Mexico
Fox News' Alexandria Hoff provides details on the Sinaloa cartel's violent response as officials report seven security force members have been killed in the riots.
Two subway trains collided between two stations Saturday in Mexico City, killing at least one person and injuring 41, authorities said.
Mayor Claudia Sheinbaum said on her Twitter account that the accident happened on Line 3 of the capital's Metro system, without specifying the cause of the crash between the Potrero and La Raza stations.
Sheinbaum said one woman was killed and 57 people injured, who were taken to seven hospitals. Four people were trapped in the wreckage for a time, including one train driver, who was reported in serious condition. Late in the afternoon, the mayor said 26 of the injured had been released.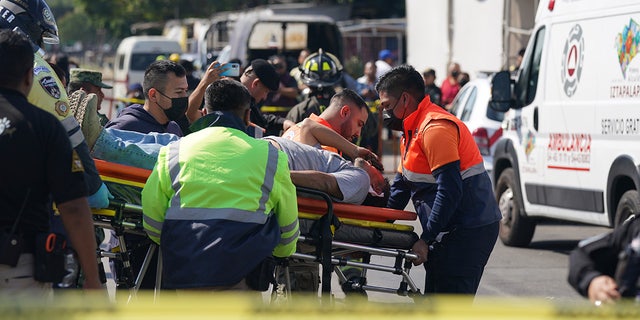 A subway passenger, injured when two subway trains collided, is taken on a stretcher to a waiting ambulance, outside the Raza station in Mexico City, Saturday, Jan. 7, 2023. 
(AP Photo/Fernando Llano)
Dozens of police and soldiers swarmed into the nearby subway stations, while ambulances and rescue teams arrived to treat the injured.
Edgar Montiel, an electrician who was on one on the trains, said he felt lucky because he had decided at the last minute to enter the next-to-last car rather than the rearmost car, which was smashed up in the crash.
SINALOA, MEXICO, ENGULFED BY VIOLENCE, CHAOS AFTER EL CHAPO SON ARREST, AHEAD OF BIDEN VISIT TO COUNTRY
"It sounded very strong. I just closed my eyes when I felt the sheets of the car bend and throw me," Montiel told The Associated Press.
A subway passenger, injured when two subway trains collided, waits to be taken to a hospital, in Mexico City, Saturday, Jan. 7, 2023.
(AP Photo/Fernando Llano)
He said he remained on the floor of the car with several passengers amid screams and cries asked for help.
"The power went out to the subway and a lot of smoke began to come out that was suffocating us. We could not breathe well," he said.
VILLAGE NORTH OF MEXICO CITY SPRING WATER WELL EXPLODES IN FLAMES
Montiel, who had his left arm and shoulder bandaged, said the occupants of his car had to wait about 30 minutes until paramedics arrived to tend to the injured and help everyone exit the car.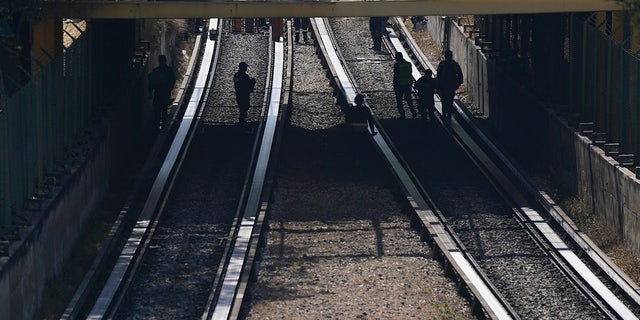 Rescue workers inspect rail lines after two subway trains collided, in Mexico City, Saturday, Jan. 7, 2023. Authorities announced at least one person was killed and dozens were injured in the Saturday accident on Line 3 of the capital's subway. 
(AP Photo/Fernando Llano)
In lamenting the accident, President Andrés Manuel López Obrador said on his Twitter account that the federal government was supporting the city officials dealing with accident.
In May 2021, an elevated section of the subway system collapsed, causing 26 deaths and injuring nearly 100 people. An investigation blamed the structural failure on deficiencies in the construction process, and 10 former officials have been charged with homicide, injury and damage to property.
CLICK HERE TO GET THE FOX NEWS APP
The Mexico City subway system has 226.5 kilometers (141 miles) of track and 195 stations. It serves an average of 4.6 million passengers every day.