close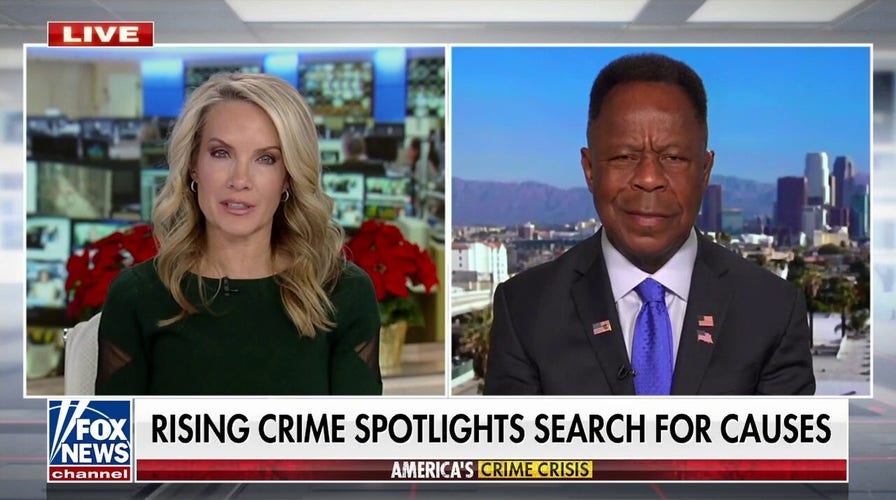 Video
Leo Terrell warns against 'moral breakdown' as crime surges nationwide
Fox News contributor Leo Terrell joined 'America's Newsroom' to discuss why crime is surging nationwide and how 'parental involvement' can reverse the dangerous trend.
The Make-A-Wish Foundation says that one of its most prized items, a bronze statue of a young child who inspired the group's creation, has been stolen in Phoenix, Arizona.
The statue of seven-year-old Christopher James Greicius, installed in 2018, was taken around 10 p.m. on January 3rd. Security cameras captured two people hopping out of a car and hauling it away from the Make-A-Wish Foundation headquarters in Phoenix, KSAZ-TV reported.
Greicius was diagnosed with leukemia in 1979 at the age of seven and had dreams of becoming a police officer. While hospitalized, and with the understanding that he would not live much longer, he spoke with the Arizona Department of Public Safety, who made his wish come true by giving him a helicopter ride and a uniform.
The department even swore the young boy in as the state's first and only honorary DPS officer two days before he died.
SHERIFF MARK LAMB CALLS OUT 'ATTACK ON TRADITIONAL VALUES' IN AMERICA, HAS A FIX FOR THAT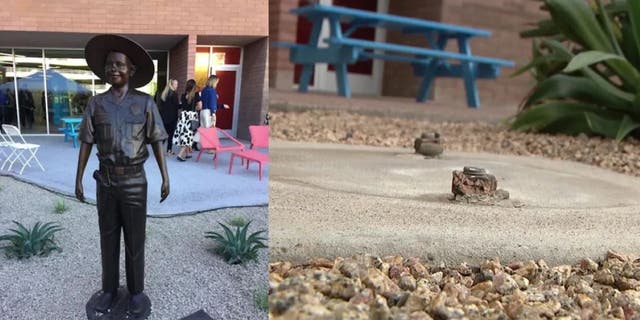 The statue of  Christopher James Greicius was stolen from the Make-A-Wish Foundation HQ in Phoenix
(Make-A-Wish Foundation)
The heartwarming story was the impetus for six people to form the Make-A-Wish Foundation, which has grown to more than 52 chapters nationwide, along with 30 international affiliates.
"A plea to anybody out there that knows anything, heard anything or saw anything, please contact your police department. Let us know where the statue is, so we may just get it back," Linda Pauling, Christopher's mother, said to the public about the missing statue.
ARIZONA MAN PURSUED BY POLICE DRIVES OFF 200-FOOT EMBANKMENT INTO RIVER BOTTOM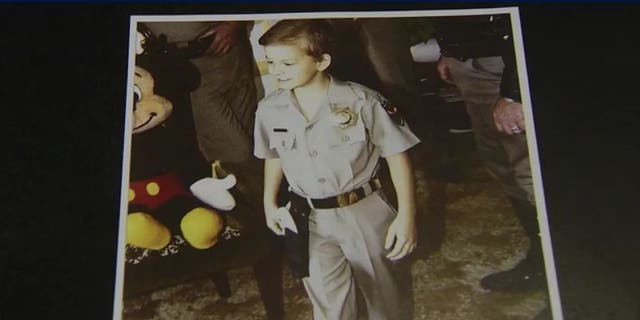 Christopher James Greicius after being made an honorary Arizona DPS officer
(Make-A-Wish Foundation)
"You know, the first thing that came to my mind was 'My God, when I buried him the first time – it's almost like the second time he's gone,'" said Pauling.
Pauling said she kisses the statue and leaves a red rose every time she visits the headquarters and placed a dozen roses on the empty site when she visited on January 5th.
"It's terribly sad, and I feel awful for all the staff and all the people that statue represents," Jamie Sandys, a Make-A-Wish spokesperson, said.
CLICK HERE TO GET THE FOX NEWS APP
Christopher James Greicius's mother, Linda Pauling
(KSAZ-TV)
The Phoenix Police Department did not immediately respond to a request for comment from Fox News Digital.

Andrew Mark Miller is a writer at Fox News. Find him on Twitter @andymarkmiller and email tips to [email protected].