Todd Chrisley's new year is off to a rough start. The reality TV star will report to prison on Jan. 17 and will serve his time at the minimum-security prison Federal Prison Camp Pensacola, according to multiple reports.
Todd and his wife, Julie Chrisley, were sentenced to a combined 19 years in prison during a hearing in November, after the two were convicted of federal tax evasion.
On an episode of the "Chrisley Confessions" podcast, Todd revealed that both he and Julie appealed their tax fraud conviction but are "not allowed" to discuss any further details.
"We cannot discuss the case because the appeal has now been, however they do it, I think it was filed yesterday or the day before yesterday," Todd shared. "Our attorneys noticed [sic] the courts that they were appealing this."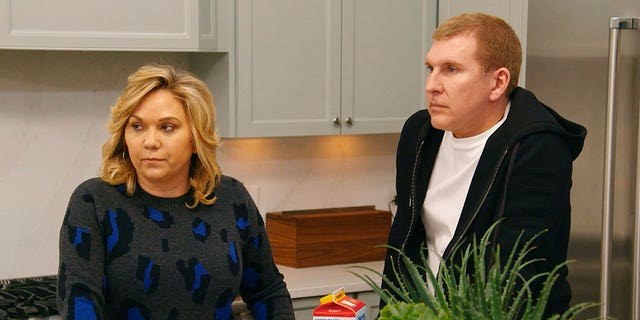 Julie and Todd Chrisley were sentenced to a combined 19 years in prison.
(Getty Images)
TODD AND JULIE CHRISLEY WILL REPORT TO FLORIDA PRISONS IN JANUARY
Todd was convicted of conspiracy to commit bank fraud, bank fraud, tax fraud and conspiracy to defraud the United States.
Julie was convicted of conspiracy to commit bank fraud, bank fraud, tax fraud and conspiracy to defraud the United States. She was also hit with wire fraud and obstruction of justice charges.
Celebrity attorney James Leonard Jr. noted that celebrities can sometimes be used by the criminal justice system as an "example."
"I think that the criminal justice system sometimes dishes out a very heavy hand when the offender is someone of note, whether that be someone that is on television, an athlete or someone that is known to the general public," he said. "I believe that oftentimes, and it's unfortunate, but oftentimes the criminal justice system seeks to make an example of individuals like that."
Leonard Jr. also noted that time behind bars can be "extremely difficult" for celebrities.
"It's extremely difficult because you are away from your loved ones," he told Fox News Digital. "You are away from the amenities that you have grown accustomed to, your lifestyle, and it's very difficult in that sense."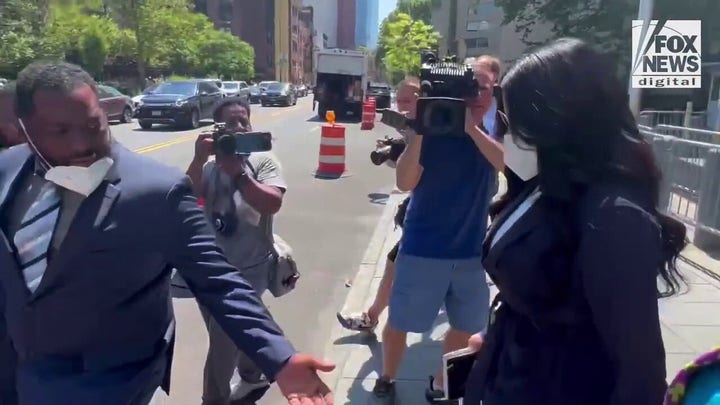 Video
"The Real Housewives of Salt Lake City" star Jen Shah will learn her fate later this week. Shah's sentencing hearing is scheduled for Jan. 6.
Shah pleaded guilty to one charge of conspiracy to commit wire fraud in connection with telemarketing. In turn, count two, conspiracy to commit money laundering, was dropped.
"Jennifer Shah was a key participant in a nationwide scheme that targeted elderly, vulnerable victims," U.S. Attorney Damian Williams said in a press release.
"These victims were sold false promises of financial security but instead Shah and her co-conspirators defrauded them out of their savings and left them with nothing to show for it," the statement continued. "This Office is committed to rooting out these schemes whatever form they take."
Here are other stars who have served time behind bars:
Martha Stewart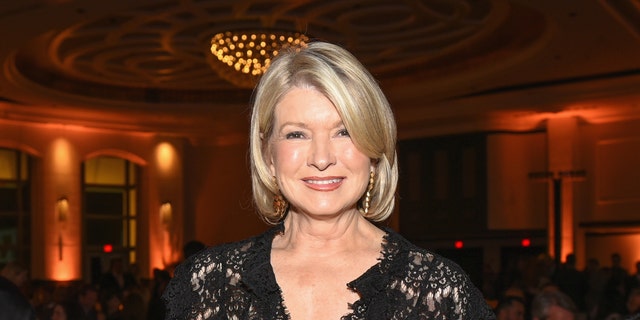 Martha Stewart spent five months behind bars.
(Photo by Denis Contreras via Getty Images)
Martha Stewart spent five months in the minimum-security Alderson Federal Prison Camp in West Virginia in 2004.
The celebrity chef was accused of insider trading after she sold off her shares of ImClone Systems stock just one day before the stock plummeted. She was accused of receiving insider information regarding the company's failure to gain an approval by the Food and Drug Administration.
She was convicted of conspiracy, obstruction and two counts of lying to federal investigators.
Following her prison time, Stewart also spent five months under house arrest and two years of probation.
Abby Lee Miller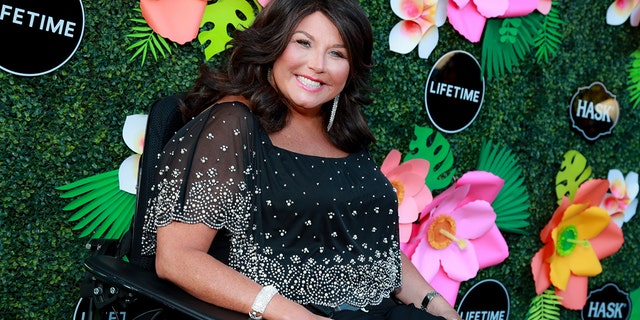 Abby Lee Miller spent eight months in prison.
(Rich Fury via Getty Images)
"Dance Moms" star Abby Lee Miller spent eight months in prison in 2017 after she was convicted of hiding parts of her income.
Miller was charged with 20 counts of bankruptcy fraud, concealing assets and making false bankruptcy declarations. The dance coach apparently hid nearly $775,000 of her income while applying for bankruptcy.
Miller was sent to a correctional facility in California following her conviction. Her sentence was cut short after the reality TV star was diagnosed with spinal cancer.
CLICK HERE TO SIGN UP FOR THE ENTERTAINMENT NEWSLETTER
Robert Downey Jr.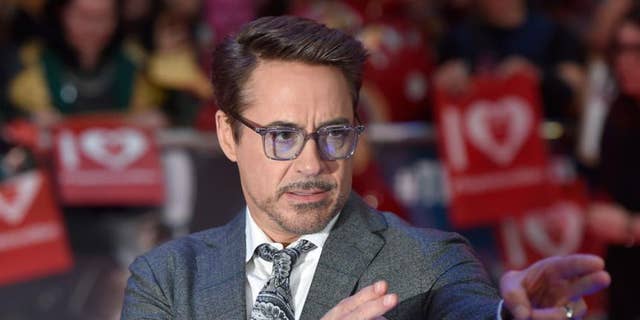 Robert Downey Jr. was sentenced to three years in prison but was released after a year.
(Reuters)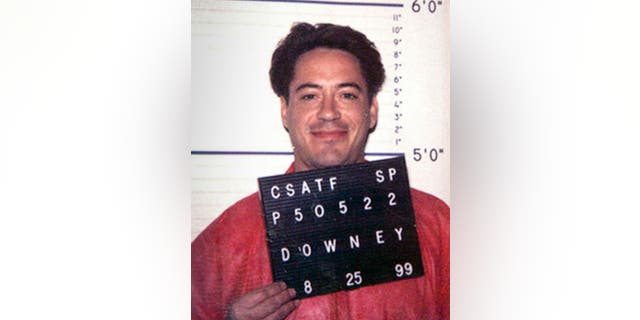 Robert Downey Jr.'s mug shot taken at the California Department of Corrections in 1999.
(Photo by Kypros/Getty Images)
Robert Downey Jr. was arrested in 1996 for speeding. The actor was charged with driving under the influence. Police also found heroin, cocaine, crack and a .357 magnum in his vehicle.
Downey Jr. spent time in jail before being released but was later sentenced to federal prison for skipping out on probation.
The actor served one year of his three-year prison sentence.
Lori Loughlin and Felicity Huffman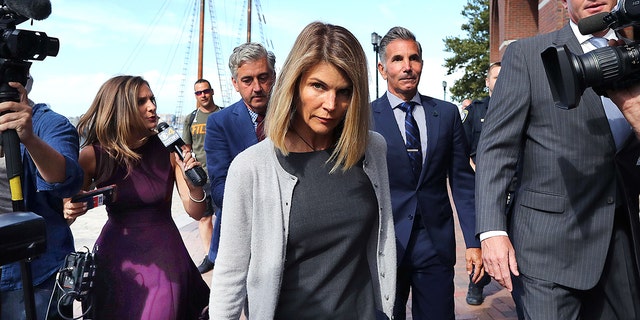 Lori Loughlin photographed leaving the courthouse amid the college admissions scandal.
( John Tlumacki/The Boston Globe via Getty Images)
Lori Loughlin spent two months behind bars due to her involvement in the 2019 college admissions scandal.
Loughlin served her time at a prison in Dublin, California after being convicted of paying $500,000 to have her two daughters admitted to the University of Southern California as rowing recruits.
The "Full House" star's husband was also convicted in the scandal that included roughly 60 parents, collegiate coaches and more.
"Desperate Housewives" star Felicity Huffman was sentenced to 14 days behind bars for her role in the same scandal.
Tim Allen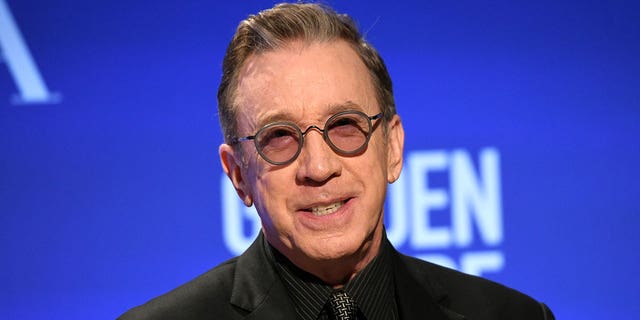 Tim Allen spent over two years in prison.
(Michael Kovac/Getty Images for Moët & Chandon via Getty Images)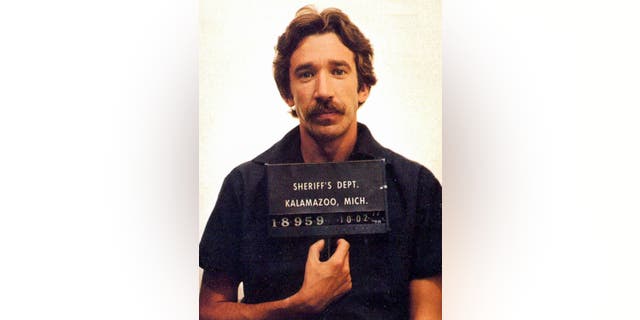 Tim Allen in a mug shot following his arrest for cocaine possession in Kalamazoo, Michigan.
(Photo by Kypros/Getty Images)
Tim Allen spent two years and four months behind bars after he was found at Michigan's Kalamazoo/Battle Creek International Airport with more than a pound of cocaine in his possession.
"I just shut up and did what I was told," he said about serving time during an episode of "WTF with Marc Maron." "It was the first time ever I did what I was told and played the game… I learned literally how to live day by day. And I learned how to shut up. You definitely want to learn how to shut up."
Allen claimed he got "used to" the conditions he faced in prison by the eight-month mark.
"I don't say this lightly and anybody who has been incarcerated [knows], it's surprising what the human being will get used to," the comedian continued. "Eventually after eight months, I got used to it. There were okay times. Saturday we got better food. Eventually, I went from a holding cell arrangement to my own cell."
CLICK HERE TO GET THE FOX NEWS APP