A top adviser for Stacey Abrams' voting rights nonprofit defended anti-cop activists who set a police car ablaze and smashed windows while protesting the death of an environmental activist this past weekend in Atlanta.
Marisa Pyle, a senior rapid response manager at Abrams' Fair Fight Action, who also worked as a senior manager for Abrams' One Georgia leadership committee during her most recent failed Georgia gubernatorial run, rushed to defend the anti-police protesters and the ensuing chaos.
"You cannot commit violence against a window or a car. Killing a human? Now that, that is violence," Pyle wrote on Twitter this past weekend. "Shame on Atlanta's leaders who fall into the same tired path of protecting property while our people are murdered by their police."
ATLANTA: PROTESTERS CALL FOR 'VIOLENCE' AGAINST POLICE AFTER SHOOTING LEAVES 1 DEAD, OFFICER INJURED
Pyle's tweet followed Saturday protests in Atlanta, which began peacefully but delved into riots that saw masked activists throw rocks and lit fireworks in front of a building that houses the Atlanta Police Foundation. The protesters shattered glass windows, lit a police car on fire, and vandalized walls with anti-police graffiti.
The police arrested six protesters and charged them with eight misdemeanor and felony charges, including domestic terrorism. Two suspects posted a $355,000 bond, while the four suspects were denied bond.
Activists were out to protest the death of Manuel Esteban Paez Teran, 26, who was killed by police last Wednesday after allegedly refusing demands and firing a gun at state troopers at the site of the new Atlanta Public Safety Training Center.
ATLANTA POLICE ARREST 6 IN NIGHT OF CHAOS AFTER VIOLENT PROTESTERS LIT COP CAR ABLAZE, SMASHED WINDOWS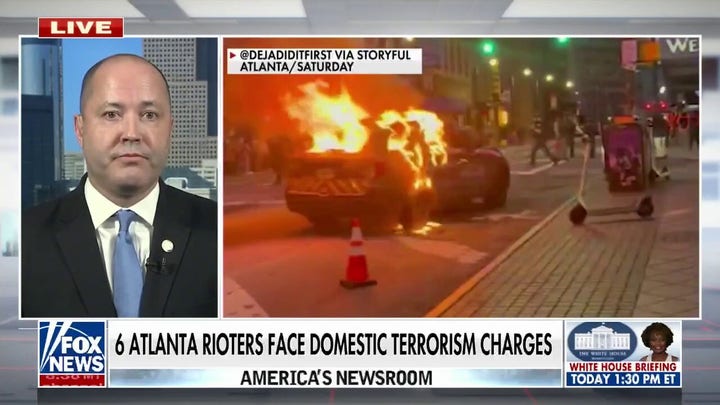 Video
The environmental activist reportedly identified as a non-binary person who went by the name Tortuguita ("little turtle" in Spanish) and used they/it pronouns.
"An individual, without warning, shot a Georgia State Patrol trooper," Georgia Bureau of Investigations' Michael Register told reporters earlier this week.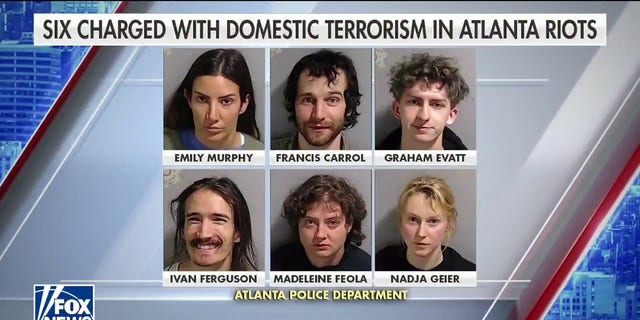 Six individuals were charged with domestic terrorism-related offenses following anti-police riots in Atlanta.
(Fox News)
CLICK TO GET THE FOX NEWS APP
The Georgia State Patrol trooper, who was wearing a bulletproof vest, was shot in the abdomen. The law enforcement officer is in stable condition and recovering from surgery.
Fair Fight Action did not respond to a Fox News Digital request for comment.
Fox News' Stephen Sorace, Emma Colton, and Lawrence Richard contributed reporting.