Bonnie Bartlett Daniels and her husband of 72 years, William Daniels, previously had an open marriage – and the actress said it was the norm in her day.
"You have to realize that we live in a very puritanical nation still," the actress told People magazine on Tuesday. "[When we got married], people were just loose about things… You have to have lived during that time as an adult to see what that was like. The culture is simply different."
However, the "St. Elsewhere" star admitted it was not easy.
"The only thing is that it harms you, does some damage to your self-esteem," the 93-year-old reflected. "It hurts really badly."
'ST. ELSEWHERE' STAR BONNIE BARTLETT DANIELS REFLECTS ON PAST OPEN MARRIAGE: 'THAT WAS VERY PAINFUL'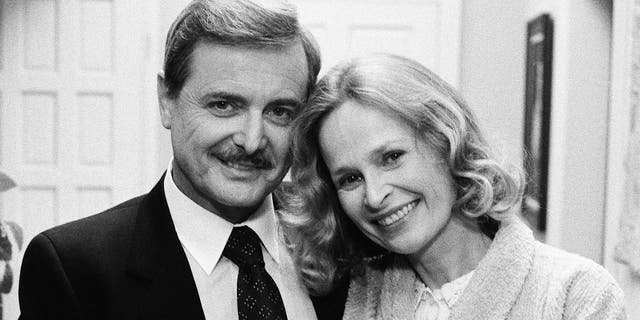 William Daniels and Bonnie Bartlett Daniels have been married for 72 years.
(Photo by Jack Hamilton/NBCU Photo Bank/NBCUniversal via Getty Images via Getty Images)
At the time, the couple was living in New York City. Bartlett Daniels told the outlet that leaving the city improved their marriage.
"Hollywood was really the saving grace for our marriage because once we got to Hollywood and we were here and living like a normal family and having weekends at home with our kids and doing things, it was [a] totally different story," she explained. "Nobody wanted anything more than that."
Bartlett Daniels said there were times when she told Daniels, "I don't think I want to be married to you anymore." He would reply, "Oh, come on, you're smitten with me."
"… He makes me laugh," she said. "The marriage could have broken apart at any time those first 10 years, if one of us had, say, fallen in love with somebody, but we never did. That was never part of it. Both of us really wanted to be together. The love has never stopped."
CLICK HERE TO SIGN UP FOR THE ENTERTAINMENT NEWSLETTER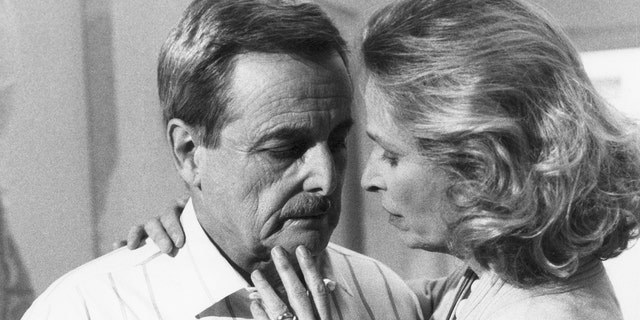 In her memoir "Middle of the Rainbow," Bonnie Bartlett Daniels wrote that she and William Daniels previously had an open marriage.
(Robert Isenberg/NBCU Photo Bank)
Bartlett Daniels recently released a memoir titled "Middle of the Rainbow." In it, she detailed her rise to stardom, how she coped with childhood abuse and other personal tragedies, as well as the story behind her decades-long relationship with the actor. The two-time Emmy winner has been married to Daniels, recognized by many as Mr. Feeny from "Boy Meets World," since 1951.
"I guess it was a little bit of an open marriage at first, but that was very painful," Bartlett Daniels previously told Fox News Digital. "That didn't work well. And it was a time when people were doing that. It was at a time in New York when there was a lot of sex and a lot of people doing all kinds of things, you know – very free. But I don't know if there was a lack of commitment a little bit, and that's not good. So there was a lot of pain connected with any transgression, with any extramarital thing."
"It was very painful for the both of us," she shared. "But it was something we had to go through because we never went through it. When we got together I was 18. Bill was my first boyfriend… We just had to go through all that and still, we loved each other very much and always have. [We] have always been there for each other. That's what matters – if you're there for the person and help [them] along in a relationship, [have] respect for them and what they're doing and being there for them… [You have to] be together on the other side."
According to Bartlett Daniels' book, she began to look for a "kinder and gentler man" in the early years of her marriage with Daniels, now 95. Sometime in 1959, she had "an affair that lasted a few months" with an actor who was "slightly boring." However, "the sex was good."
'ST. ELSEWHERE' CAST: WHERE ARE STARS DENZEL WASHINGTON AND MORE NOW?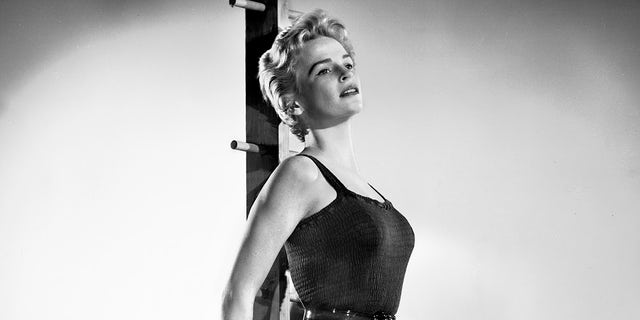 Bonnie Bartlett Daniels played Vanessa Raven in the '50s soap opera "Love of Life."
(Photo by CBS via Getty Images)
"I never felt guilty because I never felt tied to fidelity, and neither did Bill," she wrote.
The fling came and went. In the book, she also described how in the early '70s, Daniels' affair with a female producer in New York left her "devastated." By then, she "could no longer tolerate any kind of open marriage."
It seemed that their relationship was doomed, but the pair weathered the storm as they "grew up."
"Bill and I have moved forward day-by-day and eventually, the days added up," she wrote. "We've been happy together and sad together, and somehow stayed together for seven decades."
'LITTLE HOUSE ON THE PRAIRIE' STAR MELISSA GILBERT ON EMBRACING A SIMPLER LIFE: 'I DON'T MISS HOLLYWOOD'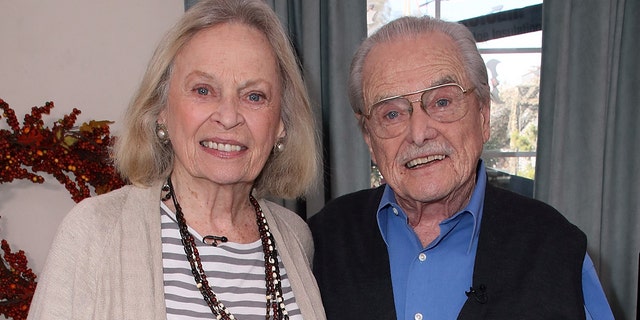 Bonnie Bartlett Daniels and her husband William Daniels are now proud grandparents.
(Photo by David Livingston/Getty Images)
Barlett Daniels noted that they have come a long way since they first went on a date while attending Northwestern University.
"Life is all about solving problems," Bartlett Daniels reflected. "We had a very good relationship, [but] Bill was an angry young man, a very angry young man. And that was tough… Bill always said, 'We had three different marriages. We've been together for so long, more than 70 years – a long time. I'm 93, and I met Bill when I was 18, so we had to grow up together."
Bartlett Daniels' last credited role was in 2017's "Better Call Saul." Today, she resides in Southern California with her beloved husband. They are proud parents to two sons, and they spend much of their time with their grandchildren.
"I'm writing at such a late age," she chuckled. "Some people may think, 'Why is she doing this now? She's so old.' I guess for a long time I never felt the need at all. But then as I got older, I thought I had some history to tell… Bill and I have been very lucky that things worked out. There's no magic formula. We've just been lucky."