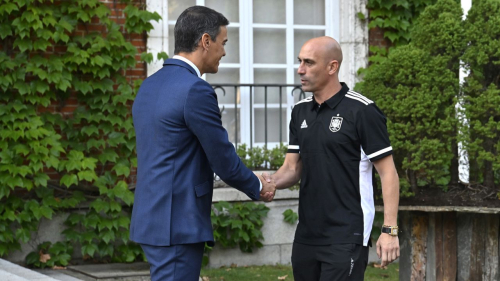 Spanish Prime Minister Pedro Sanchez (L) welcomes President of the Royal Spanish Football Federation Luis Rubiales at Moncloa Presidential Palace in Madrid, Spain, on August 22, 2023. Burak Akbulut/Anadolu Agency/Getty Images CNN —
Spanish Prime Minister Pedro Sánchez said the apologies offered by Luis Rubiales, President of the Royal Spanish Football Federation (RFEF), for giving Spain midfielder Jennifer Hermoso an unwanted kiss on the lips are "not enough."
Answering questions from reporters on Tuesday, Sánchez said that "what we saw was an unacceptable gesture."
"Regarding Mr. Rubiales and all the controversy that has taken place, in the first place I believe that they, the players, they have done everything to win," Sánchez said.
"But it is true that there has been some behavior, in this case of Mr. Rubiales, which shows that in our country there is still a long way to go in terms of equality and respect and in this equalization of rights between women and men.
"The apologies made by Mr. Rubiales are not enough. I even think that they are not appropriate and that, therefore, Mr. Rubiales needs to continue to take steps to clarify what we all saw," added Sánchez.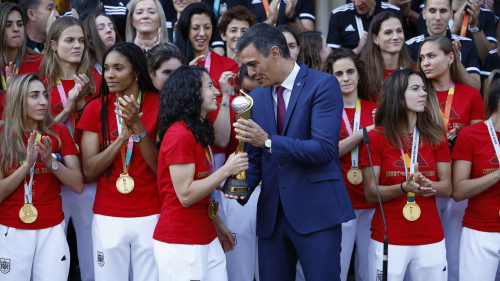 Spain's national team met the country's Prime Minister, Pedro Sánchez, at Madrid's Moncloa Palace. Juan Medina/Reuters
Rubiales and Sánchez met earlier on Tuesday and shook hands when the Spain squad visited the Moncloa Palace – the Spanish prime minister's residence – to receive the Gold Medal of the Royal Order of Sports Merit.
CNN has reached out to the RFEF for comment on Sánchez's remarks but did not hear back by the time of publication.
On Monday, Rubiales admitted he "made a mistake" by giving Hermoso a kiss on the lips after the 33-year-old had collected her winners' medal following the Women's World Cup final victory over England.
Rubiales has faced widespread criticism for the incident, with his behavior labeled "unacceptable" and "simply disgusting."