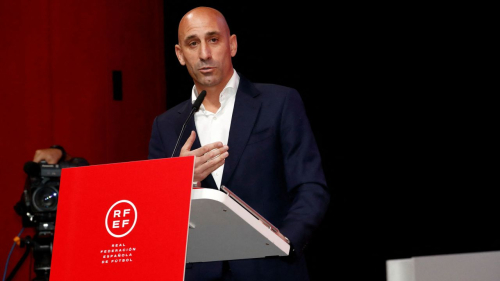 In a defiant speech on Friday, Rubiales refused to resign. RFEF/Handout/Reuters CNN —
Spain's football federation has threatened to take legal action against one of the country's star players, Jennifer Hermoso, for her comments about its president Luis Rubiales.
Hermoso said Friday that at no point did she consent to a kiss by the country's soccer chief – at the medal ceremony after Spain had won the Women's World Cup – writing on social media, "I felt vulnerable and a victim of an impulse-driven, sexist, out of place act without any consent on my part."
In a statement Friday, responding to Hermoso and Spain's Association of Professional Soccer Players (FUTPRO), the federation defended Rubiales, who described the kiss as "mutual" and spoke of "unjust" campaigns and "fake feminism."
"The evidence is conclusive. The President has not lied," the Royal Spanish Football Federation (RFEF) said, alongside descriptions of photos attempting to support Rubiales' claim.
"The RFEF and the President will demonstrate each of the lies that are spread either by someone on behalf of the player or, if applicable, by the player herself.
"The RFEF and the President, given the seriousness of the content of the press release from the Futpro Union, will initiate the corresponding legal actions," the statement said.
The federation went on to say that players have "an obligation" to participate in matches "if they are called for it," after all 23 teammates on Spain's 2023 World Cup winning squad, including Hermoso, and nearly 50 other professional women soccer players said they would not play again for the country until Rubiales is removed from his position.