close
Video
Fox News Flash top headlines for February 9
Fox News Flash top headlines are here. Check out what's clicking on Foxnews.com.
Spain's constitutional court on Thursday rejected a challenge lodged more than a decade ago by the conservative Popular Party against a law allowing abortions in the first 14 weeks of pregnancy.
The legal challenge had "not obtained the support" of the court, the verdict said. The main opposition PP's legal argument had centered on the constitutionality of the right to life of the fetus.
Four new judges were appointed to the 12-member court last year, shifting its political balance to the left.
"The Abortion Law is constitutional," tweeted Spain's Equality Minister Irene Montero, who represents the far-left United We Can party within the coalition government. "Never again should 13 years go by questioning a single right" for women.
DEBATE IN SPAIN OVER REGIONAL ABORTION RIGHTS RESTRICTIONS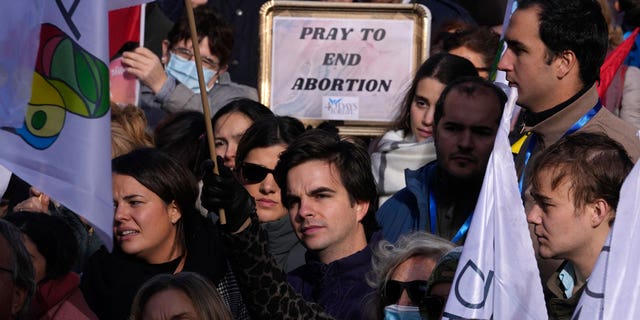 People take part in a protest against abortion in Madrid, Spain, on Nov. 28, 2021. (AP Photo/Paul White, File)
CLICK HERE TO GET THE FOX NEWS APP
Such delays are not uncommon in Spanish courts.
Abortion has once again become a politically sensitive issue in Spain in an election year. A far-right member of the regional government of Castile and Leon proposed in January that doctors should have to give women a chance to listen to fetal heartbeats and see four-dimensional ultrasound scans before any abortion procedure. The idea was subsequently dropped. Spain's regional governments have jurisdiction over public health policy at a regional level.
The 2010 abortion law was a major shift for a traditionally Catholic country under the leadership of former Socialist Prime Minister Jose Luis Rodriguez Zapatero. The law allowed for on-demand abortion at up to 14 weeks, and at up to 22 weeks if there was a serious threat to the health of the mother, or fetal malformation.
The Popular Party has long sided with the Roman Catholic Church on moral and social issues. However, following the court's decision, the PP's current leader Alberto Núñez Feijóo said the existing window for abortion access in Spain was "correct" and that he would respect the court's decision.