close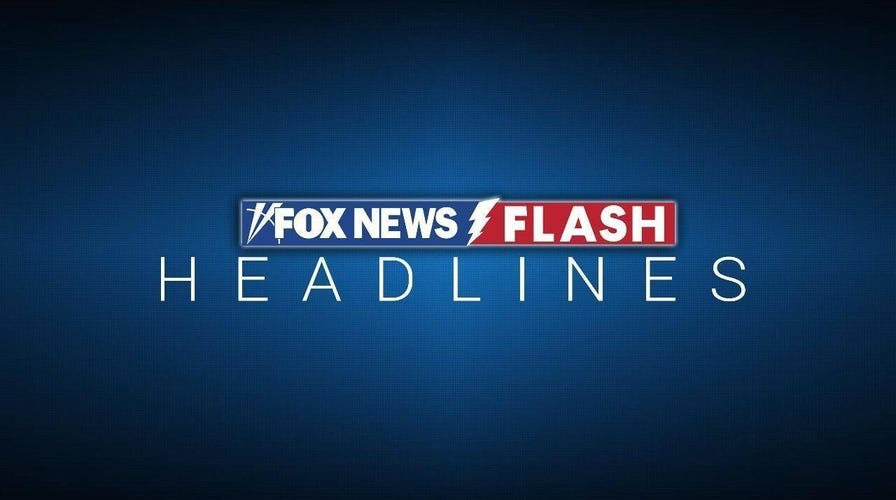 Video
Fox News Flash top headlines for March 30
Fox News Flash top headlines are here. Check out what's clicking on Foxnews.com.
In his more than a decade battling wildfires, firefighter Manuel Rubio had never seen a blaze like the one that raged for the past week in eastern Spain. Not this early in the year.
The forest fire that that broke out last Thursday near the village of Villanueva de Viver surprised Rubio and fire experts by displaying an unusual ferocity for spring, when in previous years lower temperatures helped keep fires manageable. That doesn't bode well for a country that led Europe in burned land during a record-hot 2022.
"I was expecting a fire like the ones we normally see in March, which can consume 100, 200 hectares, not the more than 11,600 acres that this one has burned," Rubio, 39, told The Associated Press hours before going back into the fray. "We are dealing with weather conditions appropriate for the summer and have a fire that is behaving like a summertime fire."
The Mediterranean region is warming faster than the global average due to climate change caused by the release of greenhouse gases. The effects, European and Spanish officials agree, are already being seen in the multiple heat waves and the prolonged drought that Spain has endured over several months.
Those conditions have turned Spain's vast expanses of woods into a tinderbox just waiting for the random lightning strike, spark from a tractor or saw, negligently cast cigarette, or act of arson to ignite the landscape.
Some 666,000 acres burned last year in Spain, making 2022 its worst year of fire destruction since 1994, government statistics say. That was three times the national average for the past decade of 94,000 hectares 232,000 acres. According to the European Union's Copernicus satellite observation service, Spain accounted for 35% of all burned land in European wildfires in 2022.
Spanish Prime Minister Pedro Sánchez warned of worse to come unless some desperately needed rain comes to the rescue, on his visit to the country's first major fire of the year.
SPAIN ENTERS PERIOD OF LONG-TERM DROUGHT, LIKELY TO FACE ANOTHER YEAR OF HEATWAVES, FOREST FIRES
"Unfortunately, over the last few years these fires are becoming normal. What is not so normal is that we see them in March," Sánchez said on Monday. "This has a lot to do with the climate emergency that the world is facing."
The fire has forced the evacuation of nearly 1,400 people from their homes in Villanueva de Viver and other small villages in the hilly, rural provinces of Castellon and Teruel. Like many parts of Spain's interior, the regions have shrinking, and aging populations.
Some 4,600 hectares of forest that authorities deem of "high ecological value" have gone up in huge plumes of smoke. Five hundred firefighters, supported by 20 water-dumping aircraft, battle on to protect a nearby nature reserve.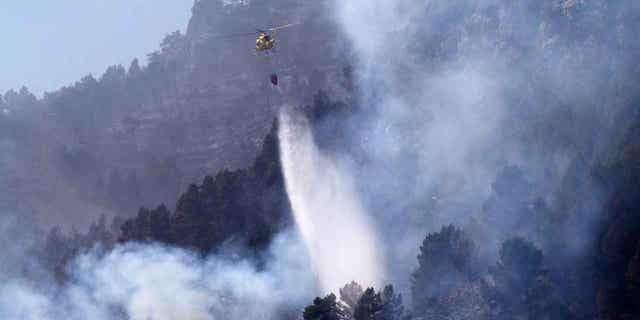 A helicopter drops water on a forest fire in Montanejos, Castellon de la Plana, Spain, on March 26, 2023.  (AP Photo/Alberto Saiz)
To make things tougher for Rubio and his fellow firefighters, the area is full of tiny villages that are surrounded by trees, making them difficult to protect. A generation ago, the lands were tended to by the villagers. Now that younger generations have abandoned those agricultural jobs, which included collecting firewood, the land is overgrown with dense foliage that fuels fires when dry.
Rubio said that the area's vegetation, mainly made up of small pine trees typical of the Mediterranean, and brush, which is very dense, combined with abnormally high temperatures and well-under-average rainfall produced the perfect conditions for the fire. In this part of Castellon, only 0.8 inches of rain fell during the winter months, when the average is over 4 inches.
SPAIN COLLECTS 445 CHURCH SEX ABUSE COMPLAINTS
France, too, saw surprisingly early forest fires this year, after having several major fires in 2022 like Spain. Amid a record-breaking stretch of winter drought across France, wildfires broke out in February near Avignon in the southeast, in the Pyrenees region in the southwest, and the Charente-Maritime region on the Atlantic coast.
The spokesperson for Spain's weather service, Rubén del Campo, warned Wednesday that higher temperatures, reaching 9-18 degrees Fahrenheit above average, were forecast for Castellon and the rest of eastern Spain in the coming days. He said the expected temperatures are "normally seen in mid-to-late May."
"The rising temperatures combined with westerly winds, which reach the Mediterranean hot and dry, cause the relative humidity to fall, and the risk of wildfires goes up dramatically," Del Campo said.
More fires flared up across northern Spain on Thursday. Over 2,718 acres were scorched in the northwest province of Lugo, while authorities in the Asturias region reported over 97 different fires that forced at least 20 people to evacuate their homes.
Army firefighting units were deployed to all three areas to help extinction efforts.
The situation north of the fire in Spain's Catalonia, which borders with France, is also incredibly delicate, and authorities are bracing for the worst.
CLICK HERE TO GET THE FOX NEWS APP
The region home to Barcelona is suffering its worst drought on record and temperatures beat yearly averages by a full 4.9 degrees Fahrenheit last year. The director of Catalonia weather service, Sarai Sarroca, said Wednesday that their climate models hadn't expected such a huge surge in temperature until the year 2050.
Sarroca said that one cause of the drought is the collapse of strong, humid winds that usually blow over the Pyrenees Mountains and help produce snow and rain in the winter.
For Juli Pausas, a specialist in fire ecology who researches desertification for the Spanish National Research Council, this was all sadly predictable.
He said that with temperatures over 84 degrees Fahrenheit during the Castellon fire and a lack of rainfall, "we now have 20th century vegetation in a 21st century climate."
"We are in climatic conditions that favor big fires," Pausas told the AP. "We have known for a long time that the climate is changing, and we have known that this would have consequences, including more wildfires, yet we haven't done enough to stop it."