close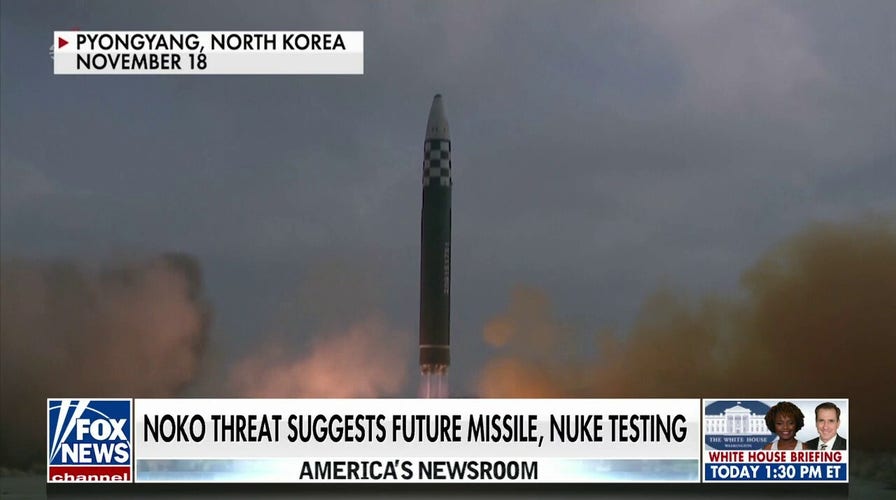 Video
North Korea threatens US over military drills with South Korea
Alex Hogan reports North Korean threat suggests future missile and nuclear testing.
South Korean President Yoon Suk Yeol set off Monday for his trip to Washington where he will meet with President Joe Biden and Congress this week following a substantial intelligence leak earlier this month.
The state visit was planned long before reports showed a breach had been made as classified details regarding the war in Ukraine and information relating to our international partners began surfacing on online – including the revelation that Washington keeps surveillance on its allies.
Some have remained concerned that the leak could have negative effects on U.S. ties with its top partners as geopolitical tensions across the globe remain heightened, particularly when it comes to Russia, China, Iran and North Korea.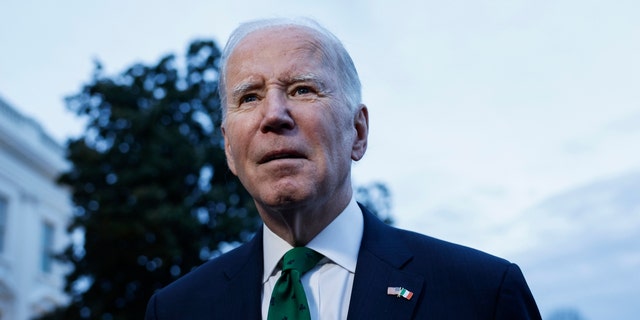 President Joe Biden speaks with reporters outside the White House on March 17, 2023. (Anna Moneymaker / Getty Images)
WASHINGTON LOOKS TO TEMPER CONCERNS AMONG ALLIES FOLLOWING INTELLIGENCE LEAK
But a former senior advisor on the National Security Council (NSC) for the Trump administration told Fox News Digital that he does not believe the intelligence leak will have much of an impact on Yoon's state visit.
"[Washington's] allies know that the United States is always looking to gather information about the motivations and decisions of the countries that we engage with, friend and foe alike," said Anthony Ruggiero, former NSC deputy assistant to the president and senior director for counterproliferation and biodefense. "I don't think it'll impact the summit at all."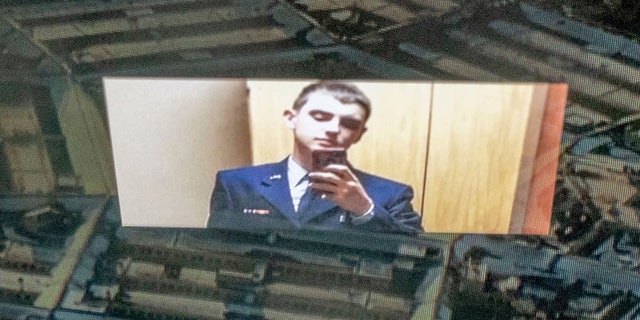 This photo illustration created on April 13, 2023, shows National Guardsman Jack Teixeira, who is suspected of being behind a major leak of sensitive U.S. government secrets. (Stefani Reynolds / AFP via Getty Images)
"I think that President Biden and President Yoon are seasoned foreign policy professionals, and they know that those kinds of things occur," he added.
Yoon's office also looked to allay fears last week over whether Seoul was angry by the apparent revelation that Washington was monitoring the South Korean president.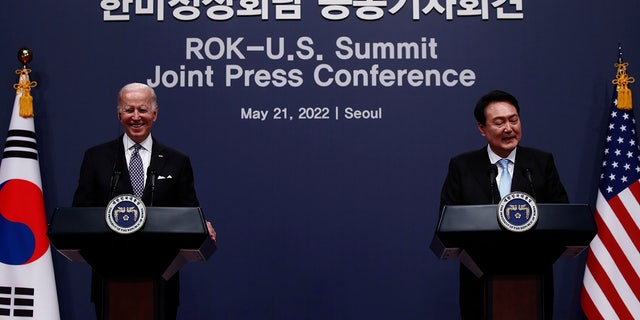 President Joe Biden, left, speaks as South Korean President Yoon Suk Yeol listens during a news press conference at the presidential office in Seoul, South Korea, on May 21, 2022. (Jeon Heon-Kyun / Pool / Getty Images)
RUSSIA'S MEDVEDEV THREATENS TO ARM NORTH KOREA IF SOUTH KOREA ARMS UKRAINE
A South Korea spokesperson described the U.S.-South Korea relationship as a "resilient value-based alliance" and that "Brothers can fight for various reasons, but just because they argue … [does that mean] that they [are] considered no longer brothers or no longer family?"
Ruggiero, who now sits as senior director of the Foundation for Defense of Democracies Nonproliferation and Biodefense Program, echoed this sentiment and explained that there are several major issues in which the U.S. and South Korea have a vested interest.
Ensuring a strong and continuing alliance will remain a top priority for both nations as they look to grapple with China's role in Asia.
"President Biden will want to talk about South Korea and Japan improving their relationship," he continued, noting these regional ties are "important" for the U.S. "not just as we confront China, but as we confront North Korea."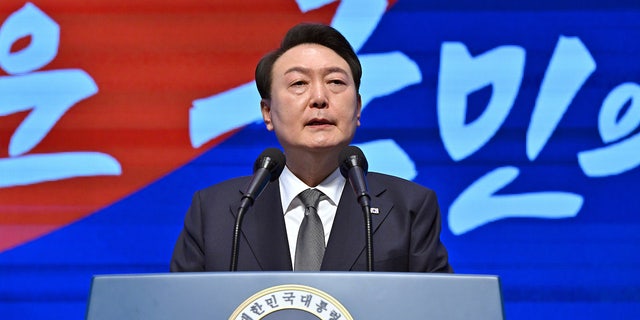 South Korean President Yoon Suk Yeol (Jung Yeon-Je / Pool / Getty Images / File)
CLICK HERE TO GET THE FOX NEWS APP
Other major issues of discussion will likely revolve around how the U.S. can increase nuclear deterrence for South Korea against North Korea, particularly as Pyongyang continues to exert an aggressive posture in the region through missile testing.
The issue of Ukraine and Russia's continuing war is also expected to be a major topic of discussion.
Caitlin McFall is a Reporter at Fox News Digital covering Politics, U.S. and World news.