close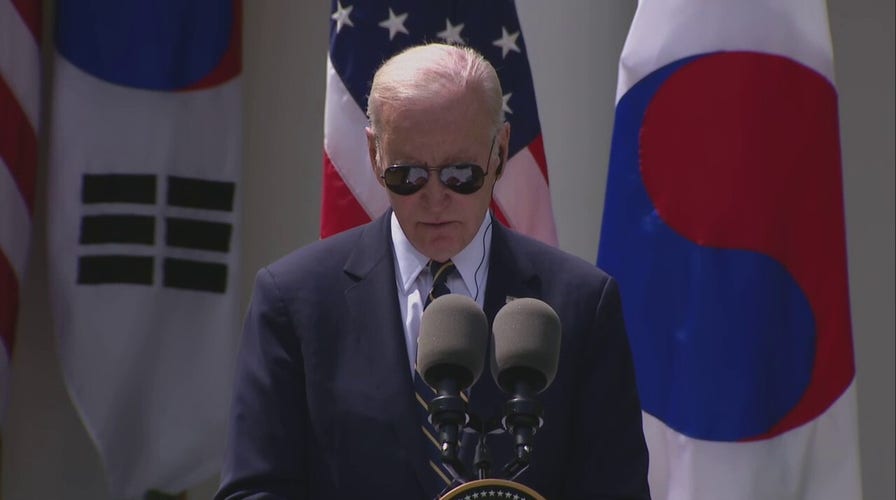 Video
Biden warns North Korea that nuclear attacks would be 'the end' of regime that fires missiles
President Biden spoke at a joint press conference with South Korean President Yoon Suk Yeol on Wednesday, April, 26, 2023, where he said a nuclear attack by North Korea against the U.S. or allies would be "unacceptable." 
South Korea's military said it salvaged an object presumed to be part of the crashed North Korean rocket carrying a spy satellite after it plunged into waters near South Korea.
Later, the Defense Ministry released photos of the suspected rocket part.
North Korea's attempt to launch a spy satellite into space, which would be the country's first, failed Wednesday after the rocket plunged into waters approximately 124 miles west of the southwestern island of Eocheongdo. The country's space agency attributed the failure to "the low reliability and stability of the new-type engine system applied to (the) carrier rocket" and "the unstable character of the fuel," according to the North's official Korean Central News Agency.
The North's National Aerospace Development Administration will conduct a more thorough investigation into "serious defects revealed" by the launch, according to KCNA.
NORTH KOREA INFANT JAILED FOR LIFE AFTER PARENTS FOUND WITH BIBLE ACCORDING TO RECENT REPORT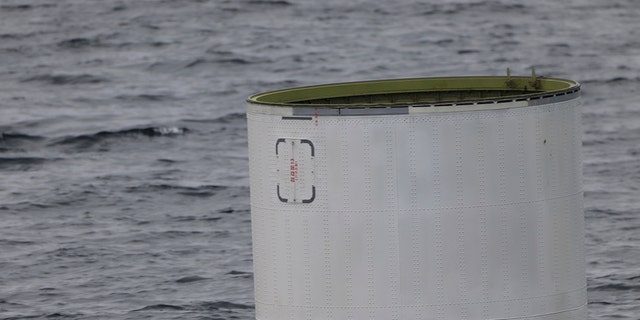 This photo provided by South Korea's Defense Ministry, shows an object salvaged by South Korea's military that is presumed to be part of the North Korean space-launch vehicle that crashed into sea following a launch failure in waters off Eocheongdo island, South Korea Wednesday, May 31, 2023.  (South Korea Defense Ministry via AP)
Pyongyang said it will conduct a second launch as soon as possible, once it learns what went wrong.
The newly developed Chollima-1 rocket, carrying the Malligyong-1 satellite, launched from the North's Sohae Satellite Launching Ground at 6:37 a.m. local time. The rocket lost thrust between its first and second stages and crashed off the Korean Peninsula's western coast, state-affiliated media reported.
NORTH KOREA MISSILE LAUNCH THAT PUT SOUTH KOREA, JAPAN ON HIGH ALERT ENDS IN FAILURE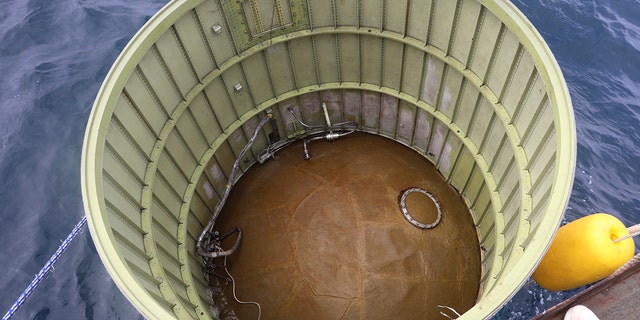 South Korea's Defense Ministry said its military salvaged an object that is presumed to be a piece of the North Korean spy satellite that crashed into sea following a launch failure in waters off Eocheongdo island, South Korea Wednesday, May 31, 2023.  (South Korea Defense Ministry via AP)
South Korea's military also reported the North Korean rocket had "an abnormal flight" before crashed.
Japan's Chief Cabinet Secretary Hirokazu Matsuno confirmed no object from the launch reached its intended orbit in space.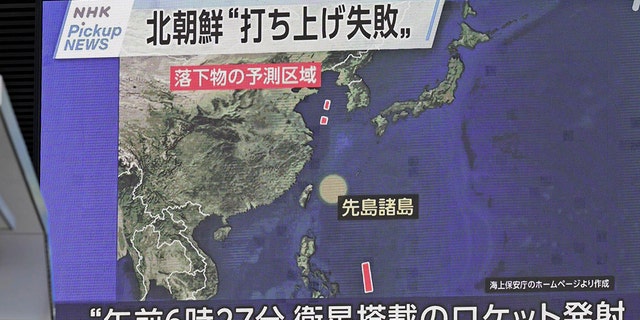 A news report of a North Korea's rocket launch, in Tokyo Wednesday, May 31, 2023.  (Kyodo News via AP)
Wednesday's launch prompted South Korea and Japan to briefly urge residents to take shelter. South Korea's capital, Seoul, issued alerts over public speakers and via text messages and Japan activated its missile warning system in southwestern Japan, which was the rocket's suspected path.
CHINA SENDS THREE ASTRONAUTS TO TIANGONG SPACE STATION AHEAD OF TRIP TO THE MOON
Seoul's military said it boosted military readiness and Tokyo said it was prepared to respond to any emergency.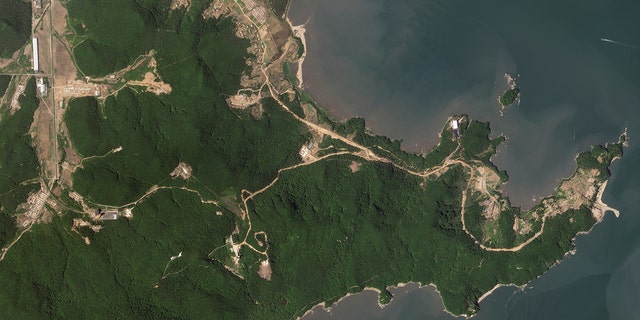 The Sohae Satellite Launching Station near Tongchang-ri, North Korea, Tuesday, May 30, 2023.  (Planet Labs PBC via AP)
Japanese Defense Minister Yasukazu Hamada said his country will keep its missile defense systems deployed until June 11, which is the end of North Korea's announced launch window.
North Korean dictator Kim Jong-Un has continually pushed for his country to develop long-range missiles and has conducted various tests in recent years which have demonstrated a potential range that could reach all the continental U.S. Experts, however, have said North Korea lacks the technology to construct functioning nuclear missiles.
Kim claims the rocket technology, as well as the space spy satellites, will serve as deterrents to potential aggressions from South Korea and the West.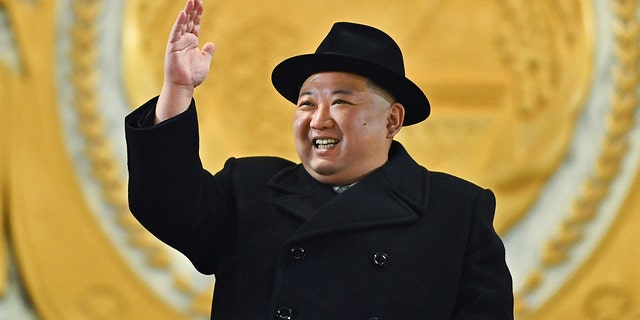 In this photo provided by the North Korean government, North Korean leader Kim Jong Un attends a military parade to mark the 75th founding anniversary of the Korean People's Army on Kim Il Sung Square in Pyongyang, North Korea, Feb. 8, 2023.  (Korean Central News Agency/Korea News Service via AP)
The satellite launch directly violated U.N. Security Council resolutions that ban North Korea from conducting any launch based on ballistic technology.
It came as diplomacy between Pyongyang, Washington and Seoul has stalled.
Washington strongly condemned Wednesday's launch because North Korea used banned ballistic missile technology, according to Adam Hodge, a spokesperson at the U.S. National Security Council.
The launch also escalated tensions and risked destabilization in the region and the world, he said.
"We are aware of the DPRK's launch using ballistic missile technology, which, is a brazen violation of multiple unanimous UN Security Council resolutions, raises tensions, and risks destabilizing the security situation in the region and beyond," U.S. Indo-Pacific Command Public Affairs said. "This launch involved technologies that are directly related to the DPRK intercontinental ballistic missile program."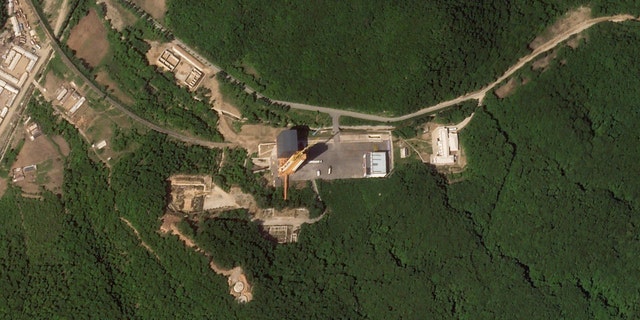 This satellite picture by Planet Labs PBC shows activity at a launch pad at the Sohae Satellite Launching Station near Tongchang-ri, North Korea, Tuesday, May 30, 2023.  (Planet Labs PBC via AP)
The U.S. said it will take all measures necessary to ensure the security of the American homeland and its regional allies.
"We are assessing the situation in close coordination with our allies and partners. We have assessed that this event did not pose an immediate threat to U.S. personnel, territory, or of our allies, but will continue to monitor the situation. The U.S. commitment to homeland defense and the defense of the Republic of Korea and Japan, remains ironclad," the statement continued.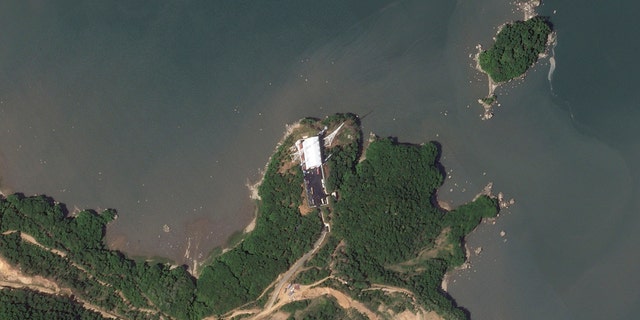 Satellite images taken Tuesday analyzed by The Associated Press showed activity at a main pad at North Korea's Sohae Satellite Launching Station – suggesting the satellite's blast off would be soon.  (Planet Labs PBC via AP)
North Korean official Ri Pyong Chol defended the North's need for a space-based reconnaissance system in a statement Tuesday, saying such technology could counter potential security threats from South Korea and the United States.
LEADERS OF EUROPEAN UNION, SOUTH KOREA AGREE TO INCREASE PRESSURE ON RUSSIA, CONDEMN NORTH KOREA MISSILE TESTS
In the statement, Ri said North Korea would test "various reconnaissance means" to monitor moves by the United States and its allies in real-time.
Lee Choon Geun, an honorary research fellow at South Korea's Science and Technology Policy Institute, said North Korea could utilize three to five spy satellites to build a space-based surveillance system that allows it to monitor the Korean Peninsula in near real time.
The spy satellite is one of several high-tech weapons systems that are coming out of North Korea.
Other weapons on Kim's wish list include a multi-warhead missile, a nuclear submarine, a solid-propellant intercontinental ballistic missile and a hypersonic missile.
CLICK HERE TO GET THE FOX NEWS APP
South Korea is expected to launch its first spy satellite later this year.
North Korea successfully put its first satellite into orbit in 2012 — and a second one in 2016 — after repeated failures. Pyongyang said both are designed solely for Earth observation within its peaceful space development program, although some critics are skeptical.
The Associated Press contributed to this report.