close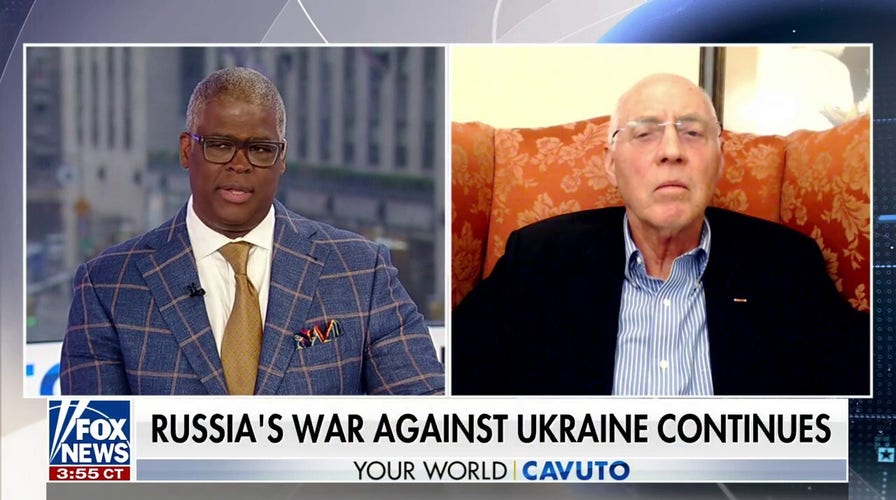 Video
The last few months in the Ukraine-Russia war have been pretty bloody: Lt. Col. Bob Maginnis
Retired U.S. Army Lt. Col. Bob Maginnis discusses the latest in the Russia-Ukraine conflict and the estimated number of casualties on 'Your World.'
South Africa this week suggested it may grant Russian President Vladimir Putin diplomatic immunity to attend an August summit for the BRICS economic bloc despite an outstanding warrant for his arrest.
The International Criminal Court – which South Africa is party to – issued the warrant for Putin's arrest in March for war crimes committed in Ukraine.
Theoretically, any ICC member nation Putin travels to would be compelled to seize the Kremlin chief, though South Africa is apparently willing to skirt its international obligations, according to Russian press secretary Dmitry Peskov.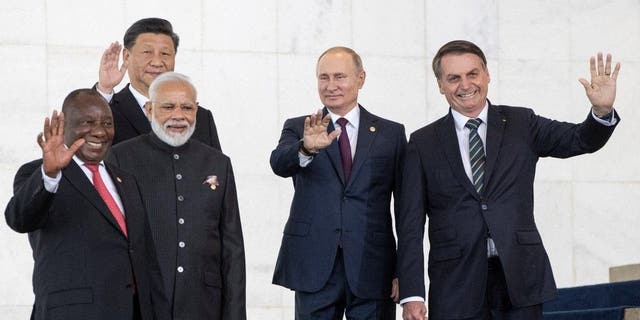 South Africa's President Cyril Ramaphosa, China's President Xi Jinping, India's Prime Minister Narendra Modi, Russia's President Vladimir Putin and Brazil's President Jair Bolsonaro pose at the BRICS summit in Brasilia, Brazil, Nov. 14, 2019. (Pavel Golovkin/Pool via Reuters)
SOUTH AFRICA DRILLS WITH RUSSIA, CHINA COULD SIGNIFY FAILED WASHINGTON EFFORTS TO SOLIDIFY AFRICAN ALLIES
"Russia attaches enormous importance to the development of this format of integration. And Russia will take part in this summit at the proper level," he said during a Tuesday press conference. "Of course we count as a bare minimum on partner countries in such an important format not being guided by such illegal decisions."
Russia has increasingly looked to bolster its ties with countries like South Africa as relations with the West remain tense amid the ongoing war in Ukraine – a move officials have increasingly warned could garner Moscow diplomatic sway.
A statement by Clayson Monyela, head of South Africa's public diplomacy, on Tuesday said it was "standard" practice for Cape Town and "all countries" to issue immunity for officials attending international conferences "irrespective of the level of participation."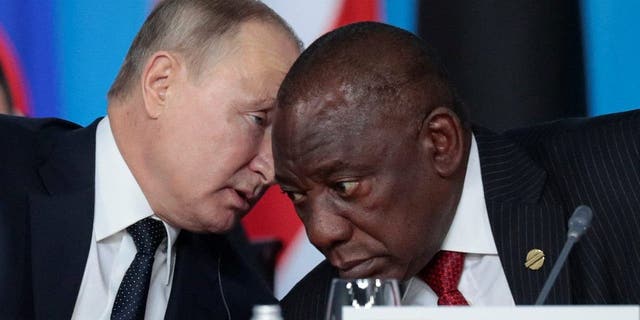 President Vladimir Putin speaks with South African President Cyril Ramaphosa during the Russia-Africa Summit in Sochi, Russia, Oct. 24, 2019. (Sergei Chirikov/Pool via Reuters)
"The immunities are for the conference and not for specific individuals. They are meant to protect the conference and its attendees from the jurisdiction of the host country for the duration of the conference," he said.
Though Monyela also added that "these immunities do not override any warrant that may have been issued by any international tribunal against any attendee of the conference."
BLINKEN TRAVELS TO AFRICA AS NEW REPORT SHOWS CHINA, RUSSIA ECLIPSING US ARMS SALES TO CONTINENT
It remains unclear if Putin will actually be able to attend the summit set for later this summer, though South Africa has reportedly been looking into the wording of the Rome Statute – the ICC's establishing charter – for any loopholes that would allow Putin to visit South Africa without the necessity to then arrest him.
In April, South African President Cyril Ramaphosa established an inter-ministerial committee to look into the language of the statute and how it must be applied.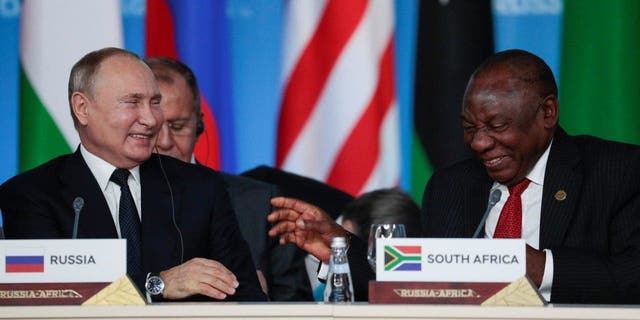 President Vladimir Putin and South African President Cyril Ramaphosa at the first plenary session of the Russia-Africa Summit in Sochi, Russia, Oct. 24, 2019. (Sergei Chirikov/Pool via Reuters)
CLICK HERE TO GET THE FOX NEWS APP
Reports surfaced in late April suggesting that South Africa was considering leaving the ICC after the international court issued the arrest warrant for Putin, though Ramaphosa immediately walked back this threat, calling it an "error in a comment" made by his ruling party.
"South Africa remains a signatory to the Rome Statute and will continue to campaign for equal and consistent application of international law," he said in a statement on April 25.
Reuters contributed to this report.
Caitlin McFall is a Reporter at Fox News Digital covering Politics, U.S. and World news.