Left-wing billionaires, including George Soros, have been pouring tens of millions into a super PAC supporting Senate Majority Leader Chuck Schumer, D-N.Y., in a bid to help Democrats maintain control of the upper chamber of Congress following the 2024 election.
Democracy PAC II, which is primarily funded by Soros, gave $2.5 million to Senate Majority PAC on June 22, Fox News has confirmed. Democracy PAC II gave $3.5 million in calendar year 2022, and $2.5 million in calendar year 2021, for a combined $6 million, records show.
Though Soros is perhaps the most well-known, "the reality is the Left has dozens of billionaires like him, and it seems that almost all of them are rolling out the red carpet and the checkbook for Democratic Senate candidates this cycle," Parker Thayer, an investigative researcher for the conservative think tank Capital Research Center, told the Washington Examiner.
Senate Majority PAC has raised $37 million in the first six months of this year, the Examiner reported citing campaign finance records. According to the outlet, Soros' group gave the Schumer-linked political action committee a total boost of $16 million between February and June alone.
SCHUMER-ALIGNED GROUP PULLED IN $270M FROM SECRET DONORS IN RECENT YEARS AS HE DECRIED DARK MONEY
George Soros, billionaire and founder of Soros Fund Management LLC, speaks during an event on day two of the World Economic Forum in Davos, Switzerland, on Tuesday, May 24, 2022. (Jason Alden/Bloomberg via Getty Images)
Other prominent liberal donors include Stephen Mandel, a hedge fund manager who founded the Connecticut-based investment fund Lone Pine Capital. He donated $3 million to Senate Majority PAC in June, according to the Examiner. That is his second-largest federal donation to date behind the $5 million he donated last year to the pro-Biden Future Forward PAC, criticized for its alleged dark money ties.
Disclosures show Netflix Chairman Reed Hastings contributed $2 million in May to Senate Majority PAC. Hastings, who has also supported the Biden Victory Fund, Hillary Victory Fund, and Obama Victory Fund, has donated a total of approximately $8 million to Senate Majority PAC since 2014.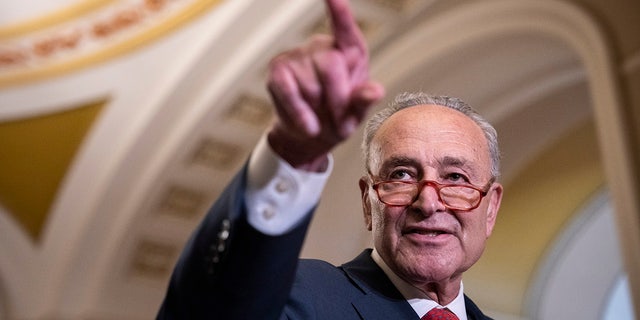 Senate Majority Leader Chuck Schumer, D-NY, speaks during a news conference after a lunch meeting with Senate Democrats with U.S. Capitol July 26, 2023. (Drew Angerer/Getty Images)
GEORGE SOROS BANKROLLS MYSTERIOUS INSTITUTION LOOKING TO FLIP TEXAS TO DEMOCRATS, RECORDS SHOW
The Examiner report noted that Fred Eychaner, founder of the alternative newspaper printer Newsweb Corporation, donated $2 million to the Schumer-linked committee since in June. Former eBay president Jeffrey Skoll, estimated to be worth $4.1 billion, made a $1.5 million contribution that same month.
Between February and June, entrepreneur Phillip Ragon, businesswoman and oil industry heiress Stacy H. Schusterman, and Deborah Simon, daughter of the late-Hollywood producer Melvin Simon each made $1 million contributions to Senate Majority PAC. Disclosures show investor Henry Laufer and his wife Marsha Laufer donated $500,000 each to the PAC in May. That same month, billionaire heiress and gardener Amy Goldman Fowler also made a $500,000 contribution to Senate Majority PAC.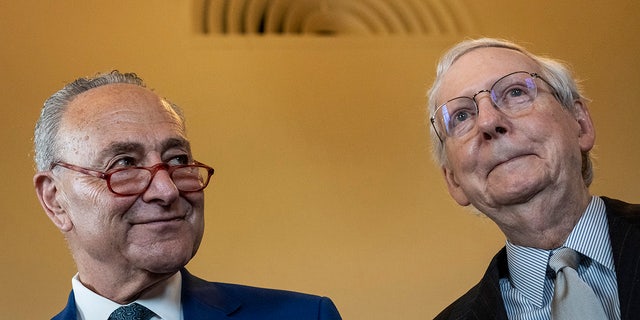 Senate Majority Leader Chuck Schumer, D-N.Y., and Senate Minority Leader Mitch McConnell, R-Ky., stand for a photo before a meeting with Italian Prime Minister Giorgia Meloni at the U.S. Capitol July 27, 2023, in Washington, D.C. Their prospective parties will battle for control of the U.S. Senate in 2024. (Drew Angerer/Getty Images)
"After defying history and expanding Democrats' Senate majority in 2022, Senate Majority PAC's strong fundraising sets us once more on the path to success," Senate Majority PAC President JB Poersch told the Examiner. "Heading into the 2024 cycle, Democrats are organized, motivated, and ready to defeat Mitch McConnell's slate of out-of-touch corporatists and fringe candidates."
CLICK HERE TO GET THE FOX NEWS APP
The Examiner reported that records show Alex Soros – the 37-year-old son of George Soros named successor to his father's $25 billion empire – has met with Schumer at least nine times since 2019, and had donated more than $5.5 million to Senate Majority PAC from 2016 to 2018.
Democracy PAC II, launched by Soros in 2021, has Michael Vachon as its treasurer. Vachon is a spokesman for Soros who served on the board for the Democracy Alliance, which Politico categorized in May 2019 as "the country's most powerful liberal donor club" that at the time was gearing to fund "everything from programs combating social media disinformation to candidate training sessions leading up to the elections and the next round of redistricting" according to a three-year spending plan.
Fox News' Remy Numa contributed to this report.