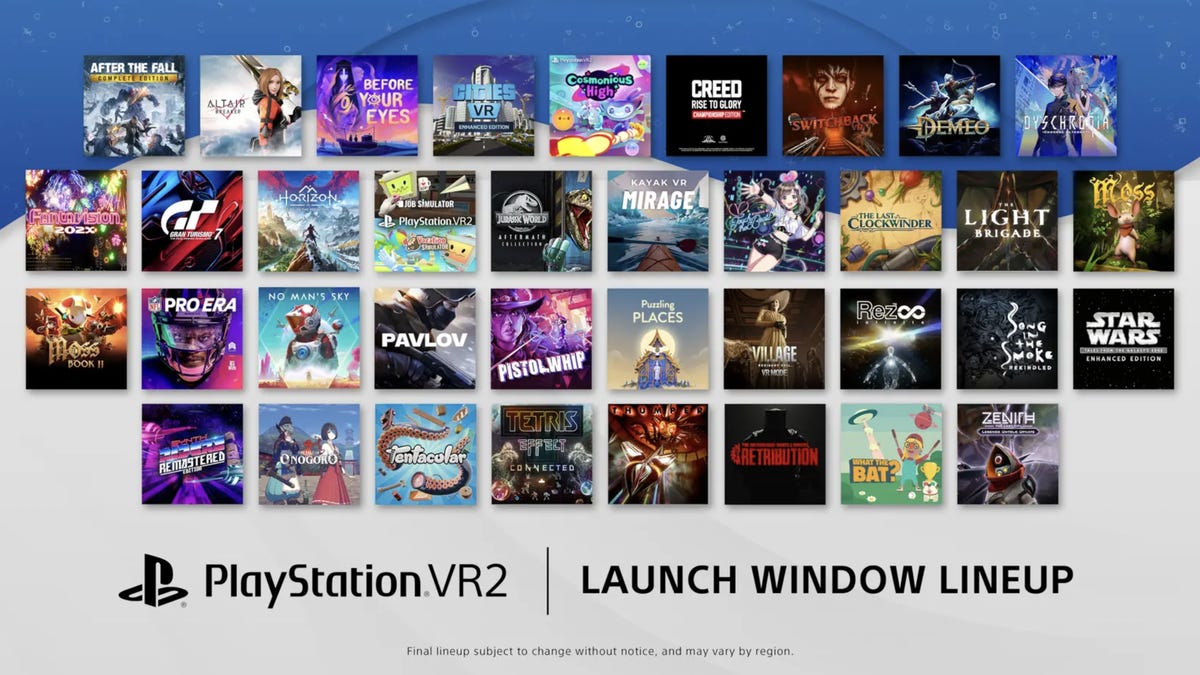 Some of the games that will be available around the launch of the PlayStation VR 2.
Sony
An additional 13 games will work with Sony's PlayStation VR 2 between its February launch and the end March, Sony said Thursday. Some of the titles included in the announcement are Rez Infinite and Tetris Effect: Connected.
The additional 13 titles brings the total number of games available at or around the launch to 37. Many of the games are ports from other consoles, including the first PlayStation VR, like Resident Evil Village and Pavlov VR. 
A free PS VR2 update for Gran Turismo 7 is also expected to be available on launch day. People who previously bought Gran Turismo 7 will also be able to upgrade their game for free to make it PS VR 2 compatible. 
So far, here are the titles that will be available on the PS VR 2 by the end of March.
After the Fall
Altair Breaker
Before Your Eyes
Cities VR
Cosmonious High
Creed: Rise to Glory – Championship Edition
The Dark Pictures: Switchback
Demeo
Dyschronia: Chronos Alternate
Fantavision 202X

Gran Turismo 7

 
Horizon Call of the Mountain
Job Simulator
Jurassic World Aftermath
Kayak VR: Mirage
Kizuna AI – Touch the Beat!
The Last Clockwinder
The Light Brigade
Moss 1 & 2 Remaster
NFL Pro Era 

No Man's Sky

Pavlov VR
Pistol Whip 
Puzzling Places 

Resident Evil Village

Rez Infinite
Song in the Smoke

Star Wars: Tales from the Galaxy's Edge

Synth Riders
The Tale of Onogoro
Tentacular
Tetris Effect: Connected
Thumper
The Walking Dead: Saints & Sinners: Ch. 2: Retribution
Vacation Simulator
What the Bat?
Zenith: The Last City
The PS VR 2 is expected to launch on Feb. 22 for $550, which is $50 more than the price of a PlayStation 5.
For more information on the PS VR 2, check out everything we know about the upcoming device.

Now playing:
Watch this:

I Tried Out Sony's Upcoming VR Headset on the PlayStation…
12:09