Former New Jersey Gov. Chris Christie lit up social media this week after he visited Ukraine President Volodymyr Zelenskyy and gifted him lyrics to the Bon Jovi hit "It's My Life" that were handwritten by Jon Bon Jovi.
Christie said the song "served as an inspiration for a lot of the citizens in Odessa, as they were preparing for the invasion by the Russians" during a Sunday interview on CNN.
He said Bon Jovi "wrote it out in his own hand, got it framed."
REPUBLICAN RIVAL CHRIS CHRISTIE TELLS TRUMP TO 'SELL TRUMP TOWER' TO HELP COVER REPORTED $40M IN LEGAL FEES
Former New Jersey Gov. Chris Christie, a 2024 presidential candidate, took an impromptu trip to Ukraine over the weekend. (X)
"I brought it to President Zelenskyy and said that this is representative of many of the American people and what they feel about the cause that's being fought for in Ukraine," Christie said.
Users across X, formerly known as Twitter, launched wisecracks and jokes about the gift.
"Literally the closest thing New Jersey has to the Crown Jewels," said political adviser Maximilian Hess.
One user brought up another New Jersey singer, Bruce Springsteen, when quipping, "If it were handwritten Springstein (sic) lyrics, then I would be impressed."
GLOBAL FOOD PRICES RISE AFTER RUSSIA PULLS OUT OF WARTIME GRAIN AGREEMENT WITH UKRAINE
One person posted an image of Russian President Vladimir Putin and an adviser whispering to him. They captioned the image, "Sir, the Ukrainians have Bon Jovi lyrics."
"I think that's New Jersey for 'You complete me,'" NPR correspondent Stacey Vanek Smith wrote.
Radio show host Emma Vigeland joked, "I'm sending Zelenskyy a DVD of Jersey Shore season one."
UKRAINE ARRESTS WOMAN IN ALLEGED FOILED RUSSIAN ASSASSINATION PLOT ZELENSKYY
Zelenskyy thanked Christie for his support as Ukraine fends off Russia's invasion after the 2024 hopeful's visit, and revealed he took him to one of the most gruesome sites of the war.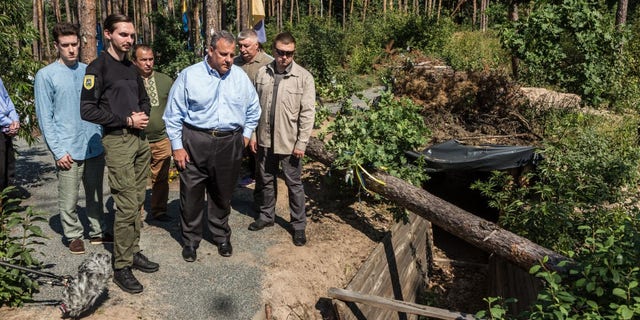 Christie looks at the trench that was used during a massive Russian offensive in March 2022, in Moshchun village, Kyiv region, Ukraine, on Aug. 4, 2023.
CLICK HERE TO GET THE FOX NEWS APP
"I had a meeting with a member of the Republican Party, former Governor of New Jersey, Christopher Christie. And it is very important that Mr. Christie began his visit to Ukraine with a visit to Bucha to see with his own eyes the threat to freedom and to everyone in the world posed by Russian aggression," Zelenskyy said.
"I thanked all Americans, each and every one, for their vital support. We are confident that we will end this Russian war against freedom with our victory – the victory of the free world, the victory of democracy, the victory of freedom," he said.