close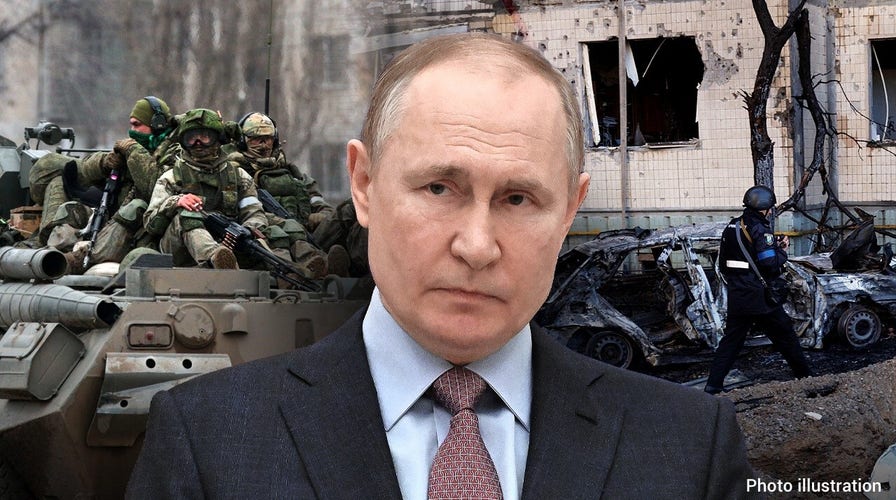 Video
Putin is running out of ammunition in Ukraine: Rep. Michael McCaul
House Foreign Affairs Committee Chairman Rep. Michael McCaul, R-Texas, says Putin is meeting with Xi Jinping because he needs military help to defeat Ukraine on 'Your World.'
Slovakia handed over the first four Soviet-era MiG-29 fighter jets to Ukraine on Thursday, with nine more expected to be delivered in the coming weeks, Slovak Defense Minister Jaroslav Nad announced.
Ukrainian pilots traveled to Slovakia to pick up the planes before flying them home.
"Slovakia is on the right side, and with this gesture, we as a country have written ourselves in capital letters in modern world history, which speak of timely help, sincere solidarity and the greatness of the nation," Nad said in a statement.

next
Image 1 of 3

A pair of Slovak MiG-29 jets take off at Silac Air Base in Slovakia, in this still image released on March 23, 2023.  (Slovak Ministry Of Defense/Handout via Reuters )


prev

next
Image 2 of 3

Slovak MiG-29 jets are seen at Silac Air Base in Slovakia. (Slovak Ministry Of Defense/Handout via Reuters)


prev
Image 3 of 3

A Slovak MiG-29 jet is seen at Silac Air Base in Slovakia. (Slovak Ministry Of Defense/Handout via Reuters)
Poland became the first NATO member to pledge fighter jets to Ukraine last week, with Slovakia following a day later.
The U.S. agreed last week to give Slovakia a discount on a dozen new Bell AH-1Z attack helicopters and 500 AGM-114 Hellfire II missiles. Slovakia previously signed a deal to buy 14 F-16 fighter jets from the U.S., but they won't be delivered until next year.
DUTCH FIGHTER JETS INTERCEPT THREE RUSSIAN MILITARY AIRCRAFT NEAR POLAND, ESCORT PLANES AWAY
Other Western nations have so far declined to send fighter jets to Ukraine, but a growing cadre of U.S. lawmakers are pushing the Biden administration to approve F-16 fighter jets for the country's air force.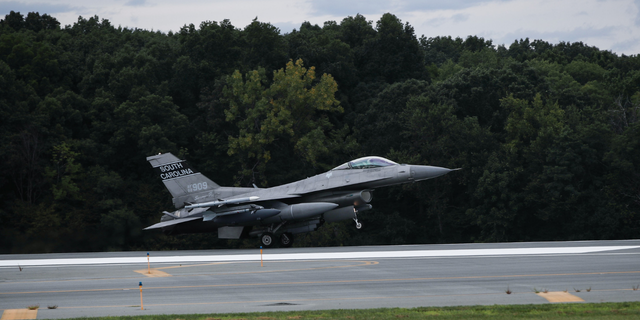 FILE PHOTO: F-16 landing before an air show in New York City. (Atilgan Ozdil/Anadolu Agency via Getty Images)
A bipartisan group of U.S. senators wrote in a letter to Defense Secretary Lloyd Austin last week that modern fighter jets would be a "significant capability that could prove to be a game changer on the battlefield."
"After speaking with U.S., Ukrainian, and foreign leaders working to support Ukraine at the Munich Security Conference last month, we believe the U.S. needs to take a hard look at providing F-16 aircraft to Ukraine," the senators wrote on March 14.
CLICK HERE TO GET THE FOX NEWS APP
The senators noted that two Ukrainian pilots traveled to Morris Air National Guard Base in Tucson, Arizona, earlier this month to assess their skills on an F-16 simulator. Ukrainian pilots mostly have experience with the older Soviet-era MiG-29 jets.
Paul Best is a breaking news reporter for Fox News Digital and Fox Business. Story tips and ideas can be sent to [email protected] and on Twitter: @KincaidBest.