A surprising new poll shows Mississippi Democrats within striking distance of capturing the governor's mansion in the 2023 gubernatorial election.
Democratic candidate Brandon Presley trails incumbent Republican Gov. Tate Reeves by only four points, 39%-43%, in a Mississippi Today/Siena College poll released Thursday. The poll has a margin of error of plus or minus 4.6 percentage points, making the two declared candidates statistically tied 10 months out from the November election.
"Mississippians want someone new in the Governor's office," said Presley, a four-term Public Service Commissioner, former mayor of Nettleton, and distant cousin of rock icon Elvis Presley. "It's clear, the people of Mississippi are ready to fire Tate Reeves."
The poll also showed that 57% of voters would prefer "someone else" over Reeves in the November election, compared to 33% who support the governor. Reeves announced his candidacy for reelection last week, telling Fox News in an interview that he intend to eliminate the state income tax if he wins a second term later this year.
GOV. TATE REEVES SEEKING 'COMPLETE ELIMINATION' OF INCOME TAX IN MISSISSIPPI AS HE RUNS FOR RE-ELECTION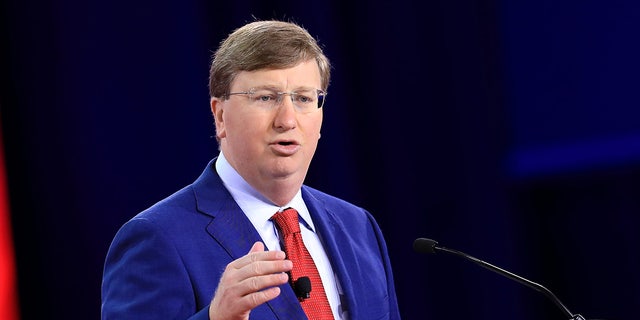 Tate Reeves, governor of Mississippi, speaks during the Conservative Political Action Conference (CPAC) in Dallas, Texas, Aug. 5, 2022.
(Dylan Hollingsworth/Bloomberg via Getty Images)
A significant number of Republican respondents, 33%, said they would prefer someone other than Reeves, as did a majority of Independents (67%). Mississippi has an open primary system, meaning voters to not have to register as Republicans to vote in the Party's primary election, and independents will often vote in Republican primaries. Reeves has support from just 24% of independent respondents in the poll. Also, 29% of Democrats who responded said they planned to vote in the Republican primary on Aug. 8, and 77% of Democratic voters surveyed say they want someone else other than Reeves.
A Reeves campaign spokesman downplayed the poll's findings.
"Every four years, Mississippi's most liberal reporter, Bobby Harrison, tells his readers Tate Reeves is going to lose based on some over-cooked media poll and every four years, Bobby Harrison is wrong. It's just click-bait for his left-wing readers," the spokesman said.
"Governor Reeves will win re-election because Mississippians approve of his record of cutting the income tax, attracting record investment in new jobs, increasing teacher pay, and driving historic academic achievement gains in Mississippi schools," the spokesman added.
There is good news for the governor in the poll. In addition to his narrow lead over Presley, Reeves holds a strong advantage over potential Republican primary challenger Bill Waller Jr., a former Mississippi Supreme Court chief justice. Waller had challenged Reeves in the 2019 gubernatorial primary, forcing Reeves into a runoff, but a 61% majority of registered voters said they did not know enough about him to give an opinion for the 2023 election.
Head-to-head in a hypothetical primary, Reeves beats Waller 52% to 29% among poll respondents.
2023 ELECTIONS: CHICAGO CHOOSES A MAYOR, STATES VOTE ON LEGISLATURES IN CONTENTIOUS UPCOMING RACES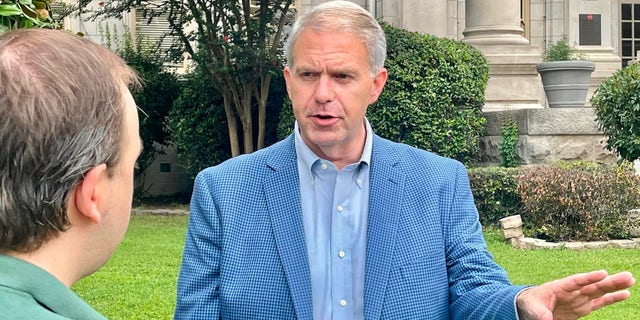 Public Service Commissioner and former Mayor of Nettleton Brandon Presley is seeking the Democratic nomination to challenge Mississippi Gov. Tate Reeves.
(Commissioner Brandon Presley Facebook)
Reeves previously told Fox News that he's confident he'll win the primary as the most conservative candidate in the race.
"Well, I would tell you that Republican primary voters are going to vote for a conservative," Reeves said. "I have a record of returning money back to the taxpayers, of creating jobs, of having the strongest economy in our state's history, of having the lowest unemployment rate in our state's history, of having more people working in our state than any time in our state's history.
MISSISSIPPI GOV. TATE REEVES 'ECSTATIC' OVER SUPREME COURT ABORTION RULING, SAYS IT'S A 'WIN FOR LIFE'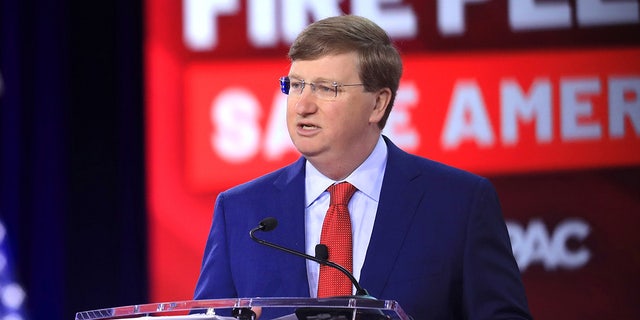 Tate Reeves, governor of Mississippi, speaks during the Conservative Political Action Conference in Dallas, Texas, Aug. 5, 2022. 
(Dylan Hollingsworth/Bloomberg via Getty Images)
"Our educational attainment levels are improving, our fourth grade reading and fourth grade math results are up, our high school graduation rates are up," he added. "We are fighting for our conservative values. We led the charge to overturn Roe. We are fighting to protect the young girls in our state by saying that we're going to let boys play boy sports and … we're going to let girls play girl sports. We're fighting the radical transgender agenda, particularly amongst those under the age of 18. And we will continue to do so."
In the general election, Reeves has significantly higher name ID than his Democratic challenger Presley, who is relatively unknown despite his distant relation to the "King of Rock and Roll." Only 21% of Mississippi voters said they had a favorable view of Brandon Presley, 15% had an unfavorable opinion of him, and the majority of voters, 61%, said they did not know enough about him to have an opinion.
The last Democrat elected governor of Mississippi was Ronnie Musgrove, who won election in 1999 and served for one term.
CLICK HERE TO GET THE FOX NEWS APP
The Mississippi Today/Siena College Research Institute poll surveyed 821 registered voters from Jan. 8-12.