close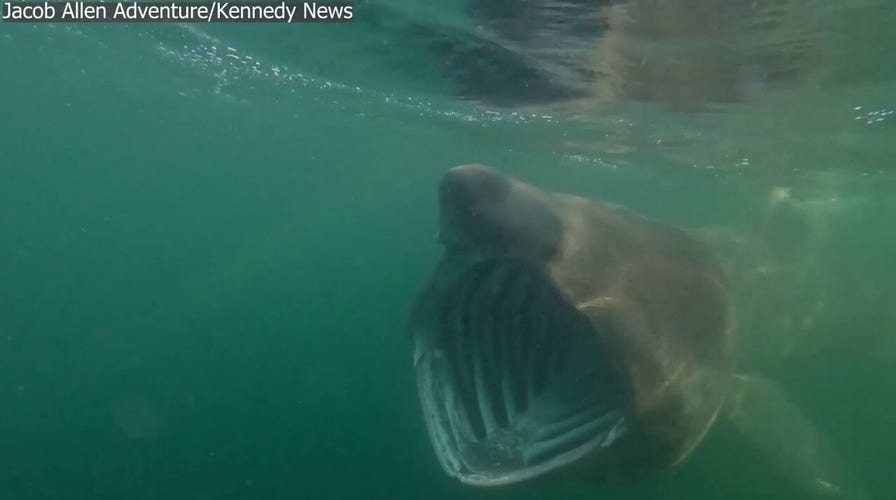 Video
Shark with massive jaw circles nervous paddleboarder in 'eerie' footage
A paddleboarder in Scotland had an unexpected run-in with the world's second-largest shark, which circled him as he recorded the 'eerie' encounter. (Jacob Allen Adventure/Kennedy News)
A paddleboarder in Scotland had an unexpected run-in with the world's second-largest shark, which circled him as he recorded the "eerie" encounter.
"I left Dunbar Harbor and had only been on the paddle for 20 minutes when I noticed a bloom of plankton in the water," 28-year-old Jacob Allen told Kennedy News.
"Then, one of the sharks started to head towards me in my direction, which made me feel a bit apprehensive at first," he said.
The paddleboarder said he was off the Scottish coast in East Lothian's Dunbar Harbor last week when he encountered a 25-foot basking shark. Basking sharks typically live in cool water and are considered the second-largest fish in the world, reaching up to 40 feet in length, according to Oceana.
MISSING SCOTTISH TOURIST'S HAND FOUND IN TIGER SHARK DAYS AFTER DISAPPEARING OFF FRENCH ISLAND: REPORTS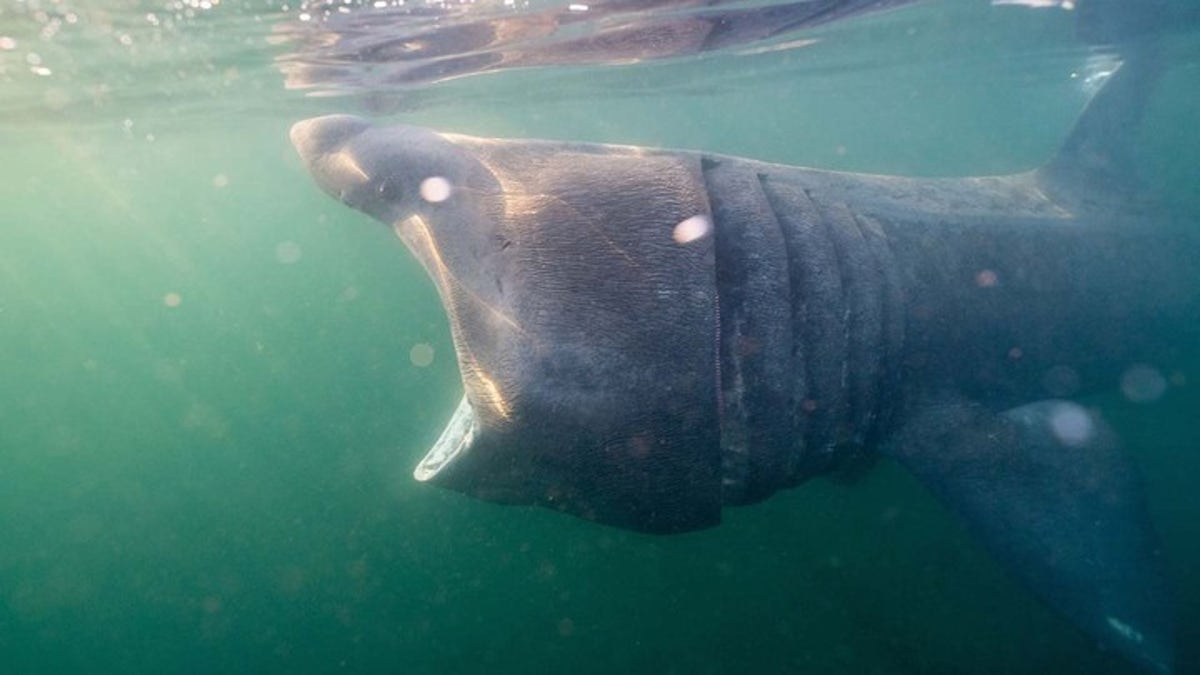 A basking shark off the coast of Scotland circled a paddleboarder.  (Kennedy News/Jacob Allen Adventure)
Allen said that, due to the "weather conditions and lack of current," he was able to remain still and did not disturb the water.
"It was clearly close enough to know I was there," he told Kennedy News. "My apprehensiveness of whether it knew I was there was fading because it had to know I was there. It was so close."
The video shows Allen saying, "That is not what you see on TV," remarking that his "heart is beating so fast."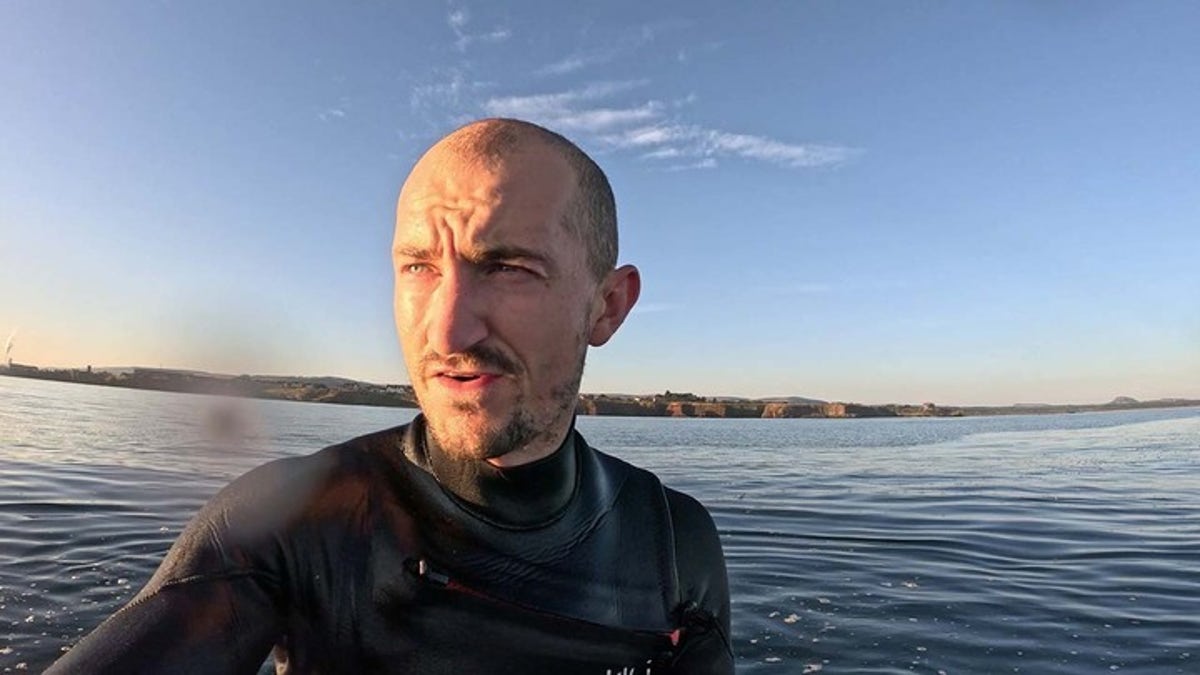 Jacob Allen on a paddleboard off the coast of Scotland, where he had a run-in with a basking shark.  (Kennedy News/Jacob Allen Adventure)
Basking sharks, though menacing in size, are mostly harmless. As filter feeders, the sharks are known for their massive mouths that can open up to 3 feet wide.
3 RESCUED FROM BOAT STRANDED IN CORAL SEA AFTER 'SEVERAL SHARK ATTACKS': AUSTRALIAN AUTHORITIES
Allen, who FaceTimed his fiancée and young son during the encounter, was able to dip his camera under the water and capture footage of the shark's open mouth.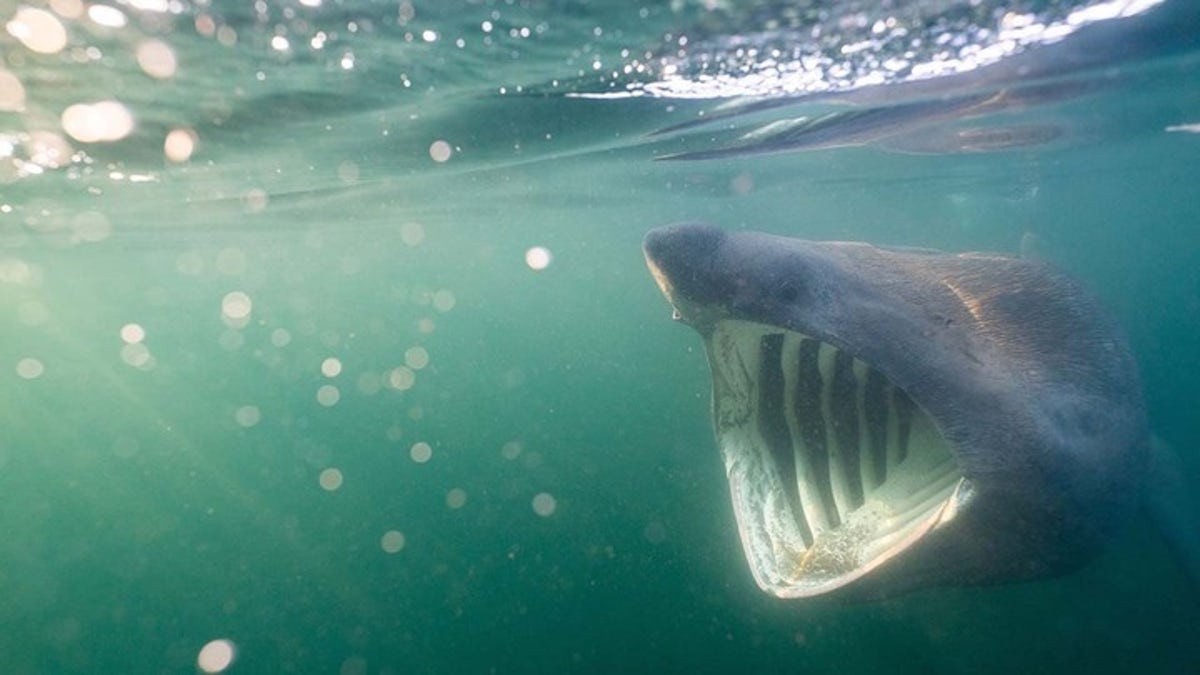 The massive mouth of a basking shark of the coast of Scotland.  (Kennedy News/Jacob Allen Adventure)
"What struck me the most was the dark Scottish waters and then just seeing that large mouth come towards me," said Allen.
2 RECOVERING AFTER LABOR DAY SHARK BITES AT SAME FLORIDA BEACH, OFFICIALS SAY
"It was pretty eerie.
The fin of a basking shark off the coast of Scotland.  (Kennedy News/ Jacob Allen Adventure)
CLICK HERE TO GET THE FOX NEWS APP
"It was the most amazing wildlife encounter I've ever had, and I was exceptionally lucky to have the experience," Allen said.