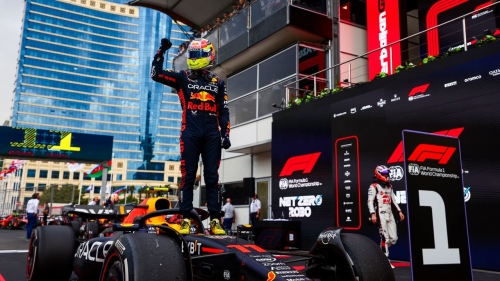 Sergio Perez at Baku City Circuit.
Bryn Lennon/Formula 1/Getty Images

CNN
—
Sergio Perez took a clinical victory at the Azerbaijan Grand Prix, completing a perfect weekend in which he also won the sprint race while his teammate Max Verstappen finished in second.
Red Bull's dominance already this season has been so comprehensive that it seems any fight for the world championship will be contained within the team and Perez's clean sweep at the weekend made significant inroads into Verstappen's advantage, cutting the Dutchman's championship lead to six points.
Despite both starting behind Ferrari's Charles Leclerc on pole, first Verstappen and then Perez breezed past the Monegasque driver in the opening laps.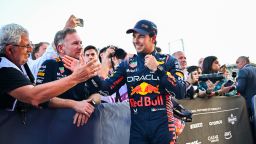 Sprint winner Sergio Perez of Mexico and Oracle Red Bull Racing talks with Red Bull Racing Team Principal Christian Horner in parc ferme during the Sprint ahead of the F1 Grand Prix of Azerbaijan at Baku City Circuit on April 29, 2023 in Baku, Azerbaijan.
Dan Mullan/Formula 1/Getty Images
Sergio Perez wins sprint race at Azerbaijan Grand Prix
It seemed like Verstappen could simply cruise to victory but he lost time to his teammate while pitting during a safety car and it was Perez who coasted to the win. Leclerc held on for third, his first podium of the season.
As Perez completed his victory, there was confusion at the other end of the race when Esteban Ocon drove into the pit lane where people had gathered but, fortunately, he avoided them and no-one was hurt.
"It really worked out today for us," Perez told Sky Sports afterwards. "We managed to stay in the DRS train and keep the pressure on Max. I think we had better degradation on that first stint.
"I think it was very close between us, we pushed to the maximum today, we both clipped the wall a few times. Max pushed me today, was really hard but we managed to keep in control."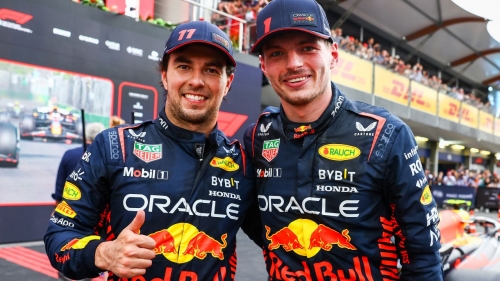 Perez and Verstappen celebrated together.
Mark Thompson/Getty Images
Perez initially stayed on Verstappen's tail after they had both eased past Leclerc before he moved into the lead when Verstappen pitted just before a safety car emerged when Nyck de Vries was left stranded on a corner and forced to retire.
Verstappen found himself in third when racing restarted and quickly overtook Leclerc again but never really challenged his teammate for the win.
"The safety car was a bit unlucky," Verstappen told Sky Sports. "I have try to stay very close to try and get into the DRS. I think the tyres were overheating a bit because of that, trying to follow.
"A lot of things learnt again throughout the race, at the end of the day, a good team result."
It was a race that further confirmed Red Bull's dominance and somewhat quashed the spectacle of a closely contested F1 race.
"Red Bull are in another league when it comes to the race," Leclerc told Sky Sports afterwards. "A very good (qualification) lap managed to put us in front but over 51 laps it was just not possible, they have so much pace than us in race pace."
But it is a long season and the battles within, as well as between, teams always provide drama during the races.