close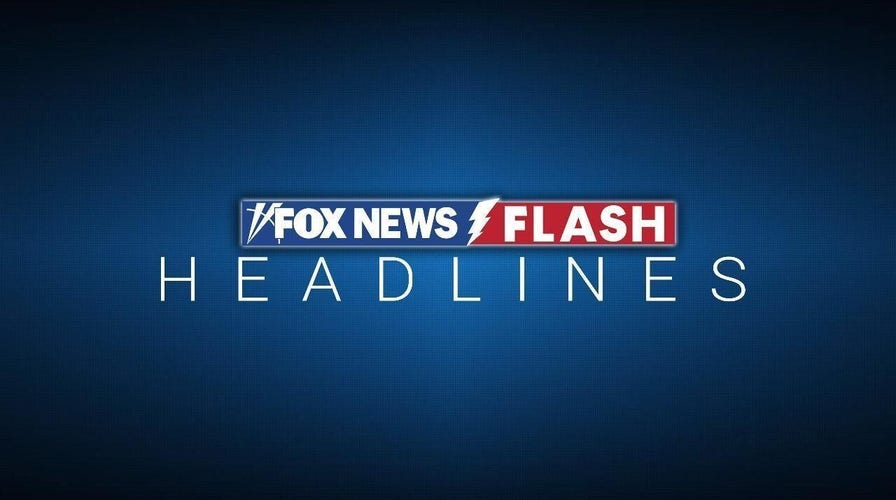 Video
Fox News Flash top headlines for May 2
Fox News Flash top headlines are here. Check out what's clicking on Foxnews.com.
Leaders of Kosovo and Serbia are planning to meet in Brussels to continue discussions about a European Union-backed plan that would normalize ties between the former war rivals.
The leaders are expected to discuss establishing an association of Serb majority municipalities in Kosovo.
To move forward with normalizing ties, Serbia insists Kosovo must implement a 2013 agreement which dealt with Serb-majority populations in the northern part of the country
The leaders of Serbia and Kosovo plan to meet in Brussels on Tuesday to continue talks on the implementation of a European Union-backed plan to normalize ties between the former war foes.
EU foreign policy chief Josep Borrell is convening the meeting between Serbian President Aleksandar Vucic and Prime Minister Albin Kurti of Kosovo. They are expected to endorse a declaration on people who remain missing from the 1998-99 war in Kosovo, which was a Serbian province with an armed pro-independence movement at the time.
They also are expected to discuss the establishment of an association of Serb majority municipalities in Kosovo, which is another delicate issue.
Kurti and Vucic met in February, when they gave tacit approval to the EU's 11-point plan, and during a March summit in North Macedonia, where both leaders tentatively agreed on how to implement the plan.
"The international community will pressure both Prime Minister Kurti and President Vucic to continue with a constructive approach, because that is the only way forward," Kosovar analyst Artan Muhaxheri said.
LONGTIME FOES SERBIA AND KOSOVO NEARING NORMALIZATION OF RELATIONS
The EU has spent 12 years facilitating negotiations between Serbia and Kosovo. Kosovo declared independence in 2008, but Serbia does not recognize its statehood.
Miroslav Lajcak, Borrell's envoy to the negotiations, said Tuesday's meeting was "a crucial step forward and it's important to avoid any actions that could worsen the atmosphere."
Brussels and the United States often intervene to calm down tensions between Belgrade and Pristina, more so in the past year since the Russian invasion of Ukraine.
The war in Kosovo erupted when separatist ethnic Albanians rebelled against Serbia's rule, and Belgrade responded with a brutal crackdown. About 13,000 people died, mostly ethnic Albanians. NATO's military intervention eventually forced Serbia to pull out of the territory.
Earlier Tuesday, Kurti posted on social media a call for justice for the deaths of 116 Albanian civilians executed by Serb forces in May 2, 1999 in Studime, a village, 18 miles north of the capital, Pristina. Kurti demanded "punishment for war crimes and justice for the victims."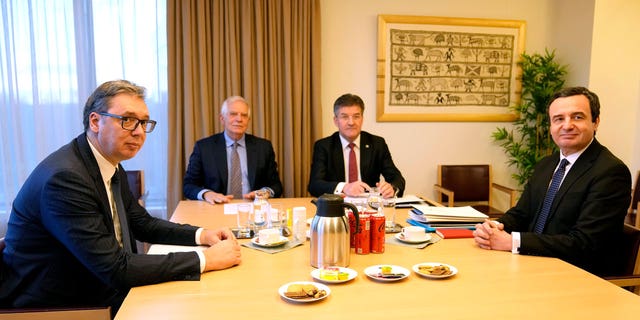 Serbian President Aleksandar Vucic, left, and Kosovo's Prime Minister Albin Kurti, right, meet with European Union foreign policy chief Josep Borrell, second left, in Brussels, on Feb. 27, 2023.  (AP Photo/Virginia Mayo, File)
Kosovo also accuses Serbia of hiding the locations where the bodies of more than 1,600 people still listed as officially missing are buried.
The EU rule of law mission in Kosovo, or EULEX, says it is difficult to find the bodies of as many were buried in small, unmarked graves or even in cemeteries, in an effort by the perpetrators to make the search for the missing more difficult and to hide evidence. Most of the missing are ethnic Albanians, while a few are Serbs.
To move forward normalizing ties, Serbia insists Kosovo must implement a 2013 agreement to establish an association of the municipalities in northern Kosovo with Serb-majority populations. The association would coordinate work on education, health care, land planning and economic development at the local level.
Kosovo's Constitutional Court later declared the plan unconstitutional, ruling it wasn't inclusive of other ethnicities and could entail the use of executive powers.
Serbia says no progress is possible in the talks before the association is tackled.
CLICK HERE TO GET THE FOX NEWS APP
Local elections were held last month in Serb-dominated communes in northern Kosovo after Serb representatives left their posts last year. Ethnic Serbs overwhelmingly boycotted the vote.
Vucic praised the election boycott and sharply criticized Western officials, calling them liars and frauds. He said the Serb minority in Kosovo would no longer tolerate foreign "occupation."
"They (Kosovo) are threatening Serbia, evoking old days, speaking about their fight for freedom while forgetting it was the Serbs who fought for freedom, and not only against terrorists, but also against NATO aggressors," Vucic said, according to a recording published on Instagram during his flight to Brussels . "It will be hard. We have all the big ones in the West against us. Still, law and justice are on our side."