close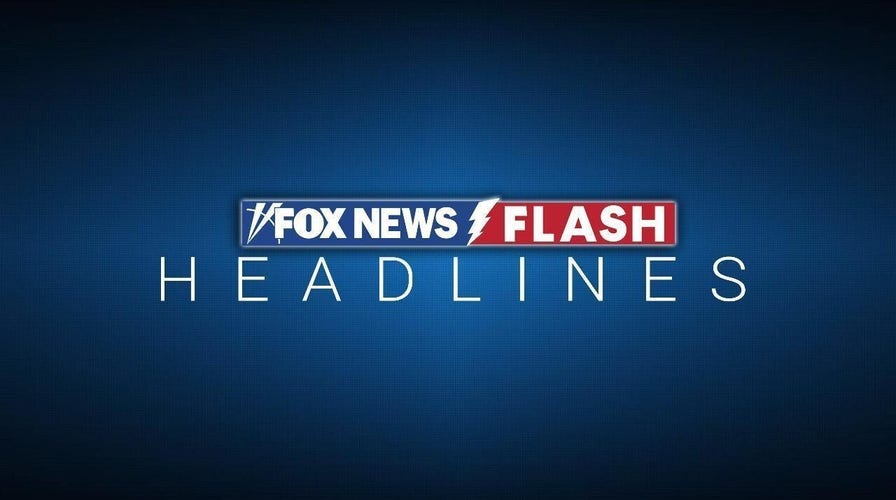 Video
Fox News Flash top headlines for February 27
Fox News Flash top headlines are here. Check out what's clicking on Foxnews.com.
The leaders of Serbia and Kosovo have given tacit approval to a European Union-sponsored plan to end months of political crises and help improve their ties longer-term, EU foreign policy chief Josep Borrell said Monday after chairing talks between them.
Speaking alone at a news conference after a series of meetings in Brussels, Borrell told reporters that Serbian President Aleksandar Vucic and Kosovo Prime Minister Albin Kurti "have today agreed that no further discussions are needed for the European Union proposal."
Both countries want to join the EU, which has told them that they first need to sort out their differences.
KOSOVO PRIME MINISTER ASKS WEST NOT TO PRESSURE NATION ON SERBIAN TERRITORIAL TREATY
Borrell provided few details about the talks — and reporters were not permitted to ask questions — except to say that "more work is needed" and that the two leaders would meet again next month.
Vucic said separately that "I hoped we would be able to agree to some compromises, but Mr. Kurti was not ready for that." Vucic added that there was no talk about how to put the EU plan into action.
Kurti, for his part, said both leaders accepted the text but that the "Serb side was not ready to sign it."
Tensions have simmered between Serbia and its former province since Kosovo unilaterally broke away in 2008; a move recognized by many Western countries but opposed by Serbia, with the backing of Russia and China. EU-brokered talks between them have made little headway in recent years.
Recently, those tensions flared over seemingly trivial matters like vehicle license plate formats, or the arrest of an ethnic Serb police officer, triggering fresh concern among Western leaders that a new Balkan conflict might break out just as Russia's war in Ukraine enters its second year.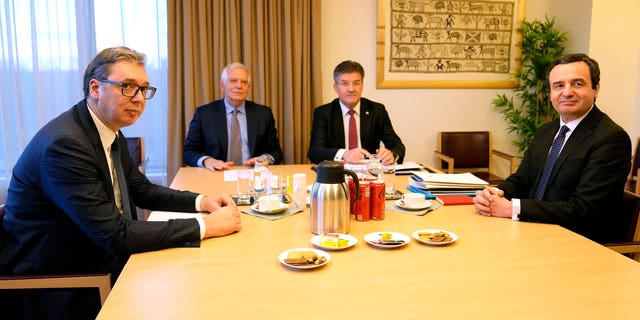 Serbian and Kosovar leadership appear to endorse a European Union-proposed peace plan. (AP Photo/Virginia Mayo)
But Borrell expressed cautious optimism that the two sides can now move on from the "crisis management" of recent months. "I hope the agreement can also be the basis to build much needed trust and overcome the legacy of the past," he said.
He said the blueprint means "that people can move freely between Serbia and Kosovo using their own passports — mutually recognized — IDs, and license plates. It entails that people can study and work without wondering whether their diplomas, and where they obtained them, may be an issue."
Borrell said it offers new economic opportunities to both sides through increased financial assistance, business cooperation and the prospect of new investment. He said the plan would provide better jobs and improve trade by removing the need for import-export certificates.
Kurti urged all Kosovar people and experts to read the agreement, telling reporters that "we are on a good one-way path of normalizing ties between Kosovo and Serbia in a good European neighborhood."
Borrell also welcomed a commitment from Vucic and Kurti to ensure that Serbia and Kosovo "refrain from any uncoordinated action that could lead to renewed tensions on the ground and derail these negotiations."
SERBIA DEPLOYS TROOPS FOR 'COMBAT READINESS' ON KOSOVO BORDER
Previous talks between Vucic and Kurti have degenerated into arguments and mutual recrimination.
The EU has mediated negotiations between Serbia and Kosovo since 2011, but few of the 33 agreements that have been signed were put into action. The EU and the U.S. have pressed for faster progress since Russia launched a full-scale invasion of Ukraine last year.
Earlier this month, hundreds of Serbian nationalists gathered in Belgrade to demand that Vucic reject the EU plan and pull out of the talks.
Shouting "Treason" and carrying banners reading "No surrender," the right-wing protesters blocked traffic as they gathered near the Serbian presidency building. The protesters are also strongly pro-Russia, and one banner read: "Betrayal of Kosovo is betrayal of Russia!"
CLICK HERE TO GET THE FOX NEWS APP
In recent months, U.S. and EU envoys have visited Pristina and Belgrade regularly to encourage them to accept the new proposals, and the two leaders met with senior EU representatives on the sidelines of a major security conference in the German city of Munich earlier this month.