close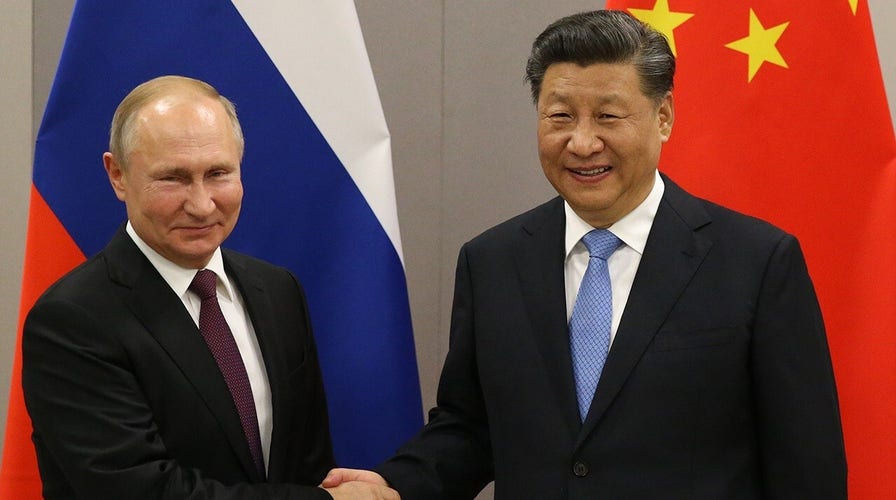 Video
Dan Hoffman: Ukraine victory could drive wedge between China and Russia
Former CIA station chief Dan Hoffman weighs in on the latest developments in the Russia-Ukraine war as China deepens ties with Putin amid U.S. tensions on 'The Story with Martha MacCallum.' 
Former Russian President Dmitry Medvedev on Friday issued a direct threat against NATO after he called on Moscow to push Western defenses outside of Ukraine and across "the borders of Poland."
Medvedev, the current deputy chairman of Russia's Security Council, made several radical claims against the U.S., its NATO allies and Ukraine in a Telegram post marking the one-year anniversary of Russia's invasion of Ukraine.
He repeated false talking points issued by Russian President Vladimir Putin alleging that Russian troops are fighting against neo-Nazism in Ukraine and suggested any attempts to restart peace talks will fail because of the West's determination to weaken Moscow and "bleed" it dry.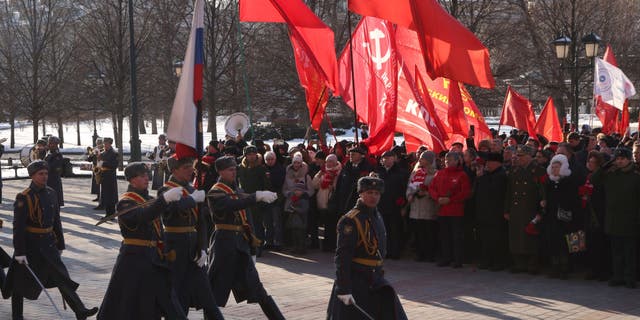 Russian Presidential Regiment soldiers march during a wreath-laying ceremony on February 23, 2023, in Moscow.  (Photo by Contributor/Getty Images)
RUSSIA'S WAR IN UKRAINE HITS ONE-YEAR MARK AS PUTIN DIGS IN, ZELENSKYY PUSHES VICTORY. WHAT'S NEXT?
His comments Friday coincided with Poland's first delivery of over a dozen German-made Leopard II tanks to Ukraine, Polish Minister of National Defense Mariusz Blaszczak announced at the start a National Security Council meeting, according to Ukrinform.
President Biden met with leaders from the Bucharest 9 (B9) in Poland earlier this week to reaffirm the U.S.'s commitment to European security and to the alliance that flanks the eastern front.
Biden reminded Putin earlier this week of the principles of NATO's Article 5 charter, which says that an attack against one NATO country will prompt a response from all 30-member nations – a warfront that Russia is unlikely to be able to handle.
"I've said it to you many times, I'll say it again [so its] absolutely clear," Biden said during a summit in Warsaw. "Article 5 is a sacred commitment the United States has made. We will defend literally every inch of NATO. Every inch."
Russian expert and former Defense Intelligence Agency intel officer for Russian Doctrine & Strategy Rebekah Koffler dismissed Medvedev's comments as "absurd" and "propaganda."
"Russia will never attack a NATO country, because it would trigger Article 5 collective defense, allowing the U.S. and NATO to obliterate Russia," she said. "Putin is not suicidal."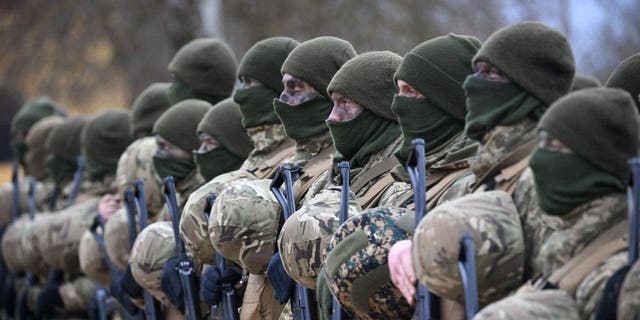 Ukrainian soldiers during a service, on February 23, 2023, near Salisbury, England. Ahead of tomorrow's anniversary of the Russian Invasion of Ukraine, hundreds of soldiers from the armed forces of Ukraine and their UK instructors come together to remember those who have lost their lives in the war on Ukraine.  (Photo by Finnbarr Webster/Getty Images)
RUSSIAN INVASION: WHAT IS NATO'S ARTICLE 5?
The U.K. defense ministry on Friday assessed that Russia's strategy in Ukraine has once again changed after failing to make any significant gains since Kyiv began ousting Russian forces in September.
"The Russian leadership is likely pursuing a long-term operation where they bank that Russia's advantages in population and resources will eventually exhaust Ukraine," the ministry said. Adding that Russia plans to "degrade" the Ukrainian military, rather than being focused on seizing substantial new territory."
But it's not only Ukraine that Moscow has set its sights on.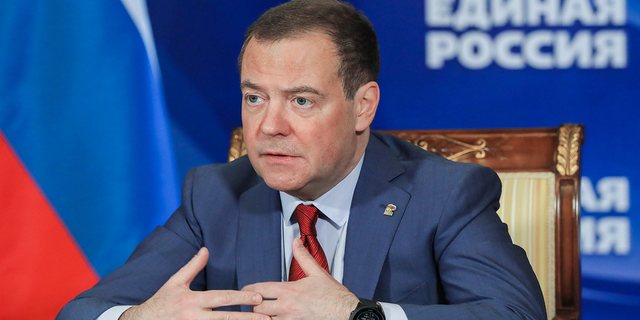 Russian Security Council Deputy Chairman and the head of the United Russia party Dmitry Medvedev made threats against NATO Friday, floating the idea of having Moscow propel alliance defenses out of Ukraine and through "the borders of Poland." (Yekaterina Shtukina, Sputnik, Government Pool Photo via AP.)
Russia has renewed threats made against Moldova, a former Soviet state west of Ukraine and where a contingent of Russian sympathizers remain in an area known as Transnistria.
The Moldovan government on Thursday dismissed claims issued by Russia's defense ministry that suggested Ukraine planned to invade the Russian separatist region.
The allegations came just one month after Ukrainian President Volodymyr Zelenskyy said that Kyiv had thwarted Russian plans to overthrow Moldova, which its government later confirmed.
CLICK HERE TO GET THE FOX NEWS APP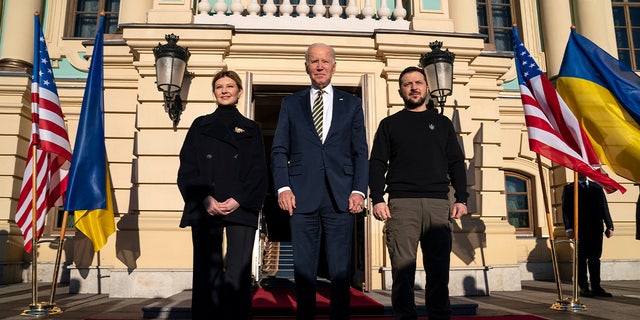 President Joe Biden, center, poses with Ukrainian President Volodymyr Zelenskyy, right, and Olena Zelenska, left, wife of President Zelenskyy, at Mariinsky Palace during an unannounced visit in Kyiv, Ukraine, Monday, Feb. 20, 2023. (AP Photo/Evan Vucci, Pool.)
European nations have called on the U.S. to send more troops to be permanently stationed in Baltic States like Poland as another deterrent against Russian aggression. But as Koffler pointed out, threats issued against Moldova are not met with the same level of deterrence as those issued against NATO allies.
"Moldova is a different story, being a former Soviet republic, which is not part of NATO," Koffler said. "Moldova is on Putin's target list. However, it is unlikely that Putin will go after Moldova at this time, as his military is stretched thin now."
Caitlin McFall is a Reporter at Fox News Digital covering Politics, U.S. and World news.