FIRST ON FOX: Republican leaders on the Senate Energy and Natural Resources Committee, led by Ranking Member John Barrasso, R-Wyo., introduced companion bills of House legislation targeting President Biden's use of the Strategic Petroleum Reserve (SPR).
The first bill, the Secure Auction for Energy Reserves Act which Barrasso introduced with Sen. Susan Collins, R-Maine, would prohibit the federal government from selling SPR stocks to China and other countries of particular concern. Earlier this month, the House passed similar legislation, the Protecting America's Strategic Petroleum Reserve from China Act, by a margin of 331-97.
"China is profiting from President Biden's political abuse of the Strategic Petroleum Reserve," Barrasso said in a statement. "Meanwhile, America has become more vulnerable to true energy and national security emergencies."
"Our legislation will ban SPR sales to China and other hostile nations," he continued. "It will also ban SPR sales to state-owned companies which purchase oil from Russia, Iran, and other nations the U.S. has sanctioned. Adversaries cannot be allowed to benefit from America's security reserve."
REPUBLICANS PLAN OVERSIGHT INTO HOW BIDEN ADMIN'S GREEN PUSH BENEFITS CHINA: 'NOTHING IS OFF THE TABLE'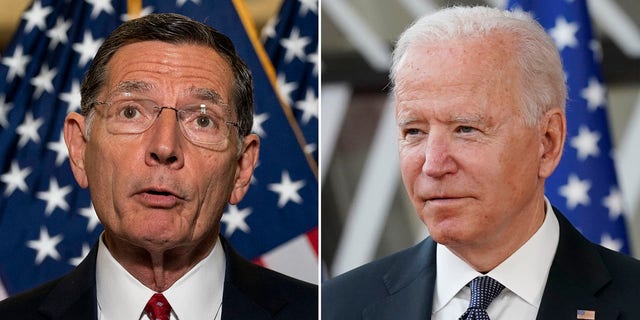 Sen. John Barrasso, R-Wyo., the top Republican on the Senate Energy and Natural Resources Committee, introduced two bills to restrict President Biden's authority on Strategic Petroleum Reserve releases.
(Associated Press)
Collins added that it is "inexcusable that our emergency stockpile of crude oil is being sold to dictators overseas." She said legislation was necessary to ensure Americans primarily benefit from future SPR releases.
Over the summer, the Biden administration was heavily criticized after reports that it had sold SPR oil to China which reportedly used the stocks to bolster its own reserves. The White House then fired back, saying it was legally required to sell the oil to the highest bidder.
BIDEN DRAGGED FOR TOUTING GAS PRICE DROP AS AMERICANS STRUGGLE TO MAKE ENDS MEET: 'WHAT PLANET ARE YOU ON?'
The second legislation Senate Republicans introduced Tuesday, the Strategic Production Response Act, would require the Department of Energy to only tap the SPR when there is a severe energy supply interruption and not until the Interior Department issues a plan to increase oil and gas production on federal lands and waters.
"America is stronger and safer when we are energy independent," Barrasso stated. "The Biden administration agenda is to choke off energy development on federal land. Our legislation will prevent President Biden from raiding the SPR for political purposes without boosting American oil production."
"It's time to work together to lower prices for Wyoming families, unleash American energy, and strengthen our national security," the Wyoming Republican added.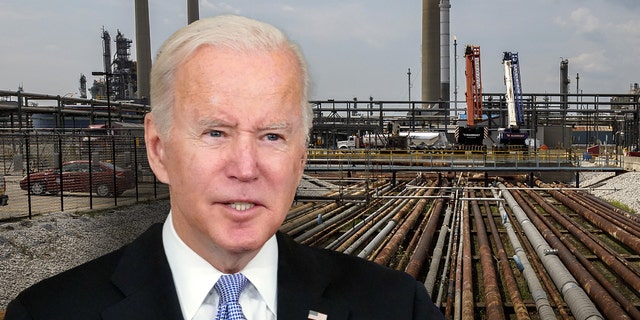 President Biden has repeatedly turned to the nation's oil stockpiles to combat high gas prices while curbing oil and gas leasing on federal lands.
(AP Photo/Alex Brand | Cole Burston/Bloomberg via Getty Images)
Barrasso introduced the bill alongside Sens. Jim Risch, R-Idaho, Steve Daines, R-Mont., Lisa Murkowski, R-Alaska, John Hoeven, R-N.D., James Lankford, R-Okla., Bill Cassidy, R-La., Roger Marshall, R-Kan., Kevin Cramer, R-N.D., and Cindy Hyde-Smith, R-Miss.
The bill is companion legislation to a bill with the same name introduced in the House by Energy and Commerce Committee Chairwoman Cathy McMorris Rodgers, R-Wash., and which is slated for a floor vote this week. However, Democrats and the White House have taken aim at the House bill, saying it would lead to higher prices.
REPUBLICAN SENATOR UNVEILS BILLS TARGETING BIDEN'S CLIMATE AGENDA: 'ENERGY IS THE BACKBONE OF OUR ECONOMY'
"We believe that there is room for bipartisanship to expand our ability to create more affordable, reliable energy in America," Energy Secretary Jennifer Granholm told reporters Monday. "But proposals like H.R. 21, which risks raising these gas prices and making it offer to — harder to offer Americans relief in the future are simply nonstarters."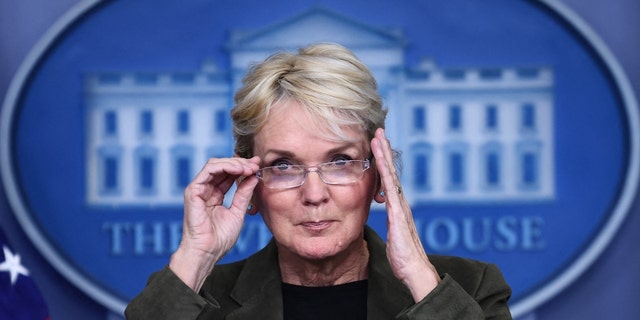 Energy Secretary Jennifer Granholm told reporters Monday that President Biden would veto the Strategic Production Response Act if the bill passed.
((Photo by Brendan Smialowski / AFP) (Photo by BRENDAN SMIALOWSKI/AFP via Getty Images))
"So I'll be very clear: If Congress were to pass H.R. 21, the President would veto it," Granholm said. "He will not allow the American people to suffer because of the backwards agenda that House Republicans are advancing."
Overall, Biden has ordered the Department of Energy to release a total of about 260 million barrels of oil stored in the SPR since taking office to combat record fuel prices hitting American consumers.
CLICK HERE TO GET THE FOX NEWS APP
Meanwhile, the SPR's level has fallen to about 371.6 million barrels of oil, the lowest level since 1983, according to Energy Information Administration data. The current level is also nearly 40% lower than its level recorded days prior to Biden's first release in late November.
The SPR was established by the 1975 Energy Policy and Conservation Act to help the U.S. mitigate the impacts of future "severe energy supply interruptions."