close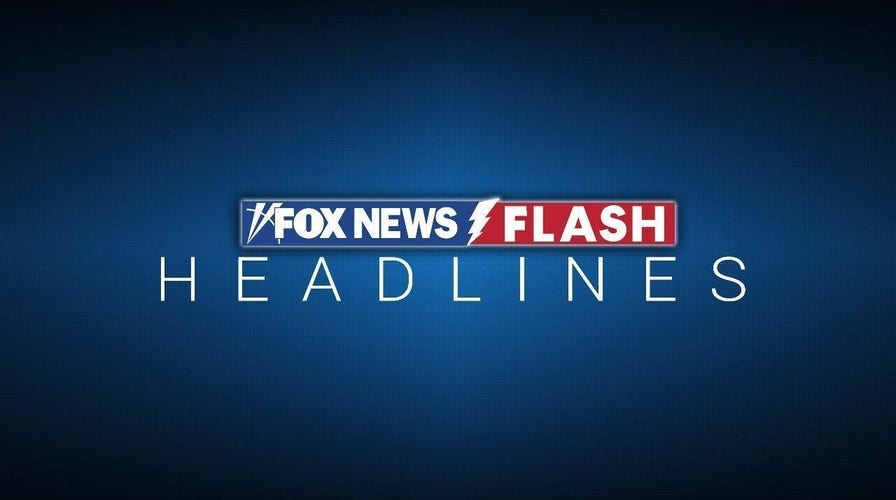 Video
Fox News Flash top headlines for March 8
Fox News Flash top headlines are here. Check out what's clicking on Foxnews.com.
Palestinian security forces on Wednesday fired tear gas canisters and flash grenades at angry Palestinian protesters during a funeral for a militant in the occupied West Bank. It was a rare encounter that highlighted deep public dissatisfaction with the Palestinian self-rule government.
Palestinians gathered in the northern West Bank city of Nablus for the funeral of Abdul Fattah Kharushah, a 49-year-old Hamas militant killed in an Israeli raid Tuesday. Kharushah had been wanted for killing two Israeli brothers in the nearby town of Hawara. It was the latest bloody raid into the flashpoint Jenin refugee camp, leaving five other Palestinians dead and over two dozen wounded.
Wednesday's funeral procession through Nablus spiraled into chaos after the mourners began to chant against the Palestinian Authority, which exercises limited self-rule in parts of the West Bank. The PA has long drawn resentment for its security cooperation with Israel, which allows its security forces to crack down on its Islamist rival, the Hamas militant group.
ISRAELI ARMY STOPS LIBERAL ISRAELIS FROM STAGING SOLIDARITY RALLY FOR PALESTINIAN TOWN
"Traitors!" the crowds shouted at the Palestinian security forces. "Spies!"
According to Palestinian security spokesman Talal Dweikat, Palestinian forces intervened when a group of Hamas supporters interrupted the procession and grabbed the shrouded body, almost dropping it. The group turned the funeral into a protest against the PA, Dweikat said, "instead of cursing the (Israeli) occupation that has committed crimes against our people."
Palestinian security forces unleashed tear gas on the crowds, sending mourners running in all directions, and returned Kharushah's body to the ambulance. They also prevented anyone from raising Hamas flags, even as Kharushah's body remained covered in one. There were no reports of casualties.
The Fatah-dominated Palestinian Authority is a fierce rival of Hamas, which seized control of the Gaza Strip from President Mahmoud Abbas' forces in 2007. Attempts at reconciliation have repeatedly failed.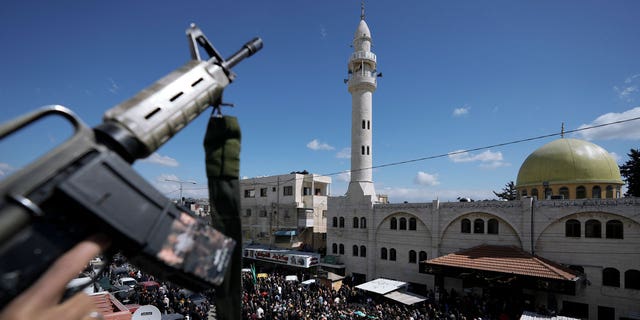 Crowds of protestors were dispersed by armed security forces at the West Bank funeral of a Hamas militant. (AP Photo/Majdi Mohammed)
The scenes from the funeral sparked condemnations from across Palestinian society. Hamas in particular seized on the chance to denounce the PA's use of force against its own people. Many Palestinians see the rule of the 87-year-old Abbas as increasingly autocratic, with the authority clamping down on critics, civil society organizations and democratic advocacy.
"The suppression of the funeral procession in Nablus … marks a new moral failure added to (the PA's) dark record of oppression and abuse of our own people," Hamas said.
Further exposing the divisions tearing at Palestinian society, Fatah delivered its own condemnation of Wednesday's mayhem, accusing Hamas of "sedition" and "creating strife" at a funeral that opened with a military salute and should have been a unifying occasion.
AMERICAN CITIZEN CONFIRMED DEAD IN WEST BANK TERROR ATTACK
The infighting comes at a time of heightened violence in the West Bank, where many young Palestinians disillusioned with the PA are taking up weapons against Israel's open-ended occupation. Support for new armed groups that claim no links to any Palestinian party is growing. Under pressure from Israel and the United States, the PA has sought to rein in the fledgling militias but risks further inflaming the public.
Already this year, Israeli military raids have killed at least 70 Palestinians, about half of them militants, according to an Associated Press tally. Palestinian attacks against Israelis have killed 14 people, all but one of them civilians.
Settler violence against Palestinians has also surged in the West Bank, with a mob attack on Hawara after the killing of the two Israeli brothers last month — the worst such rampage in recent memory. Settlers torched dozens of homes, businesses and cars and assaulted Palestinians, leaving one dead and others wounded.
CLICK HERE TO GET THE FOX NEWS APP
In the southern West Bank city of Hebron, prominent Palestinian activist Issa Amro said Wednesday that Israeli settlers attacked his house, hurling wine bottles, breaking into his backyard and overturning chairs and tables. A video of the incident appeared to show Israeli soldiers initially standing by and watching the settlers bombard Amro's house with stones. The Israeli army described the video as "partial" and said soldiers had arrested the settlers for further questioning.