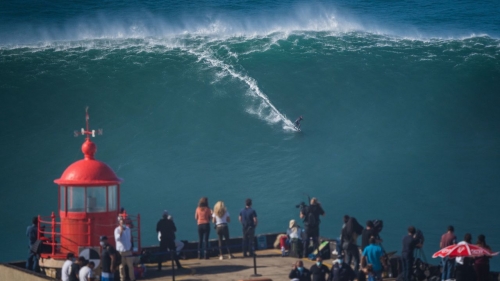 Sebastian Steudtner rides a wave in Nazaré, Portugal, in October 2020.
Henrique Casinhas/SOPA Images/LightRocket/Getty Images

CNN
—
Sebastian Steudtner holds the world record for the biggest wave ever surfed. At 26.21 meters (86 feet), it is equivalent to surfing an eight-story building.
The record was set in the picturesque Portuguese fishing village of Nazaré, whose north beach has been hailed as the Mount Everest of big-wave surfing having been home to seven of the tallest 10 waves ever surfed.
The German is a central figure in an international community of surfers who relocate to the west coast of Portugal each year for the season, which spans from October to March.
But there is a method behind the 37-year-old's apparent madness – he's something of a surfing scientist in his approach to tackling the world's roughest seas.
He employs a military doctor and a trained lifeguard among his team and repeatedly thinks outside the box in his approach to catch the so far mythical 100-foot wave.
Steudtner is also a central figure in a new book, "Nazaré: Life and Death with the Big Wave Surfers," a first-hand insight into a season with this mercurial bunch of sportsmen and women.
The below extract from the book sees how Steudtner's alternative approach works from stepping inside a cutting-edge wind tunnel to helping inspire English Premier League football team Liverpool to past glories.
—
When Liverpool won the Champions League back in 2019, their manager Jürgen Klopp was left trying to uncover new ways to inspire his players and reinvigorate them after they'd already achieved the pinnacle of European football.
In his quest to give them an additional psychological edge against their domestic rivals and to avoid his star-studded squad turning stale after their continental triumph, he reached out to Sebastian Steudtner, of all people.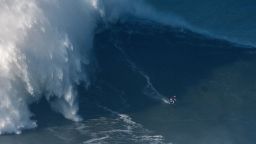 NAZARE, PORTUGAL – JANUARY 18: Brazilian big wave surfer Maya Gabeira, drops a wave during a surf session at Praia do Norte on January 18, 2018 in Nazare, Portugal. (Photo by Octavio Passos/Getty Images)
Octavio Passos/Getty Images
How Maya Gabeira overcame a life-threatening accident to surf two record-breaking waves
On the final day of the team's preseason training camp in Evian, in southeastern France, and just days out from the start of the 2019/20 season, he asked his countryman to both give a team talk and also teach the footballers the sort of breathing techniques Steudtner himself uses in his pool training sessions and out in the big waves to stay alive.
As well as teaching them aerobic exercises and breath control for when you're in a state of panic, he also spoke about the whole mantra of staying calm under pressure.
Klopp and captain Jordan Henderson have since paid tribute to the German surfer for the impact the exchange had on the players. Steudtner, for his part, brushes it all aside, in particular some articles that pushed the parameters of the story's retelling to suggest the surfer was the mastermind of the Premier League title win that would subsequently follow.
In the opening session in the pool that day, the breath-holding ranged from just 10 to 90 seconds at best. By the end of it, there was a straight duel for underwater supremacy between defender Dejan Lovren, who has since moved away from Anfield, and striker Mo Salah, with the pair nearing the four-minute mark by the end of it; Lovren was the last to surface.
It was a session that clearly resonated with those there. For another defender, Virgil van Dijk, Steudtner's messaging of dealing with pressure particularly had meaning. Comparing Steudtner's experience of big-wave surfing to the relative triviality of his own big-game pressure, the Dutchman said, "He was like 'One slight mistake and life could be over.'"
Much like Klopp and Liverpool, in his own quest for self-improvement, Steudtner is always looking at avenues outside surfing, often casting his eye to methods from other sports and athletes in order to achieve even the most marginal of gains. Being injured and out of the water has given him even more time to do so.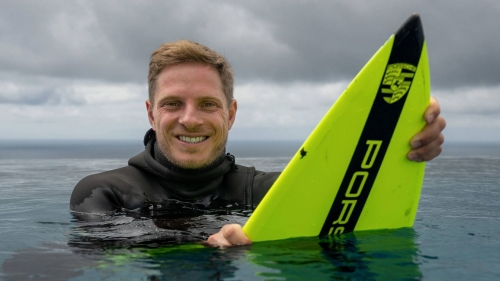 Steudtner holds the world record for the biggest wave ever surfed.
Joerg MItter/Limex Imag/SIPA/Shutterstock
Boxing is probably the sport he turns to most, continually drawn back to it because of the parallels he sees between that sport and his own – and not just the poundings he takes.
"It's the same thing – you have to be prepared to die. That's the first thing, at a certain level, and that's not because boxers or surfers die left and right, but it's the mentality you have to bring into the ring that has to be 'I am going to kill you or you'll kill me' – full stop."
But the analogy goes beyond that. "It's a dance, a strategy. It's the most beautiful sport, nothing is more technical than boxing, nothing. I love boxing. If I didn't get into surfing, for sure it would have been boxing."
At his height and weight, he would probably be in the lightweight division. You could comfortably envisage him being in the ring and, with his muscular frame, more than capable of holding his own, whomever the opponent.
Russian and Mexican boxers are the fighters he most admires – the manner in which they strip their lives down to the most basic terms, taking themselves to a forest hideaway or some other Spartan existence for the most simplistic of pre-fight training camps.
But the businessman in him also looks up to the British boxer Anthony Joshua perhaps more for the commercial acumen, which has seen the Briton accrue a net worth in the region of £200 million (around $250 million) and rising, than for what actually plays out between the ropes.
Steudtner's own business partnerships are partly financially driven, but they are also a symbiotic relationship aimed at improving the technical side of his surfing operation. No stone is left unturned during the course of the season; everything is aimed at him improving, even when not in the water.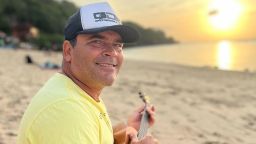 Marcio Freire featured in the 2016 surfing documentary "Mad Dogs."
From Marcio Freire/Instagram
'Mad Dog' surfer dies riding giant waves in Nazaré, Portugal
At the Porsche Development Centre in Weissach, just outside Stuttgart, he briefly takes over a wind tunnel. In place of the usual sports car stands his surfboard, with him on top of it. The German manufacturer uses its cutting-edge science from decades in the car industry to refine the aerodynamics of his body position, board and wetsuit.
As the company's scientists pore over the relevant data, they ascertain that even the slightest change of Steudtner's position on the board can greatly improve the aerodynamics. It is an approach to the sport that no other surfer is currently undertaking. "It's cool," he says of the experiment. "They treat me like a car. And it's an exciting process to test all these things and see what's possible."
By his own admission, he is driven to pushing the limits of what might be achievable, even if much of his testing and tinkering fails to reach fruition. He admits, "OK, maybe 80 or even 90 per cent of new things don't work – but that's just how it is, always trying and trying. It's the same with surfing. You try all the time and most of the time you fail."
On top of the wind tunnel operation, he is also partnering with Siemens as part of a research project on the biomechanics of big-wave surfing. It is a study that is not expected to be completed until some time in 2025.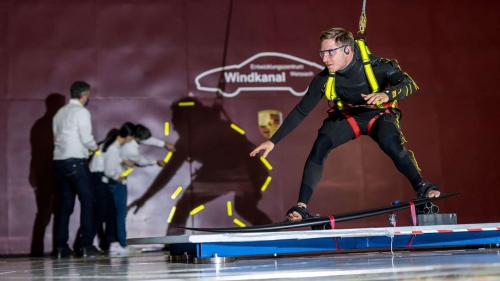 Steudtner stands on a surfboard at the Porsche Development Centre in Weissach, just outside Stuttgart.
Courtesy Joerg Mitter
Steudtner ponders whether his unusual drive to push boundaries unlike his peers might be partly down to his own early influences and his adventurous nature growing up.
As a child, his favorite place to go was his aunt and uncle's farm, recollections of which bring an immediate smile to his face. There was fishing in the river – he and his sister catching them with sticks, like a real-life Tom Sawyer and Huckleberry Finn – and they would kill their own chickens for the evening meal by chopping off the animals' heads. For a then impressionable youngster, it was the ultimate adventure playground.
The farming couple made a big impression on Steudtner too, and it still resonates today. He recalls the time his uncle accidentally cut his hand open, to the extent that blood was pouring out of a massive gaping wound. He simply sat down and stitched himself up. And his uncle's motto of "If it's my time, it's my time" could just as easily apply to his nephew in his choice of profession.
For Steudtner's uncle, that day finally came at 64, when he dropped dead from a heart attack. The surfer's aunt, meanwhile, lived on and was diagnosed with cancer at age 70. After undergoing initial treatment, she essentially said "Sod it," defied regular medicine and pursued her own approach and has continued to confound medical expectation to live a decade beyond the doctors' expectations.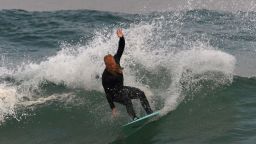 Blake Johnston set out to break the world record for the longest surfing session on Cronulla Beach in Sydney on March 16, 2023.
Saeed Khan/AFP/Getty Images
Aussie surfer sets record with mammoth 30-hour surfing session, then goes back for more
The family were originally very wealthy in the early 20th century, owning a large farm with hundreds of acres in a picturesque valley. His great-grandfather fought in World War I, and his grandfather in World War II, posted to Italy; the job of his battalion was to destroy any resources that remained in the area and ensure there was nothing left for the enemy to employ when they arrived.
That largely involved him killing animals, a part of his life that perpetually haunted him for his remaining days and from which he never fully recovered, according to the family.
As his grandson puts it, "He was never the same again." In addition, it became known in the locality that he was no fan of Adolf Hitler. Word got out and, as the family story goes, someone snitched, which left the family on a deportation list. They avoided that fate when the war finished shortly afterward, he forgave his accuser and, like much of the rest of Germany, life simply moved on.
The sleek lines of Steudtner's glass-fronted new home in Nazaré, with its view overlooking the ocean, is in stark contrast to that old family farm. His roots, at least for much of the season, are here in Portugal, although it is only his seasonal home.
His spell injured on the sidelines has given him plenty of moments of reflection on both his past and future – and yet he has no idea when that time will run out, when the drive to be in the big waves will diminish.
As much as he itches to get back in the water, he seems to thrive in the face of adversity – right now, it's the injury plight that drags on and on with still no end in sight. But in some ways, he likes it like that. Perpetually being at the top without a care in the world, he insists, would simply not suit him.
He draws on another sporting parallel to highlight it. "It's a constant chase, right? At a certain point, you have to run out of performance. It's natural; it happens to everyone. Win, win, win or perform, perform, perform.
Unless you're someone like Lewis Hamilton that's so obsessed, at a certain point, you're done. If I was Lewis Hamilton, I'd be as bored as hell. How boring is it to win and win and win? Now things might have just got a bit more interesting for me."