close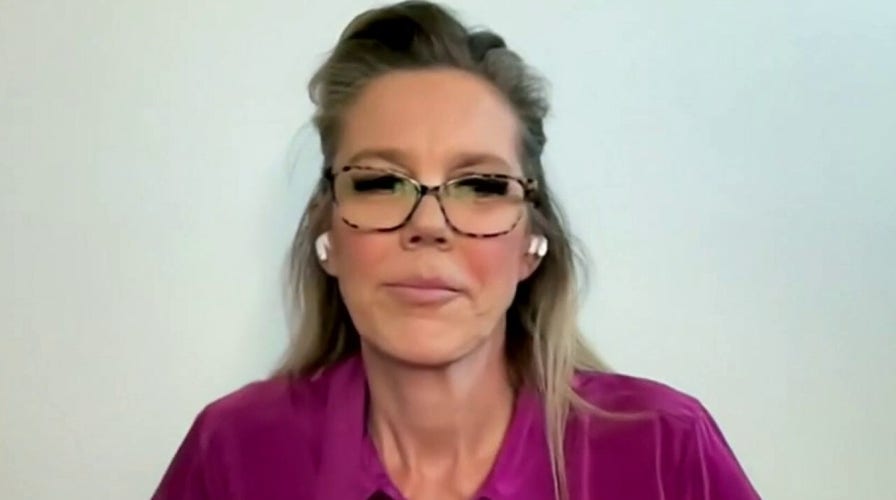 Video
Seattle is out of control: Former cop Jessica Taylor
Former Seattle police officer Jessica Taylor explains how the city descended into anarchy on Jesse Watters Primetime.
A new national survey shows that Seattle, Washington, leads the nation in the percentage of people who feel pressure to leave over crime concerns. An expert tells Fox News Digital that is the unfortunate result of the failure of the city's progressive policies and movements.
Data from the Household Pulse Survey, conducted by the U.S. Census Bureau and several other federal agencies, shows that "7% of adults in the greater Seattle area" have "felt pressure to move" due to crime in the last six months, Seattle Times recently reported.
That 7%, which represents about 227,000 people, is the highest percentage out of any of the 15 largest metro areas in the United States. The Riverside-San Bernardino area in southern California came in second with 5.6% and Chicago came in third at 4.9%.
"Unfortunately, Seattle has adopted many of the soft-on-crime policies so popular with many on the left today," Zack Smith, legal fellow and manager of the Supreme Court and Appellate Advocacy Program in the Heritage Foundation's Meese Center, told Fox News Digital about the survey's results.
EX-SEATTLE COP REVEALS WHY SHE PENNED SCATHING 15-PAGE RESIGNATION LETTER TO BOSS: WENT OUT 'SAYING THE TRUTH'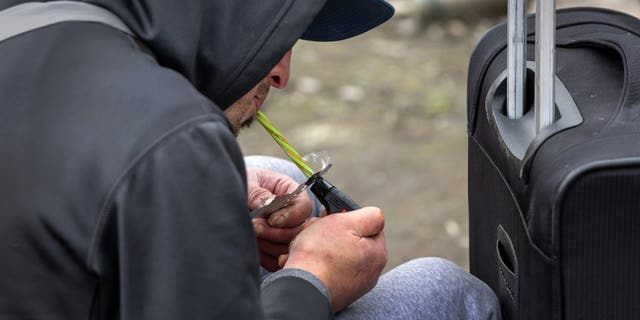 A homeless man, 24, smokes fentanyl in Seattle. (John Moore/Getty Images)
Homicides skyrocketed by 24% last year in Seattle while motor vehicle thefts climbed by 30% and overall crime ticked up by 4%.
Earlier this year, Seattle's mayor reversed course and pushed for increased funding for the police for the first time since the city slashed the police budget in 2020 following the George Floyd riots.
Police staffing fell to a 30-year low in 2022 as a result of the defund movement as officers retired and moved to other departments in droves.
During the summer of 2020, Seattle government officials essentially ceded operational control of several blocks in downtown Seattle, allowing Black Lives Matter protesters to take control of the streets and create CHOP, which they'd initially dubbed the CHAZ, or Capitol Hill Autonomous Zone, declaring it a "cop-free zone."
SEATTLE BUSINESS OWNERS LEFT TO FEND FOR THEMSELVES ON CRIME TAKE MATTERS INTO THEIR OWN HANDS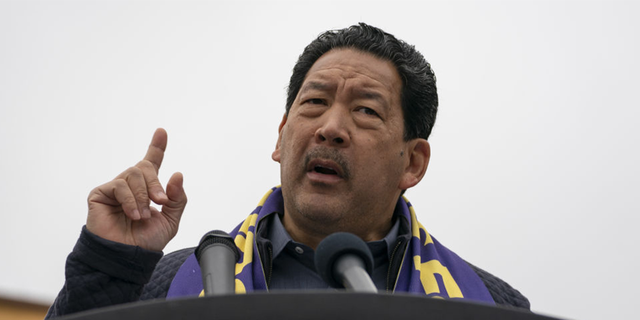 Mayor Bruce Harrell speaks during a news conference in the Chinatown-International District neighborhood of Seattle on April 18, 2022. (David Ryder/Bloomberg via Getty Images)
Crime skyrocketed in the area as a result and led to the shooting death of a teenage boy whose father ultimately sued the city for negligence.
What's more, shop owners have been sounding the alarm for years about how the rampant crime is driving them out of business and how boarded-up storefronts have become a common sight in Seattle.
As crime rose, officials in Seattle have taken a soft approach on prosecuting drug crimes as recently as June when the city council rejected a bill that would have allowed the city attorney to prosecute public drug use and possession.
CLICK HERE TO GET THE FOX NEWS APP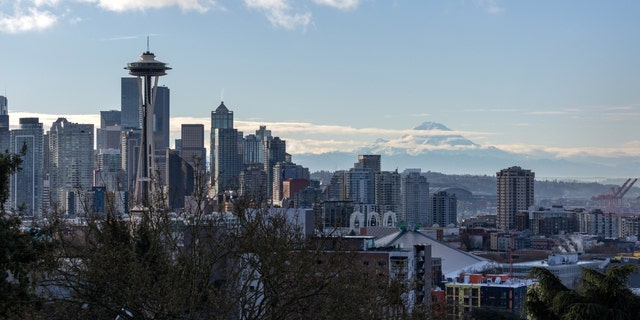 The Space Needle stands over the Seattle skyline as Mount Rainier is seen in the background on March 13, 2022. (John Moore/Getty Images)
"The obvious consequences of those policies is an increase in crime and a less safe community where it's more difficult for people to live and do business," Smith, co-author of the newly released book "Rogue Prosecutors: How Radical Soros Lawyers Are Destroying America's Communities," told Fox News Digital.
"Seattle was at the forefront of the 'Defund the Police' movement and local leaders committed to cutting the city's police budget by half – though they had to back away from that audacious goal when confronted with the reality of rising crime rates," Smith said.
"So, it's unfortunate, but no surprise, that many in Seattle don't feel safe in their own community."
Fox News Digital's Taylor Penley and Michael Ruiz contributed to this report
Andrew Mark Miller is a reporter at Fox News. Find him on Twitter @andymarkmiller and email tips to [email protected].