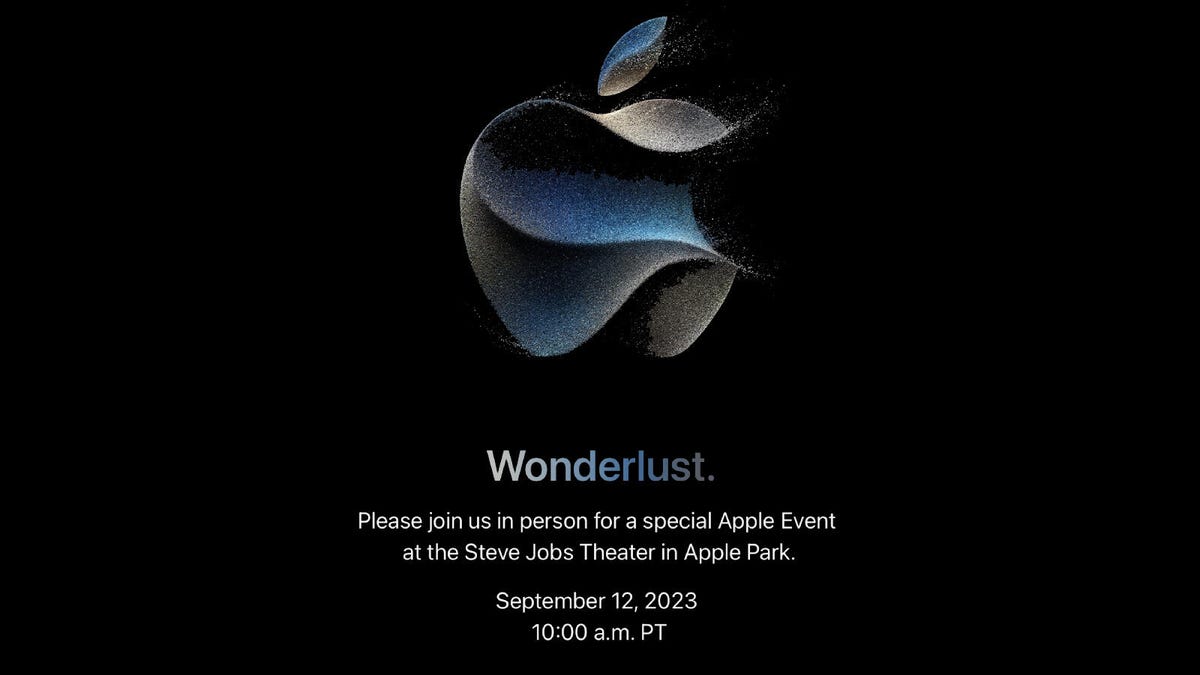 Apple
Apple sent out invites Tuesday for its fall launch event, where we expect to see the iPhone 15 and several other devices revealed. The "Wonderlust" event will be Sept. 12 at 10 a.m. PT.
This falls within Apple's usual timeline of holding its iPhone launch event in mid-to-late September. Last year's event for the iPhone 14 and Apple Watch Ultra was held Sept. 7, 2022, for instance.
The iPhone 15 will likely be the marquee device revealed. We expect to see four models released this year: a standard and larger Plus in the lower tier, and a more advanced Pro and Pro Max in the pricier tier.
It's never quite clear what else will launch alongside each year's iPhone, though in the last several years a new Apple Watch, AirPods and standard iPad have been shown off at these events.
There's one new device that will almost certainly make an appearance: the Apple Vision Pro. The AR/VR headset, revealed at WWDC 2023 in June, isn't expected to start arriving in Apple stores and shipping to customers until early 2024. So don't expect it to get an early release this fall. But we'd be surprised if Apple didn't take the opportunity to hype its next exciting advance in personal technology — even if businesses will likely be the only ones to foot the headset's wallet-melting $3,500 price.
We could also see more announcements for Apple's services, with new additions to Music, TV Plus, Fitness and iCloud.
What other products we'll see Sept. 12 — and that will be available to buy before the holidays — is a bit tougher to determine. Here are our best guesses for what Apple will show off on its stage.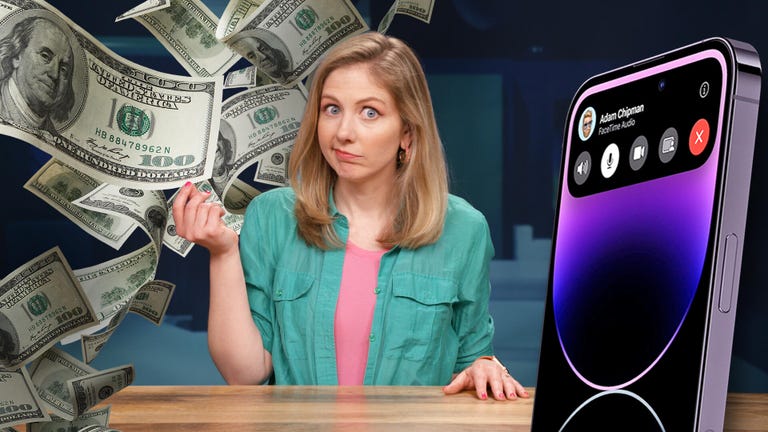 Watch this: Expect Big Changes in iPhone 15 — Including Price 05:18
Reading the Apple tea leaves
As previously stated, we're confident that Apple will follow tradition and release a new phone lineup (iPhone 15) and watch series (Apple Watch Series 9). The company could still throw a few curveballs within those lineups, though.
The iPhone 15 is heavily rumored to switch to USB-C this year across all models. Only the pricier Pro and Pro Max models will get a new A16 bionic chipset, Bloomberg reporter Mark Gurman said, while the standard iPhone 15 and Plus models will use the A15 chip that came in last year's premium iPhone 14 Pro and Pro Max models. This follows Apple's new tradition of only giving the top-tier models the newest mobile chipsets. On the upside, the standard models are expected to swap out the notch for the multipurpose Dynamic Island.
There's been no hint of a new iPhone SE, with the third and most recent model of Apple's affordable phone line launching in March 2022, so we wouldn't expect a new one at this year's fall launch event.
We expect to see the Apple Watch Series 9, though the latest rumors suggest we'll only get new processors and fresh colors — but not the glucose monitoring that earlier leaks suggested might be coming. It's not clear if we'll get new versions of the Apple Watch Ultra or iPhone SE (second generation), which debuted and were refreshed last year, respectively.
It's also a pretty safe bet to expect a new standard iPad, since the model has been refreshed every year since 2017. A new iPad Air is unlikely, as the line was last refreshed in March 2022. Similarly, new versions of the 11-inch and 12.9-inch iPad Pro models with M2 chips came out in October 2022. It has been two years since the last iPad Mini came out in 2021, but that series hasn't been updated as regularly as other models in recent years.
Further down Apple's product line, it's harder to tell what might come and what may wait for early 2024 and beyond. We could see some unexpected launches, but with the Vision Pro taking the spotlight, it doesn't seem like Apple needs much more than its darling headset to wow its faithful flock. That said, Apple built a reputation on last-minute surprises, so we'll always hold out for One More Thing.