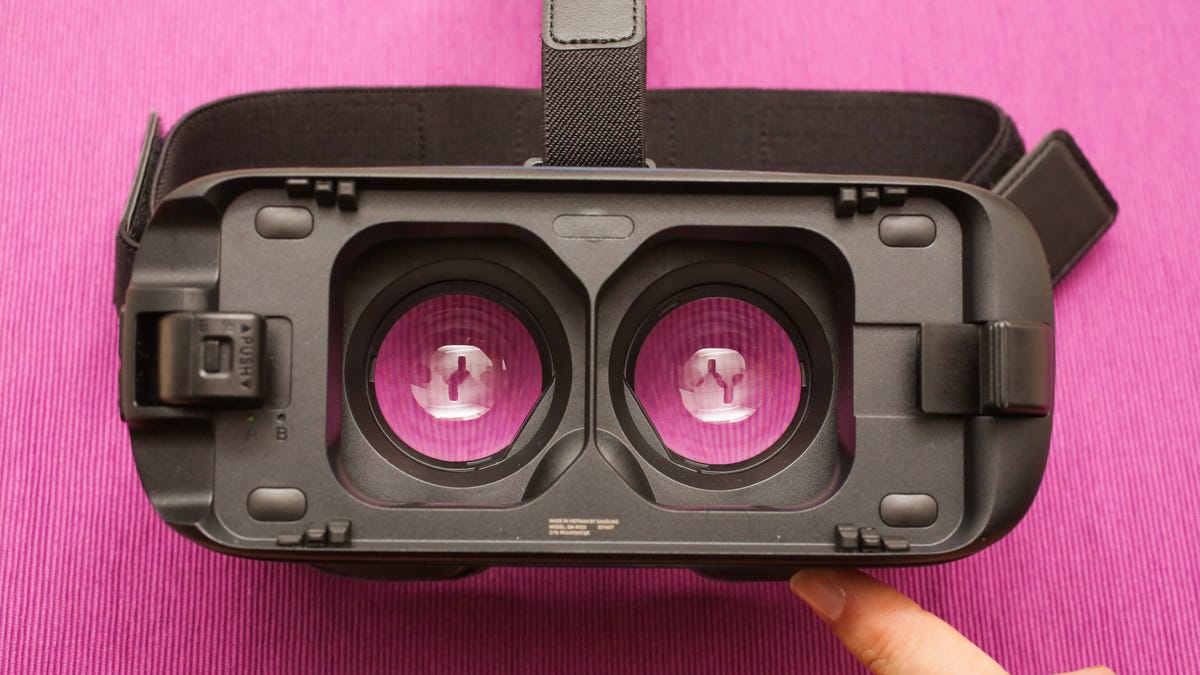 The Gear VR, Samsung's last mobile VR initiative, was a pair of goggles for a phone. Will Samsung's next mixed reality move be phone-based, too?
Sarah Tew/CNET
It's already been a big year for VR: the PlayStation VR 2 headset added tethered VR gaming to Sony's PS5; Meta's upgraded standalone Quest 3 headset arrives this fall; and Apple's first mixed reality device, also standalone, is coming next year.
This story is part of Samsung Event, CNET's collection of news, tips and advice around Samsung's most popular products.
Samsung, Google and Qualcomm also have some sort of mixed reality platform in the works. Samsung made a drive-by announcement of it at its winter Unpacked event. It was again mentioned briefly at Google's I/O developer conference. But we really don't know much more right now other than these three companies are collaborating on it. Going by the last mention of it at Google I/O, more information is expected by the end of the year. Will Samsung mention more at its next Unpacked event this week? It's unclear, but even if it is invoked, expect an aura of mystery to continue.
While I've wondered about this mystery platform before, after trying Apple's Vision Pro, I'm more convinced Samsung, Google and Qualcomm may take a different approach. In particular, I expect the focus will be on an area Apple almost completely avoided with the Vision Pro: phones.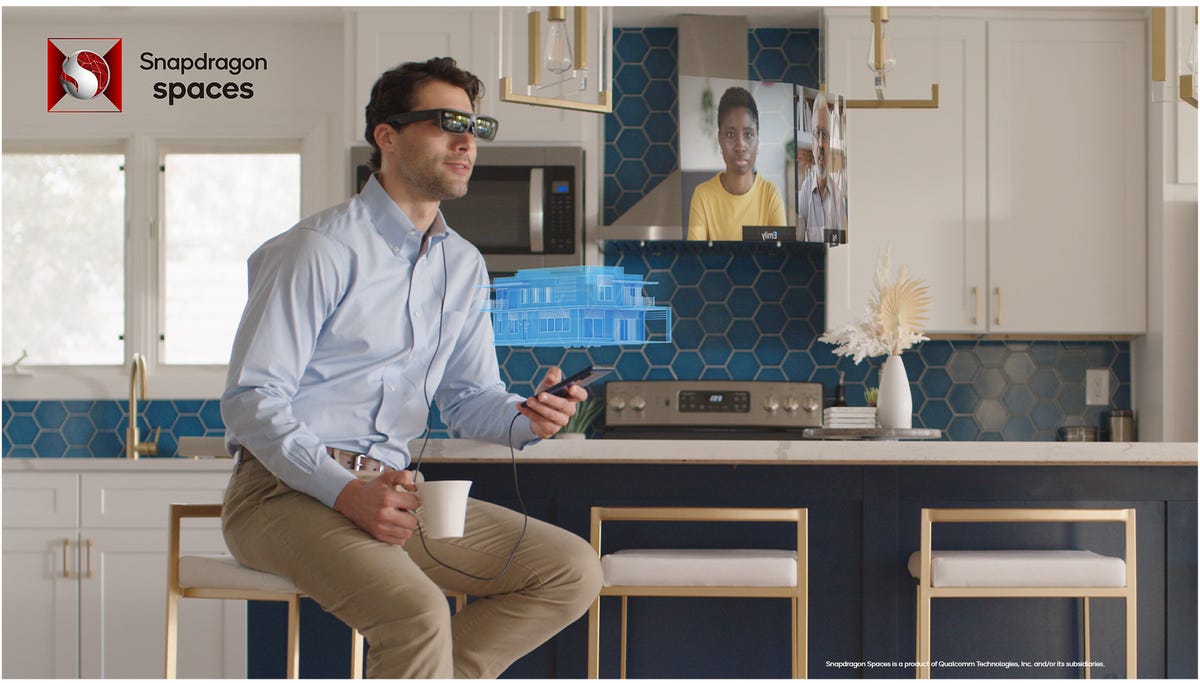 Qualcomm's software tools for AR glasses are extending phone apps to headsets. Will Samsung's device be a part of that picture?
Qualcomm
Mobile is the missing link
Qualcomm makes its own AR- and VR-optimized mobile processors, which are already in most AR and VR devices right now: the Quest 2, Quest Pro, HoloLens 2, Pico 4, HTC Vive XR Elite and a bunch of others.
Many of these headsets are standalone — in that they aren't tethered to another device and function independently of phones. The Quest 2, for instance, can bridge with a phone for notifications and some other streaming features, but it doesn't coexist with Android or iOS.
Qualcomm is working on another bigger initiative in VR and AR, however, and has been chipping away at it for years. Qualcomm's road map for XR eyewear (extended reality) is more and more pointed toward devices that can bridge with phones and eventually will lean on phone- and cloud-processing power to do the heavy lifting, leading toward glasses that are smaller. There are already some early examples: the NReal Light and Lenovo's ThinkReality glasses. Meanwhile, there aren't any devices that use Qualcomm's smaller AR2 chipset platform, which uses phones to drive wireless AR on glasses that look nearly normal.
Qualcomm is clearly building the chipset future for these devices, while Samsung's role will likely be on the rest of the hardware design, and particularly displays and cameras.
Finally, there's Google. Google's presence in this three-way picture looms large as a key part of the puzzle: the software glue linking existing platforms together.
Google and Samsung worked together on developing Wear OS 3 and its software interfaces, using the Galaxy Watch 4 as a first exploration a year ahead of Google's Pixel Watch, with a focus on better Android-to-watch connections. Google's folding-phone and recent tablet efforts are, in a different way, trying to build out Android in a different direction, toward multiple displays and larger display formats and multitasking.
I'd expect the trio's mixed reality headset efforts are building toward ways to have a headset talk to phones — and maybe even wearables like watches — to create an experience that feels more interconnected to the things we already have in our pockets. If that's the case, version one of whatever Samsung has in store will feel much different than the Vision Pro.
Qualcomm already has a software bridge between phones and AR glasses called Snapdragon Spaces. I referred to it earlier this year as non-ideal, only because it seems to work as a subset of what already exists on Android and Google Play. Qualcomm's already playing with ways phones can be used as handheld controllers for these AR glasses. I'm waiting for Google to truly enable a system-wide way Android can work in XR, though, almost like how Apple has moved iOS into Vision Pro. Samsung feels overdue for a VR/AR return too. That could, or should, be what Samsung, Google and Qualcomm make happen in 2024.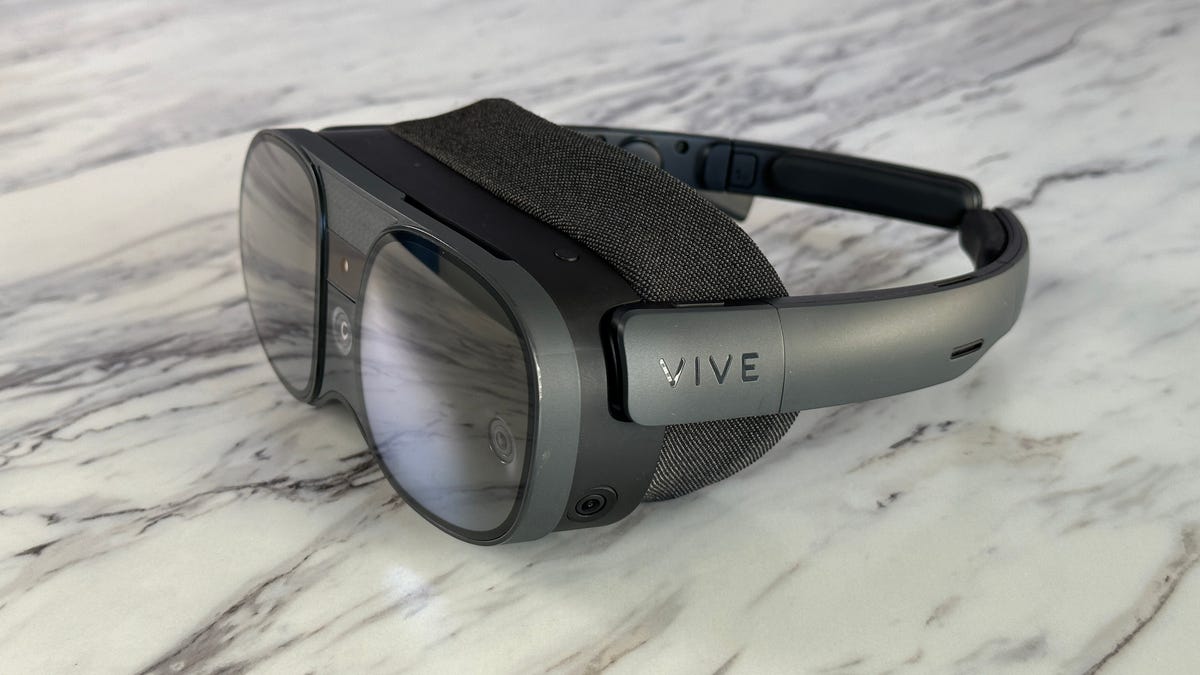 Compact mixed reality headsets like the Vive XR Elite make me wonder if Samsung might try to create a headset that could work while both standalone and phone-connected.
Scott Stein/CNET
Another option: standalone with better links to mobile
Another direction could end up being a standalone device, following a similar path to the Quest 3, Apple's Vision Pro and HTC's Vive XR Elite. That space is getting crowded, though. To make a standalone headset, Samsung would either need to introduce dedicated VR/AR controllers (something handheld, or maybe wearable, like a band or ring), explore ways phones and watches could be input devices or go the Apple route, and use hand/eye tracking and voice to interact.
The problem here, as I see it: what's the app library? Meta has its own custom collection of games and apps built up for years. Samsung leaned on its Oculus relationship for its older Gear VR goggles for its phones, nearly a decade ago.
Apple is already clearly taking an iOS-first approach, filling Vision Pro with compatible iPad apps and building out mixed reality functions for developers over time, while also introducing a lot of new Apple-made mixed reality apps as well. But Apple's headset, while it runs iPad apps, isn't directly cross-compatible with iPads or iPhones or Apple Watches to interact with these apps at the same time… at least, as far as we know right now.
I expected Apple to make mobile device-to-Vision Pro interactions a key part of its headset design, but I was wrong. Samsung could use its platform to make the first steps in this territory ahead of Apple, playing with the phone-to-headset tools Qualcomm is already building, and adding in new Google apps and Android compatibility that could be part of the partnership.
Either way, we may not know until 2024
Samsung may keep its plans more of a mystery for now, especially since Apple's Vision Pro isn't actually launching until early next year. Still, I'd expect news to emerge ahead of the official launch, either from Samsung, Qualcomm, Google or all three. Apple tends to keep its products a total mystery until they're unveiled, but Samsung may take a more gradual approach to its news.
These are all guesses, though. All I know is phones are the most interesting part of the future evolution of where AR glasses are aimed, and Samsung's biggest focus is on phones and the devices that connect with them. That's also the territory XR devices need the most help with. Samsung, I'm awaiting what comes next. It could help point the way for the next wave of glasses later in the decade.