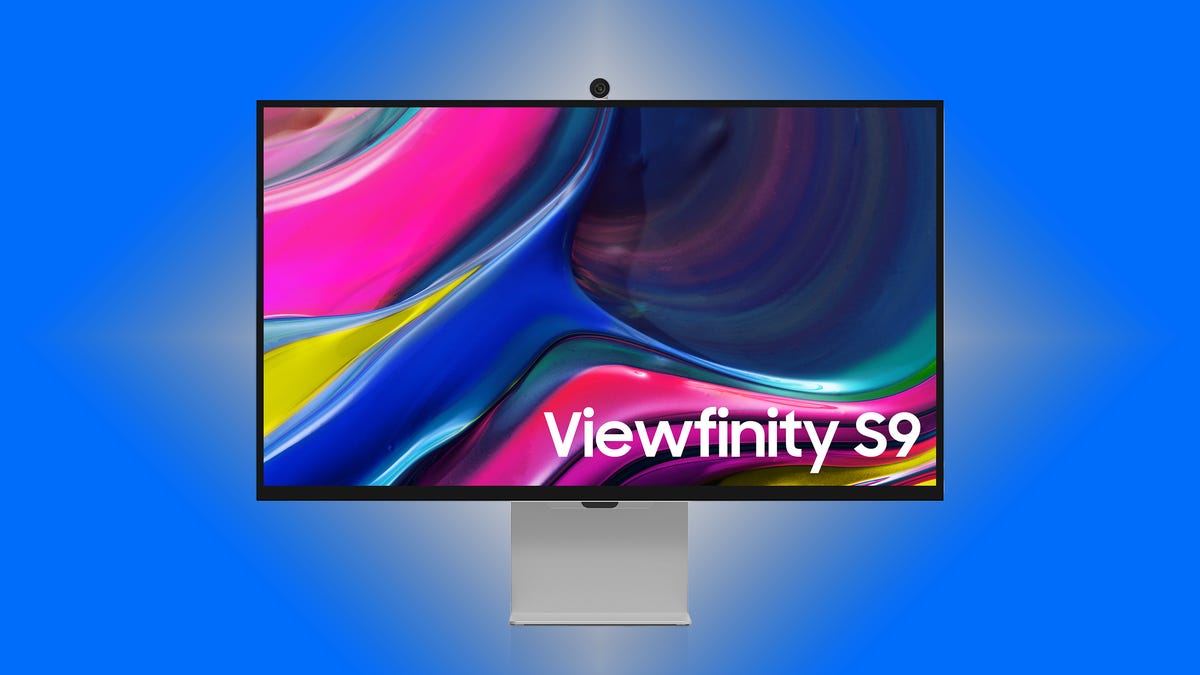 Samsung
There aren't a lot of third-party monitors attempting to compete with Apple's Studio Display, despite that monitor's shortcomings when you need to use it with different platforms or need multiple or traditional input connections. Samsung's giving it a go, though, with its new ViewFinity S9 (S90PC), a 5,120×2,880 27-inch model the company says offers "professional-level display performance" (for an unknown level of professional).
It certainly looks similar to the Studio Display, and ships with Samsung's 4K SlimFit webcam (no speakers as far as I can tell, though). It's got a full DCI-P3 color gamut, factory calibrated to delta E less than or equal to 2, albeit for unspecified color space(s) — one would assume P3, but that's not always true. The Samsung Smart TV provides apps for streaming and more.
But it offers some perks over Apple's model; you don't have to use a generic VESA mount in order to be able to rotate it to use in portrait orientation; it supports HDR (DisplayHDR 600); and it has HDMI and DisplayPort connections in addition to USB-C/Thunderbolt 4. DHDR 600 support implies it has some level of local dimming for the IPS panel's backlight. It's also got a matte screen, which doesn't cost extra.
The big question for me is how — and how well — the color calibration process works. Samsung says you make adjustments using its SmartThings app or a phone camera in conjunction with a its "built-in Color Calibration Engine." That's a big can of ambiguity. Phone cameras are not designed to specifications and tolerances that qualify them as precision colorimeters, among other things. Its color calibration app has been used for TVs, which have different requirements than color-critical monitors. And even then it's been suggested that you calibrate your phone first — with an expensive colorimeter. The answers to "how" and "how well" usually lie somewhere between what's suggested by my jaded cynicism and by the marketing pitch.
There's also the "when" and "how much," the answers to which are early this year and we don't know yet.
Samsung also launched a 27-inch version of its Smart Monitor M8 (M80C) to join the existing 32-inch model. It's essentially the same, with a few tweaks. The SmartThings app now lets you use a mouse, the SmartThings Hub will support the Matter and Home Connectivity Alliance standards starting sometime this year, and when it's near your phone it will be able to connect via Bluetooth and display the types of things you'd show on a phone's always-on lock screen. It's also got an upgraded SlimFit camera jumping a tiny bit from 1080p to 2K.