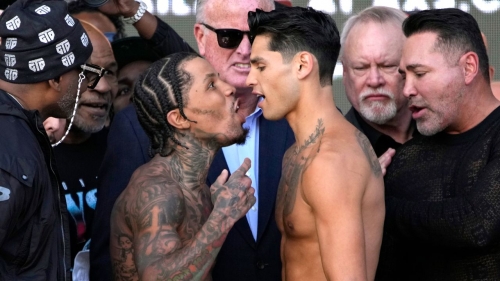 Gervonta Davis (left) and Ryan Garcia exchange words during a weigh-in on Friday, April 21.
John Locher/AP

CNN
—
Rivalries in boxing can often feel forced or just for the camera.
But in the case of Ryan Garcia and Gervonta Davis, they clearly don't like each other.
The two have verbally sparred for years as they have worked their way through their own respective careers, but will finally step into the ring together on Saturday, April 22 in Las Vegas for one of boxing's most highly anticipated fights in recent years.
The pair – who are both unbeaten fighters with impressive knockout résumés – will meet in a non-title catchweight fight at 136lbs after they finally were able to agree on a weight after long negotiations.
But Garcia said that a late addition from Davis' team provided an extra complication to talks; one which he said he was happy to facilitate so the fight could go ahead.
The 24-year-old said that Davis – nicknamed "Tank" – insisted on the implementation of a rehydration clause which means that they can't weigh more than 10lbs over 136lbs on the morning of the fight.
"I thought everything was signed and done, and last minute they threw that at me," Garcia told DAZN.
"Another thing was that they agreed to 138 and then two weeks later they said they were not doing it unless you were 136.
"There's a lot of things they hit me last minute with."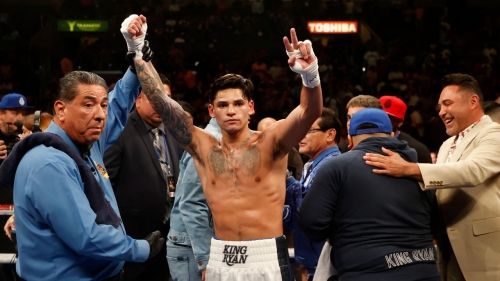 Garcia celebrates after defeating Javier Fortuna in the sixth round of a lightweight bout on July 16, 2022.
Ringo H.W. Chiu/AP
Garcia's promoter and former boxing champion Oscar De La Hoya said during the pre-fight press conference that he had issues with the negation tactics.
"I look at Ryan and I know he's ready. I look at Ryan's team and they know he's ready. I look at 'Tank' and he looks ready," De La Hoya said. "But when I look at 'Tank's team's actions through the whole promotion I am left to wonder: do they really think this guy is ready?
"Catchweights and rehydration clauses, late afternoon weigh-ins. All of these petty requirements point to a team that looks to protect their fighter.
"And why would they protect their fighter, unless they think maybe he's not ready for this moment? I really believe that Tank's team is worried that he's going to lose."
Davis' promoter Leonard Ellerbe didn't hold back with his retort.
"'Tank' Davis by KO, like I've been saying and it might be early," he said. "First off we believe in Tank, a thousand percent.
"We've been the A-side in this situation and that's how the A-side carries itself."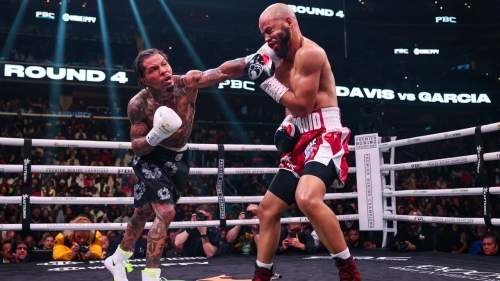 Davis punches Hector Luis Garcia in their WBA world lightweight championship bout at Capital One Arena on January 7, 2023.
Patrick Smith/Getty Images
Best of the best

Garcia and Davis are two of the most exciting boxers currently fighting.
Davis has 28 wins with 26 knockouts to his name and currently holds the WBA (Regular) lightweight belt.
Garcia has 23 wins with 19 knockouts and is a former WBC interim lightweight champion.
After years of boxing fans feeling shortchanged with the best fighters failing to face off when the clamor is highest, Saturday's fight goes some way to correcting that trend.
Both are knockout specialists and are sure to provide highlight moments and possibly an end to their rivalry.
How to watch

Boxing fans across the world will want to tune to watch Garcia and Davis trade blows.
DAZN holds the rights to broadcast the fight so is the place to go to watch two of boxing's most exciting fighters do battle.
The main card begins at 8 p.m. ET while Garcia and Davis' ringwalk is scheduled for 11 p.m. ET.