close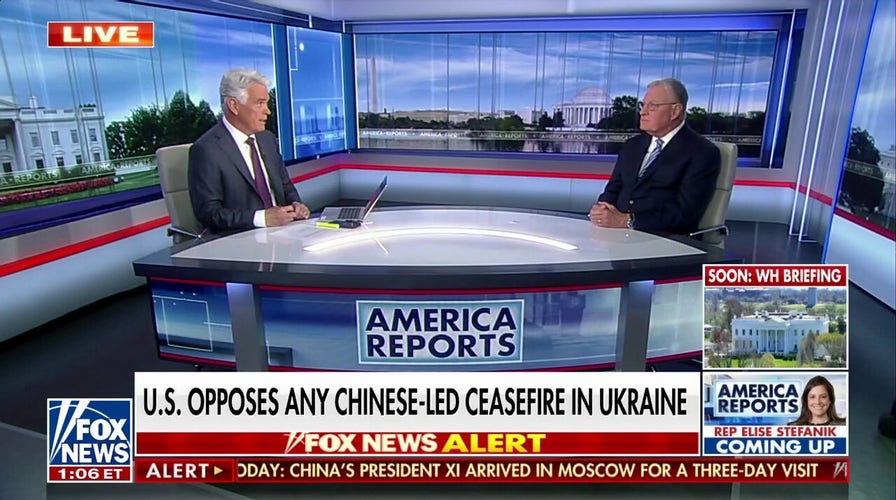 Video
Lt. Gen Keith Kellogg: President Xi can influence Putin
Fox News contributor Lt. Gen Keith Kellogg (Ret.) discussed China's President Xi meeting with Putin in Russia
Dmitry Medvedev, the Deputy Chairman of Russia's Security Council, suggested on Monday that the Kremlin could fire a hypersonic missile at the International Criminal Court (ICC) after the organization issued an arrest warrant for Russian President Vladimir Putin.
"I'm afraid, gentlemen, everyone is answerable to God and missiles," Medvedev, a staunch Putin loyalist who was also Russia's president from 2008 to 2012, wrote in a message on Telegram, according to Russian state media outlet Tass.
"It's quite possible to imagine how a hypersonic Oniks fired from a Russian warship in the North Sea strikes the court building in the Hague. It can't be shot down, I'm afraid."
Medvedev also warned the judges to "watch the skies closely," calling the court "a pathetic international organization."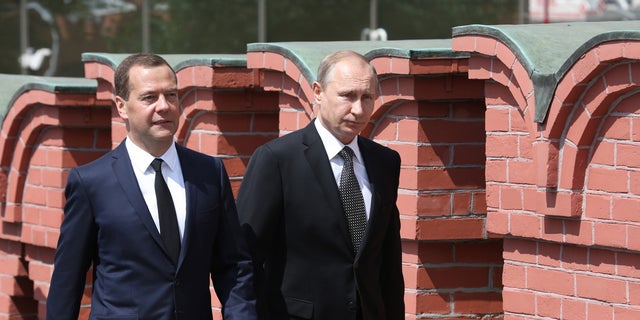 FILE PHOTO: Russian President Vladimir Putin, right, and Premier Dmitry Medvedev, walk along Moscow's Kremlin wall in June 2015.  (Associated Press)
The ICC issued the arrest warrant for Putin on Friday, alleging that he is "responsible for the war crime of unlawful deportation of population (children) and that of unlawful transfer of population (children) from occupied areas of Ukraine to the Russian Federation." Another warrant also targeted Maria Alekseyevna Lvova-Belova, the Commissioner for Children's Rights in the Office of the President of the Russian Federation.
PUTIN AND XI FINISH FIRST ROUND OF TALKS IN MOSCOW AS BLINKEN HITS CHINA'S PROPOSED PEACE PLAN FOR UKRAINE
As many as 16,226 children have been deported during the 13-month-long war, according to Ukrainian human rights chief Dmytro Lubinets.
President Biden called the warrant for Putin's arrest "justified" over the weekend, saying that he has "clearly committed war crimes."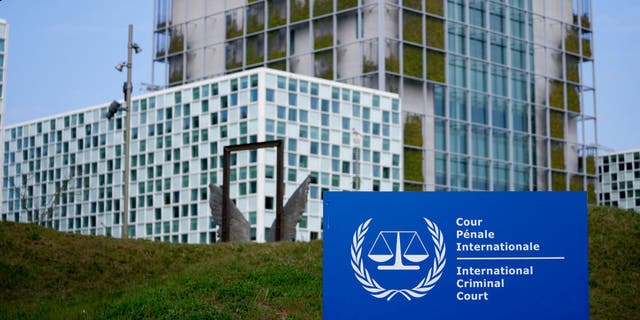 The outside of the International Criminal Court (ICC) on March 29, 2022, in Den Haag, Netherlands.  (Alex Gottschalk/DeFodi Images via Getty Images)
Other Russian officials brushed off the warrant by the ICC, which Russia does not recognize. The U.S. and China also were not signatories of the 1998 Rome Statute, which established the court's authority.
Medvedev has a history of making profane predictions, including that civil war will be break out in the U.S. in 2023 and that the defeat of Russia in a conventional war could "provoke the beginning of a nuclear war."
CLICK HERE TO GET THE FOX NEWS APP
Earlier this month, he referred to Ukrainian President Volodymyr Zelenskyy as the "head Nazi," despite the fact that Zelenskyy is Jewish. On Friday, Medvedev called Sen. Lindsey Graham, R-S.C., a "ba—–" after a Russian fighter jet collided with a U.S. reaper drone over the Black Sea.
Paul Best is a breaking news reporter for Fox News Digital and Fox Business. Story tips and ideas can be sent to [email protected] and on Twitter: @KincaidBest.