close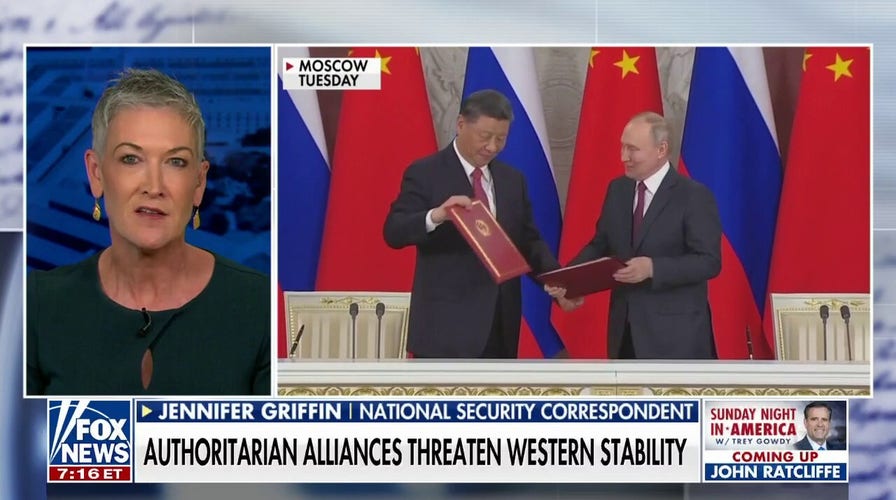 Video
Russia and China are trying to present themselves as an alternative to the new world order: Jennifer Griffin
Fox News chief national security correspondent Jennifer Griffin discusses the significance of China and Russia's growing alliance and U.S. airstrikes in Syria on 'Sunday Night In America.'
NATO on Sunday clapped back at Russian President Vladimir Putin after he announced over the weekend that he will be moving tactical nuclear weapons to Belarus, calling it "dangerous and irresponsible."
"NATO is vigilant and we are closely monitoring the situation. We have not seen any changes in Russia's nuclear posture that would lead us to adjust our own," NATO spokeswoman Oana Lungescu said according to Reuters.
Similarly, White House National Security Council spokesman John Kirby on Sunday said that U.S. defense officials had not seen any indication that Putin has begun to reposition his tactical nuclear weaponry.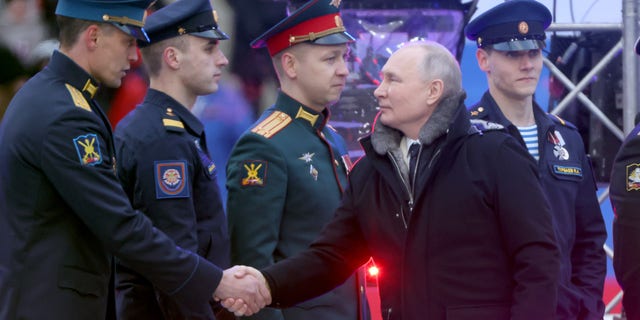 Russian President Vladimir Putin, right, greets members of the military during a concert in Luzhniki Stadium on Feb. 22, 2023 in Moscow. (Contributor/Getty Images)
UKRAINE CALLS FOR EMERGENCY UN MEETING OVER PUTIN'S 'NUCLEAR BLACKMAIL' IN BELARUS
"We've in fact seen no indication he has any intention to use nuclear weapons, period, inside Ukraine," he added in a Sunday interview on CBS' "Face the Nation."
Ukraine reacted to the news by calling for an emergency U.N. Security Council and accused Moscow of taking "another provocative step" to undermine "the international security system as a whole."
On Saturday, Putin drew international ire after he said he would be moving tactical nuclear weapons to his chief regional ally Belarus in response to the U.K.'s decision to supply Ukraine with ammunitions that contain depleted uranium.
Some reports have suggested that the ammunitions – which have been used in modern warfare for decades due to their armor piercing abilities – contain some threat of radiation if in close contact with or ingested by soldiers.
However, British Foreign Secretary James Cleverly pointed out last week that "just because the word uranium is in the title of depleted uranium munitions, they are not nuclear munitions, they are purely conventional munitions."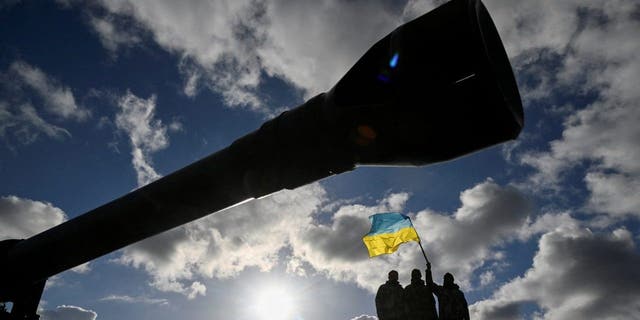 Ukrainian personnel hold a Ukrainian flag as they stand on a Challenger 2 tank during training at Bovington Camp, near Wool in southwestern Britain, Feb. 22, 2023. (REUTERS/Toby Melville)
PUTIN SAYS RUSSIA WILL STATION TACTICAL NUCLEAR WEAPONS IN BELARUS AS WARNING TO WEST
Putin said Russia would maintain control over its nuclear weaponry in Belarus and said construction to house the tactical weaponry – which includes bombs that can be deployed through aircraft, warheads for short range missiles and artillery – will be completed by July 1.
Putin argued that this move was no different from actions taken by the U.S., which has allegedly placed nuclear weapons in EU nations like Germany, Belgium, the Netherlands and Turkey.
"We are doing what they have been doing for decades, stationing them in certain allied countries, preparing the launch platforms and training their crews," Putin said. "We are going to do the same thing."
While Putin's comments have prompted concern among top Western nations, one Russia expert and former Defense Intelligence Agency intel officer for Russian doctrine and strategy, Rebekah Koffler, argued this move "does not pose an immediate threat to Europe and NATO."
"It does however present a long-term threat," she added. "This move confirms that Putin and [Belarusian President Alexander Lukashenko] are on the same page, as far as Russia's goals in Ukraine and that Belarus is becoming an extension of Russia, being already a member of the so-called Union State."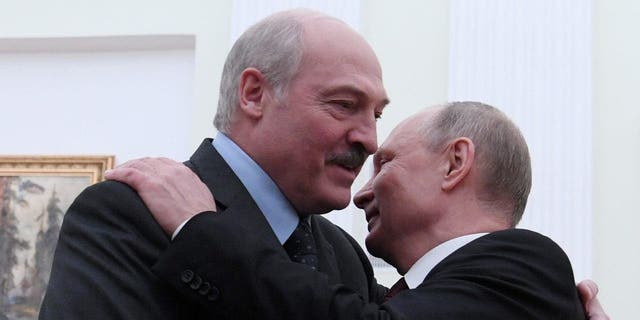 Russian President Vladimir Putin, right, embraces his Belarussian counterpart Alexander Lukashenko during a meeting in Moscow Dec. 29, 2018. (Kirill Kudryavtsev/Pool via REUTERS)
CLICK HERE TO GET THE FOX NEWS APP
Koffler argued this move was also a response to NATO attempts to expand its alliance by including Sweden and Finland which she said would "double the length of the Russia-NATO border."
"Putin is telegraphing that he is not retreating but moving forward. It's a stare-down between Russia and NATO," she added. "Putin is looking at this move as a long-term posture adjustment, to ready Russia for war with NATO that the General Staff views as inevitable, given that Moscow and Washington are firmly on the escalation ladder in this conflict."
The Associated Press contributed to this report.
Caitlin McFall is a Reporter at Fox News Digital covering Politics, U.S. and World news.